Chinese credit was out overnight and enjoyed a soggy bounce with TSF up 2.37tr yuan and banks 1.13tr: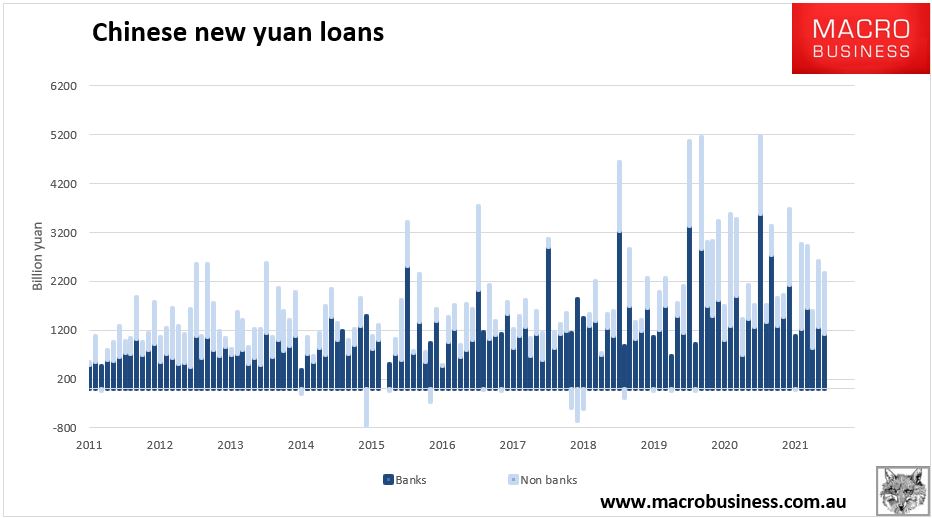 The flow of loans was up 34% year on year: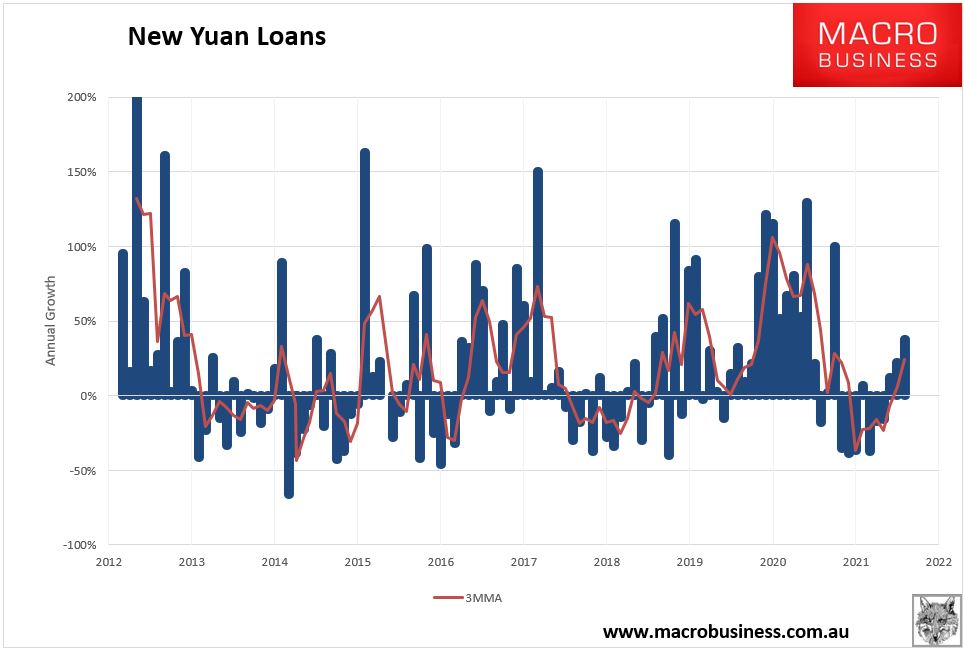 The stock of loans was up a little to 10.3%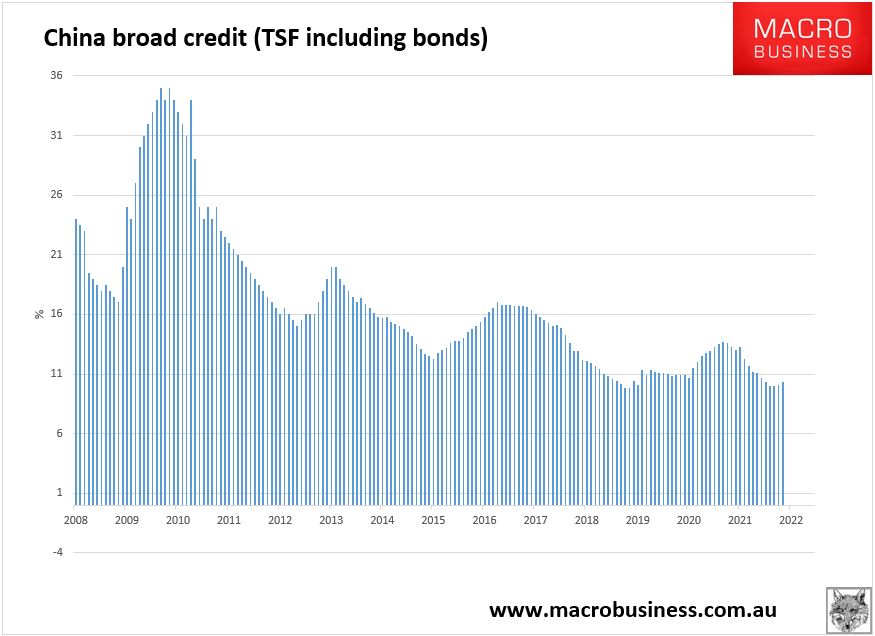 M2 climbed to 9%: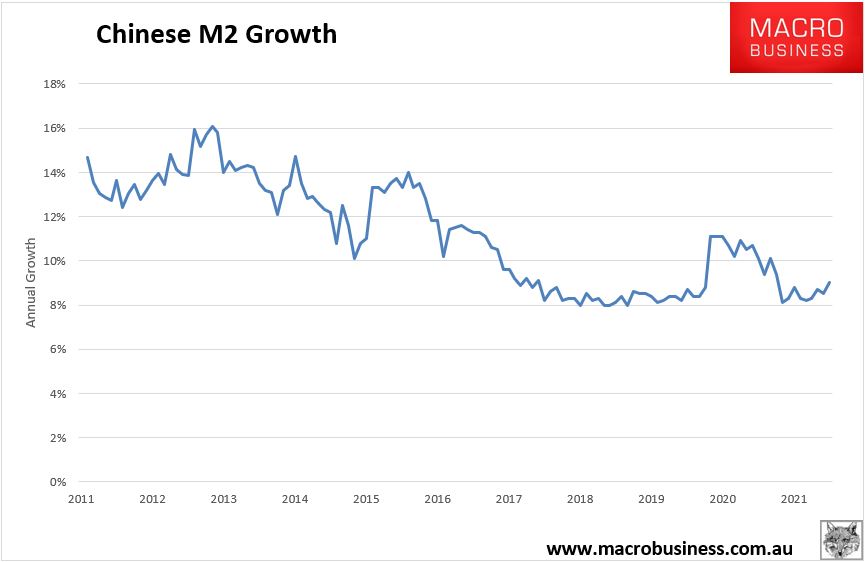 Year to date Chinese credit was down 10% for 2021: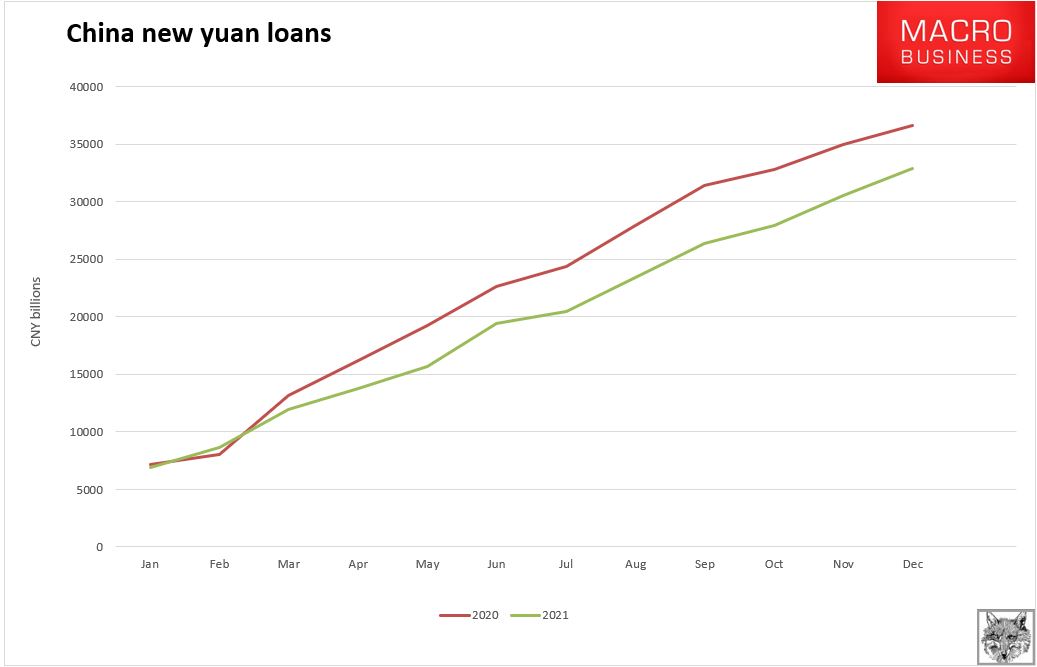 Once again, the composition was less than meets the eye. Goldman:
1. December total social financing was below expectations. The sequential growth of TSF stock accelerated to 9.4% mom annualized sa in December from 9.0% in November, though the magnitude of the rebound was smaller than market expectations despite policymakers' guidance on accelerating loan extensions and the more ample liquidity from the December RRR cut. Overall RMB loans growth picked up to 10.9% month-over-month annualized, from 9.2% in November. M2 year-on-year growth also surprised to the upside and rose 9.0% yoy in December.
2. Among major TSF components, loan extension picked up slightly. After our adjustment for seasonality, corporate short-term loan growth slowed to 2.8% mom annualized from 3.4% in November while corporate mid-to-long term loan growth accelerated to 10.8% mom annualized from 8.5% in November. Corporate bill financing surged by 62.5% annualized mom (vs. +17.7% in November), suggesting banks continued to increase bill financing lending amid weak loan demand. On loans to household, short-term loan growth grew 7.7% mom annualized (vs. 7.4% in November), while household mid-to-long term loan (mostly mortgages) growth slowed to 9.5% mom annualized (vs. 14.3% in November) after accelerating in the previous few months. Government bond issuance increased while corporate bond issuance slowed. Trust and entrusted loans continued to contract and weighed on broad credit growth.
3. M2 growth surprised to the upside. Among major M2 drivers, fiscal deposits fell sharply by 1 trillion in December, similar to December last year. FX purchases might have also increased in December as the strong FX inflow pressures continued.
4. December credit data still pointed to weak credit demand – despite the RRR cut, loan and TSF growth missed expectations and the strong acceleration in bill financing suggests underlying credit demand might be even weaker than the headline TSF and RMB loan data would suggest. The LPR rate was cut in late December which might help with loan extensions at the beginning of this year. This set of weak December credit data and the recent Omicron outbreak in multiple provinces in China increased the chance of more policy easing – we recently downgraded our 2022 GDP forecast (from 4.8% yoy previously to 4.3% yoy) in light of Omicron and expect the PBOC to cut both the RRR and policy rates in the coming months to support growth.
Not much there for property but perhaps better for infrastructure. My guess is the new credit will go where it usually does: SOE supply-side expansion.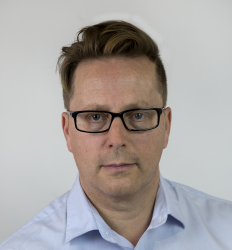 Latest posts by Houses and Holes
(see all)