Driving around Melbourne's streets over the past fortnight has been an eerie experience. Despite stunning summer weather, the roads are dead and shops/cafes are open but largely devoid of clientele.
Last Saturday evening at around 5pm my family visited Easton Mall in Oakleigh – a famous mall of Greek restaurants and cafes. Our car was one of only five in the giant car park and we were some of the only people there. The restaurant staff outnumbered customers about 10-to-0ne. We've never seen it that quiet, especially on a summery Saturday night.
It was the same story in Acland Street StKilda on Friday night, which was equally dead. There was no need to book anywhere or worry about parking. We just rolled up and took the pick of the litter.
For all intents and purposes, Melbourne is experiencing a 'shadow lockdown' with people bunkering down at home to avoid being infected with (or spreading) the virus.
The same is happening in Sydney and to a lesser extent elsewhere, with consumer spending and business turnover plunging.
ANZ reports consumer spending in the first week of January was at its lowest level since the Delta wave as households imposed their own restrictions to avoid the virus: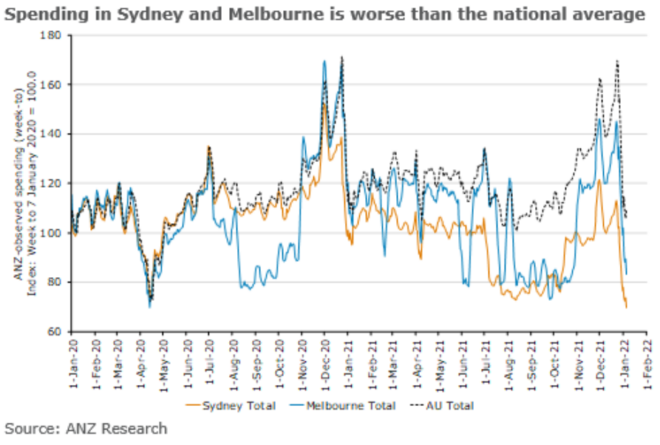 In a similar vein, CreditorWatch found business-to-business spending hit its lowest levels on record in December, with average trade receivables down 45% from their 2020 turnover levels:
"When COVID-19 hit, business-to-business trade really fell off a cliff," Mr O'Donnell said. "The figures we're reporting for the December month are the worst we've got on record."

"What we normally see in December is a [large] spike. It was a 5 per cent spike this year. It really is quite bad," he said. "Santa did not show up for businesses this Christmas."
Meanwhile, Google's COVID-19 community mobility report for the week ended 8 January found that visits to retailers (excluding food shops and pharmacies) and cafes was down 26% compared to the baseline in NSW and Victoria, and down by 12% in Queensland. During the Delta lockdown, retail trips were down by 40%.
The risk is that the Omicron wave will drag on for months and possibly drive another negative GDP print over the March quarter.
The difference this time is that there is little income support to absorb the shock and households and businesses will be forced to draw down their savings war chest.
Omicron has also delivered an open goal for Labor, who will be able to hammer the Coalition on the economy and its virus mismanagement all the way into the federal election.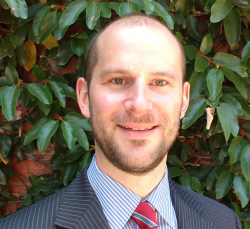 Latest posts by Unconventional Economist
(see all)