See the latest Australian dollar analysis here:
The RBA takes a long summer break each year, missing all the action and drama of the Australian Open (and Novax Novak), as its policy wonks and abacus counters get busy on the beaches and avoid the riff raff plus any major economic or social developments like the OMICRON breakout.
Must be nice.
Anyway, with moves afoot in iron ore markets going into the Chinese New Year and restraints on steel productions to clear the smog around the Beijing Winter Olympics, plus a Federal Reserve now hell bent on tightening faster, better and stronger, the Australian dollar is about to be whacked as the Martin Place surfers continue to soak up the sun.
The end of year dip for the Aussie dollar also saw interesting moves in the interest rate differential with the US. From DailyFX:
Looking at interest rate differentials, both the 1 and 10-year bond yield spreads of Australia over US peaked at about the same time that the AUD/USD hit the November high. As both spreads contracted, AUD/USD went lower. However, the 10-year spread appears to have had less of an impact than the 1 -year – as shown in the chart below.

Narrowing interest rate differentials and US Dollar strength came at a time when the Federal Reserve turned more hawkish.

AUD/USD AGAINST USD INDEX (DXY), AU-US 1 YEAR SPREAD AND AU-US 10 YEAR SPREAD

Chart prepared by Dan McCarthy, created with TradingView
They rightly point out that these differentials are out of the RBA's hands despite the muddled commodity price and with the rise of the hawks on the Fed, its set to widen and see a major demand for USD, which will rightly push the Australian dollar much lower. Only a stronger than expected (but lagging and untimely) Dec quarter CPI print could see the RBA finally move towards maybe perhaps getting into action at its February meeting, but this maybe too late for the Australian dollar.
The medium term technical picture, and given monthly volatility readings, could see it drop below the 70 cent level before the meeting in February even begins: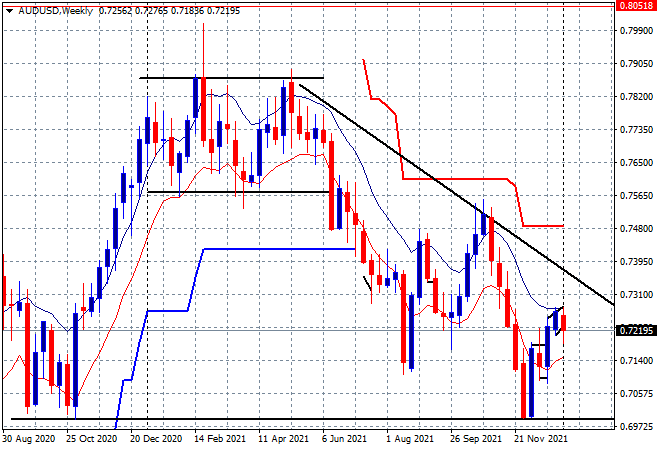 Latest posts by Chris Becker
(see all)