Via IHS Markit: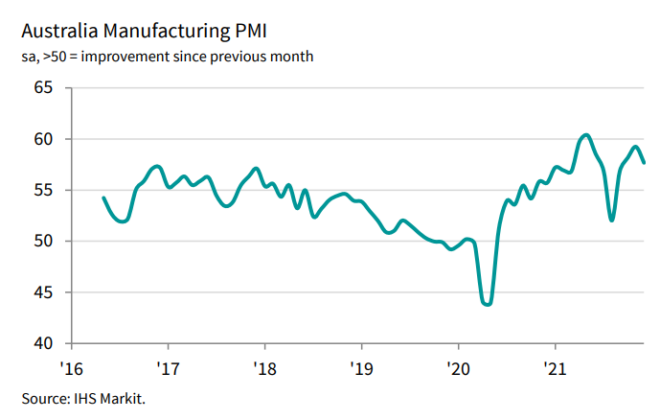 Growth of Australia's manufacturing sector slowed in December, according to the latest IHS Markit PMI™ data. Demand and output rose at slower rates, as did purchasing activity. However, the rate of job creation was unchanged. Supply constraints persisted, with longer lead times recorded, contributing to higher backlogged orders. Price pressures meanwhile climbed to a record level, though Australian manufacturers continued to hold a positive outlook.
The seasonally adjusted IHS Markit Manufacturing Purchasing Managers' Index™ (PMI®) posted above the 50.0 no-change mark at 57.7 in December, down from 59.2 in November, to signal an expansion of the Australian manufacturing sector. This marks the nineteenth straight month in which the sector grew, though the rate of growth slowed to a three-month low.
While the easing of COVID-19 disruptions continued to support manufacturing sector expansion, both new orders and output growth slowed from recent peaks in November. Supply constraints were reported to have hampered production according to panellists. Foreign demand meanwhile expanded at a faster rate, aided by the easing of COVID-19 restrictions abroad.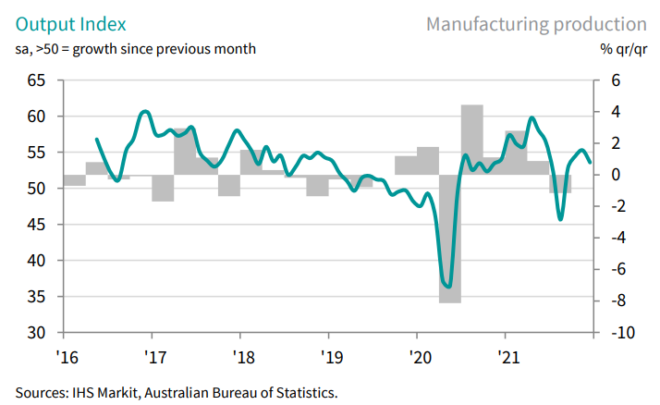 In turn, purchasing activity expanded in December, leading to higher stocks of purchases, though rates of growth fell in accordance with demand and output. Anecdotal evidence suggested that supply constraints also limited stockpiling efforts for some manufacturers.
Employment levels meanwhile rose at a rate comparable to November as manufacturers continued to expand their operating capacity to meet demand growth. Where lower workforce numbers were reported, firms cited persistent difficulties in hiring.
Meanwhile vendor performance continued to deteriorate in December, though lead times lengthened at a slower rate compared to November's record. This nevertheless contributed to backlogged work accumulating at a rapid rate, in addition to issues of labour and supply constraints.
Stocks of finished goods also fell for the first time in a year in the Australian manufacturing sector. Higher demand and ongoing input supply issues led to inventory depletion.
Despite vendor performance deteriorating at a softer rate, price pressures worsened in December. Input cost and output price inflation both accelerated to record rates amid the rise in prices across an array of input materials and shipping. As a result, manufacturers  continued to share their cost burdens with customers.
Overall sentiment remained positive amongst Australian manufacturers with hopes of continued growth. That said, the level of business confidence slipped from November with some concerns over supply issues and price trends.
Commenting on the latest survey results, Jingyi Pan, Economics Associate Director at IHS Markit, said:
"Some growth momentum was lost for the Australian manufacturing sector in December as the reopening boost faded and supply constraints hampered production according to panellists.

"While some green shoots are spotted with regards to supply constraints, such as in the form of suppliers' delivery times lengthening at a slower rate, price pressures have continued to worsen. This invited some concerns from manufacturers in December and will be worth watching into the new year.

"That said, current growth momentum remains strong by historical standards and firms have maintained an optimistic view with regards to future output. IHS Markit forecasts for Australia's GDP to expand by 2.7% in 2022."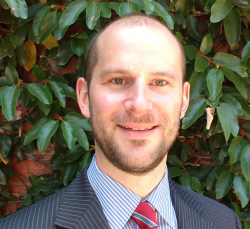 Latest posts by Unconventional Economist
(see all)