Despite a big lift in listings at the end of last year, Australia's housing market remains incredibly tight, according to CoreLogic.
While new listings were running at their highest level in six years: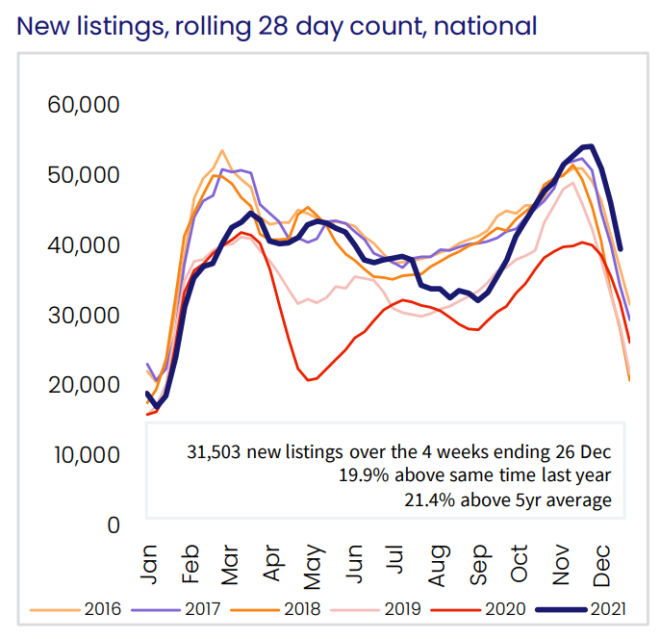 Total listings finished 2021 24.7% below the five-year average: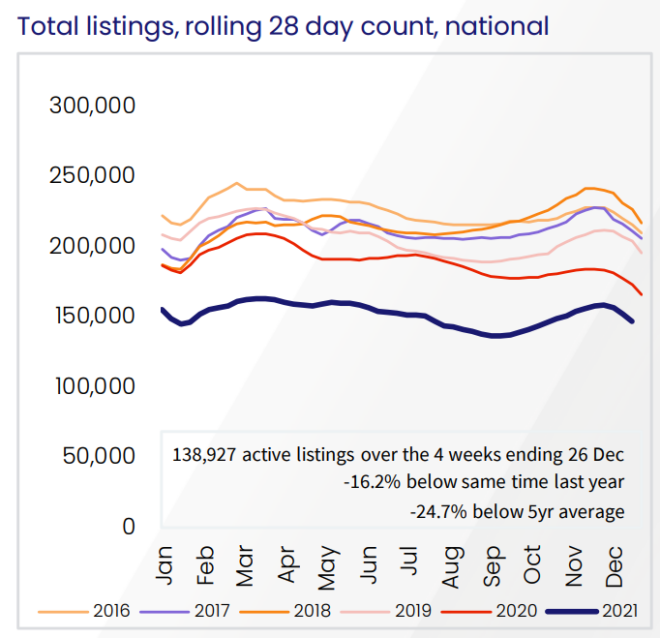 A key reason is because sales volumes were running at their highest level in at least 20 years at the end of 2021:

As explained by CoreLogic:
A shortage of listings has been a feature of the housing market through the COVID period to-date, creating a sense of urgency amongst buyers. The good news for prospective home owners is that total listings have started to rise through the final quarter of the year as 'fresh' listings have trended above average in some regions.

Nationally, the number of new listings added to the Australian housing market through December was 21.4% above the five-year average, demonstrating strong vendor confidence amidst quick selling times and high auction clearance rates. As new listings surged higher through spring and early summer, buyers have benefitted from more choice and reduced urgency.

This confidence has not been universal, with listings trends varying from city to city. Melbourne was the only city to finish the year with inventory levels above the five-year average, while Sydney listings were only 3.9% below average. At the other end of the scale, Brisbane and Adelaide's advertised supply remains around 35% below the five-year average.

"The number of homes available to purchase has been a key factor underlying the trend in housing values. Cities where advertised stock levels are above average or close to normal, such as Melbourne and Sydney, have shown a more obvious slow down relative to cities with persistently low advertised supply, like Brisbane and Adelaide," Mr Lawless said.

Strong housing demand has been another factor driving housing prices higher. While stock levels have generally been low, the total number of home sales in 2021 was approximately 40% above the decade average. CoreLogic estimates there were approximately 653,000 house and unit settlements over the calendar year, the highest number of annual sales on record.

"Such a significant mismatch between available housing supply and the level of demand is a fundamental reason why housing prices have risen so sharply over the year. As stock levels normalise and affordability constraints along with tighter credit conditions drag down demand, it's reasonable to expect growth conditions will be more subdued in 2022," Mr Lawless said.
The shortage of stock across Brisbane and Sydney helps to explain their current turbo-charged growth, whereas the opposite is the case in Melbourne: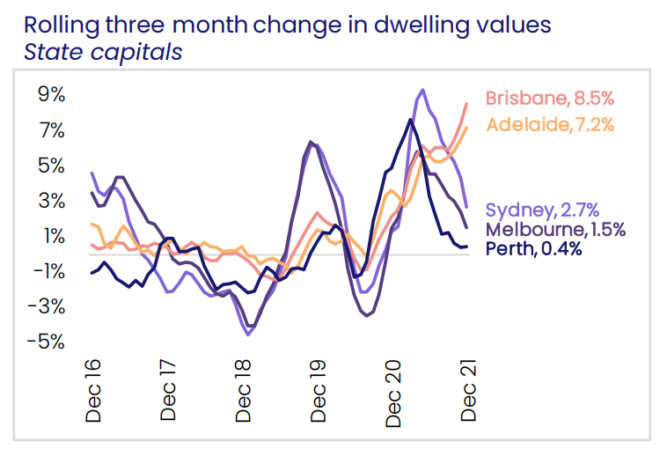 Auction v0lumes also hit record levels across Sydney and Melbourne at the end of 2021, which helps to explain their plummeting price growth.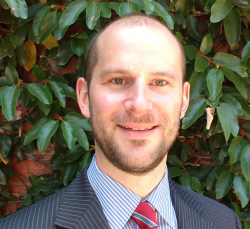 Latest posts by Unconventional Economist
(see all)