TS Lombard with the note:
The end of coal shortages and the property slump mean that PPI is topping out, while Covid zero tolerance is capping CPI gains.
Covid capex could create excess supply and export price disinflation.
Benign domestic inflation backdrop allows the PBoC to continue easing; a 50bps RRR reduction and targeted rate cuts are likely in next six months.
In the second note in our adaptations series, we examine China, the prime beneficiary of Covid related goods consumption and the sole remaining "zero tolerance" hold-out. In 2021 China experienced "biflation" in the form of soaring industrial prices and anaemic CPI  gains. Goods demand (domestic and foreign) is likely to fall next year, bringing down PPI and weighing on export prices. Zero tolerance, however, will persist and do much to cap a rise in consumer prices (ex. food). The combination of falling goods spending and Covid containment should provide, together with property-sector weakness, the macroeconomic conditions for the PBoC to remain a dove among hawks (today's LPR cut is another step on Beijing's easing cycle), for Chinese export prices to weaken and for PPI to turn negative in H2/22.
In 2021 Chinese producer prices have been driven by domestic supply-side issues and the global commodity cycle. PPI remained high even as domestic credit aggregates and wider economic activity weakened. Starting in August, the "Made in Beijing" coal and electricity
shortages occurring in parallel with the surge in global energy prices turbocharged this dynamic, pushing up PPI amid declining domestic industrial demand.
PPI deflation in H2/22. We expect electricity shortages to continue for the next two to three months, providing support for headline PPI. However, while power shortages dominate for now, falling property investment will be the key domestic driver of industrial price disinflation in 2022. We forecast PPI over the next year using an energy commodity-based leading indicator for the next six months and an M1-based indicator for the six months thereafter. We project industrial prices slipping towards low single-digit gains by mid-2022 and turning negative in Q4/22.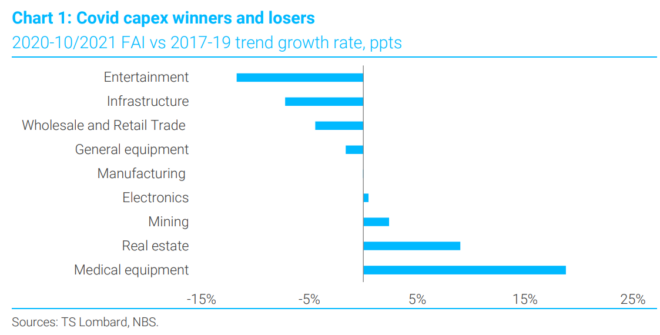 Covid, consumption and pork are key to CPI. By contrast, consumer price gains have been anaemic: a dramatic turn in the pork cycle, sluggish goods demand and constraints on service spending have all kept consumer inflation well below Beijing's 3% target. Pork and other protein prices (together 12% of headline CPI) will turn positive next year after 14 consecutive months of deflation. However, the level will be on par with pre-African Swine Fever prices, a boost to headline CPI but one policymakers can ignore, as they did in 2019–20, 2016 and 2011. Rent and residential service (18% of CPI) should stay disinflationary owing to property-sector weakness. That leaves demand for durables and consumptions services as the main CPI drivers.
Chinese household demand will remain tepid in 2022. Real retail sales of goods increased 1.9% yoy in October vs the pre-Covid trend of 5% yoy. Proxies for services spending were weak, too, catering sales rose 2% yoy vs the pre-Covid trend of 9% yoy. Owing to Beijing's zero tolerance Covid-19 policy, new variants with higher transmissibility have an outsized impact on consumption. Fresh outbreaks hit demand (wage growth and consumer confidence) and supply (mobility and operating restrictions). Covid-impacted services (catering, retail, accommodation and tourism) accounted for a quarter of all jobs in China in 2019. Zhong Nanshan, the lead figure on China's National Health Commission's Covid-19 expert panel, recently said the zero tolerance Covid-19 policy would likely remain in place until mortality rates reached 0.1% and the rate of transmission dropped below 1-1.5. These criteria suggest a long period of zero tolerance – perhaps until Q4/22 – after factoring in the political sensibilities around the 20th Party Congress.
While Covid-19 is an important driver of China consumption weakness, the wider macroeconomic backdrop is another major headwind. Looking ahead, China activity will turn the corner and is likely to bottom out in Q1/22 before picking up H2/22 for a full-year growth rate of 4.7% yoy. However, with successive shocks (power and property) hitting the economy, consumer confidence and wage growth are still well below pre-Covid rates and even manufacturing salaries, which benefited from surging external demand, have started to weaken. Falling property sector activity is likely to bite hard, too. Spending on consumer durables is closely tied to property turnover: new owners outfit apartments, while sellers spend realized asset gains. The wealth effect from falling or stagnant home prices is another negative for spending.
Covid capex and domestic demand = good disinflation and mild services inflation. China is the marginal global provider of Covid-related goods. Owing to the flexibility of Chinese manufacturers, the depth of domestic supply chains and the ability to control Covid-19 outbreaks, China has been able to capture most of the goods demand increase over the past two years. Foreign sales provided a strong incentive for investment in goods production, over the past 20 months manufacturing investment as a whole has maintained the pre-Covid trend growth rate of 5.5%.
Within manufacturing, medical goods investment jumped 18 ppts above trend during the same period and electronic manufacturing-related investment rose by 0.5 ppts above the already high pre-Covid trend growth rate of 18% yoy. Owing to the weak domestic consumption recovery, tourism, entertainment and culture-related spending all plummeted. As of end-June, the number of hotels in operation was 30% below pre-Covid levels. The excess production capacity of goods and weak or weakening demand is likely to prove disinflationary both in China and for global goods prices. Underinvestment in services paves the way for higher service prices when zero tolerance eventually ends.
The backdrop for the PBoC is falling PPI and moderate CPI gains. As noted above, headline inflation may spike on food base effects, but the PBoC will not allow pork prices to dictate monetary policy. China can and will stay dovish for longer. We expect further easing: a 50bps RRR reduction and targeted or targeted rate cuts over the next six months. Monetary policy divergence supports our view on H2/22 RMB depreciation, which, in turn, would relieve some pressure on global goods and commodity prices.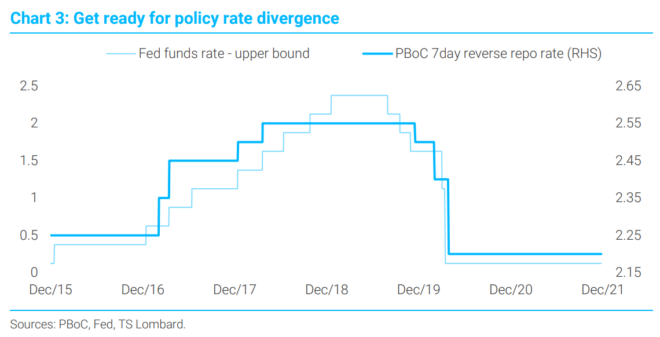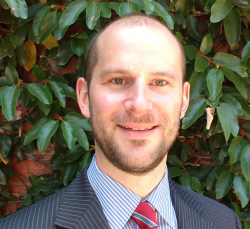 Latest posts by Unconventional Economist
(see all)