The latest Roy Morgan Business Confidence survey showed a significant dip for November, falling 2% to 113 points, despite lots of lockdowns lifted across the country:
Business Confidence in November 2021 is still 3.9pts (+3.6%) higher than a year ago in November 2020 (109.1) but is just below the long-term average of 113.8. Businesses remain confident about the year ahead. An increasing majority of 56.1% of businesses expect 'good times' for the economy over the next 12 months and a large plurality of 49.8% say the next 12 months is a 'good time to invest in growing the business'.

The biggest increase from a year ago was in Western Australia in which Business Confidence increased by 25.2pts (+22%) to 139.6 to be higher than any other State.

Western Australia's borders remain closed to most of Australia and are not set to re-open to all domestic travellers until well into next year. At least for now, these strong border policies are not having a negative impact with Business Confidence at a far higher level than any other State.

Business Confidence in both Queensland and Tasmania is lagging in November and below the neutral level of 100 with both States set to re-open their borders to all of Australia in the next two weeks.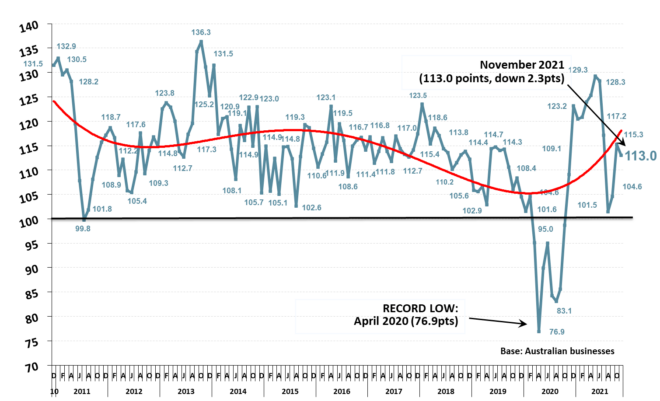 The divergence and caution in QLD and Tasmania maybe due to an industry split with agriculture booming despite labour shortages while the transport sector is facing unprecedented demand, but the mining sector lack of confidence is interesting: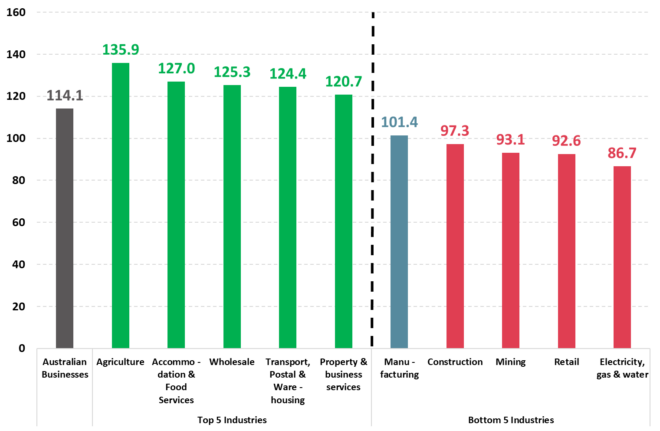 Latest posts by Chris Becker
(see all)