Ross Gittins argues today that Josh Frydenberg could cement his place in history as "one of our greatest treasurers" if he succeeds in getting unemployment down to 4% or below:
Frydenberg's strategy of forcing the pace of economic growth to get the rate of unemployment sustainably down to the low 4s or even lower.

This strategy – to keep pushing unemployment down until it's clear the inflationary pips are squeaking…

The first point is that there's nothing better you could do to make the economy bigger (and bigger relative to the public debt) than to ensure more of those who want to work actually get jobs, earning incomes and paying taxes.

Labour lying idle is the worst kind of economic inefficiency.

But the strategy has a deeper objective: to make the market for labour so tight that employers have no option but to increase wages to retain the people they need…

Our wage growth has stagnated since this government came to power. It's the most important single cause and consequence of our low growth. Labor will be making hay with this in the election campaign.

Ending wage stagnation is the key to a sustainable return to a healthy rate of economic growth. And given the Coalition's tribal objection to using regulatory reform to get wages moving, getting unemployment down and tightening the labour market is the right solution to the problem…

If Frydenberg can get us back to the lowest unemployment since the 1970s, he'll be up there with Paul Keating as one of our greatest treasurers.
The fatal flaw in Gittins' analysis is that it makes zero mention of the Morrison Government's plan to reboot immigration back to pre-COVID levels.
The Government has already announced its goal to import at least 200,000 migrant workers by July 2022:
"We are working on a figure of 200,000, it may well be more than that but we will be actively looking to bring as many people into Australia as soon as we possibly can" – Karen Andrews, 22 November 2021.
This announcement effectively brought forward the Intergenerational Report's (IGR) projection of 235,000 annual net overseas migrants from 2025-26 onwards: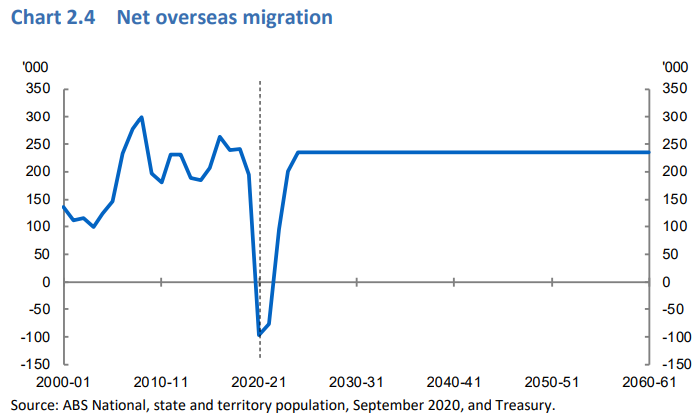 Importing so many workers will rapidly increase Australia's labour supply and prevent the unemployment rate from falling to 4% or below.
Indeed, the steady importation of 180,000-plus migrant workers every year pre-COVID was a key reason why the RBA continually failed to meet its wage growth targets, since labour supply always ran ahead of demand: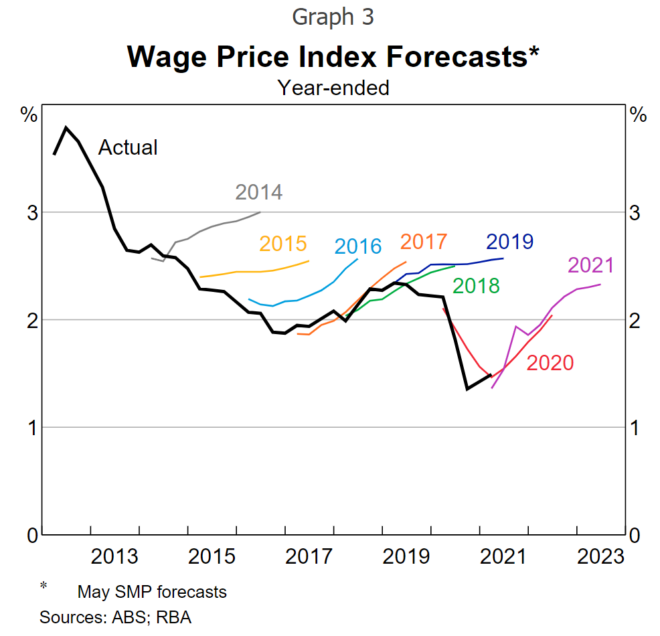 It is hard to believe that Ross Gittins would ignore these obvious facts.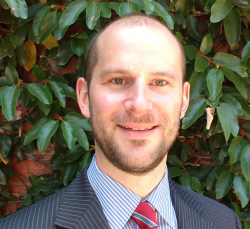 Latest posts by Unconventional Economist
(see all)