Yesterday afternoon, the Morrison Government released its pre-election Mid-Year Economic and Fiscal Outlook (MYEFO), which tipped a strong rebound for the Australian economy.
The below chart provides the key forecasts for the Australian economy over the forward estimates: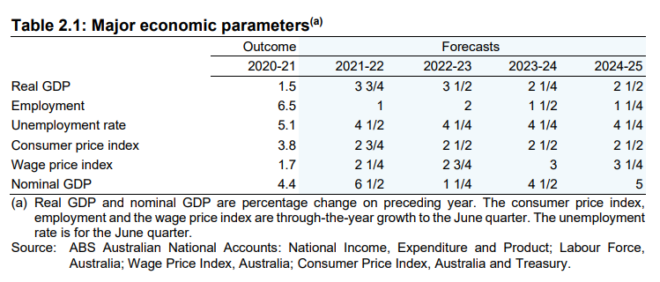 The next table shows the detailed forecasts compared with the federal budget to 2022-23: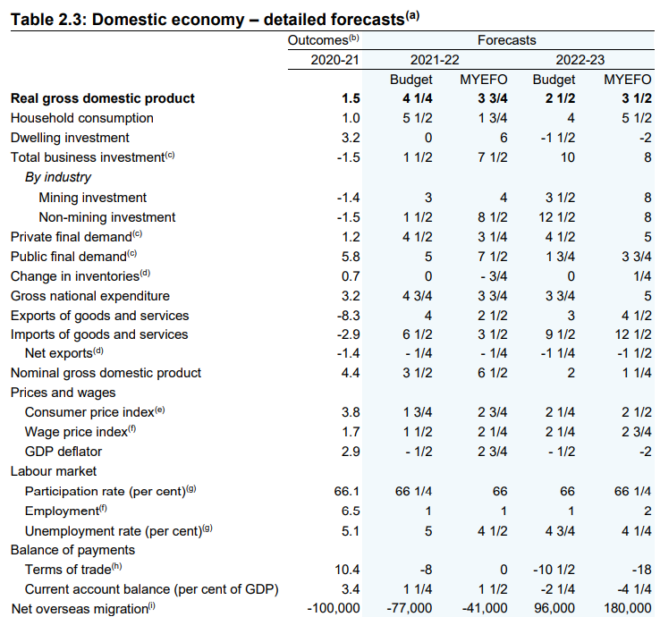 Of most note, GDP growth has been revised up as has the projected fall in unemployment to just 4.25% by 2024-25:
Real GDP is expected to rebound back above pre-pandemic levels in the December quarter and is forecast to grow by 3¾ per cent in 2021-22 (Chart 2.4). In 2022-23, real GDP is expected to grow by 3½ per cent, with the unemployment rate reaching 4¼ per cent by the June quarter of 2023 (Chart 2.5). In calendar years, real GDP is expected to grow by 4½ per cent in 2021, and by 4¼ per cent in 2022.
Wage growth is also tipped to accelerate to 3.25% by 2024-25%.
I agree that next year will be strong for the Australian economy.
Household income has boomed from stimulus, while expenditure was artificially reduced by lockdowns: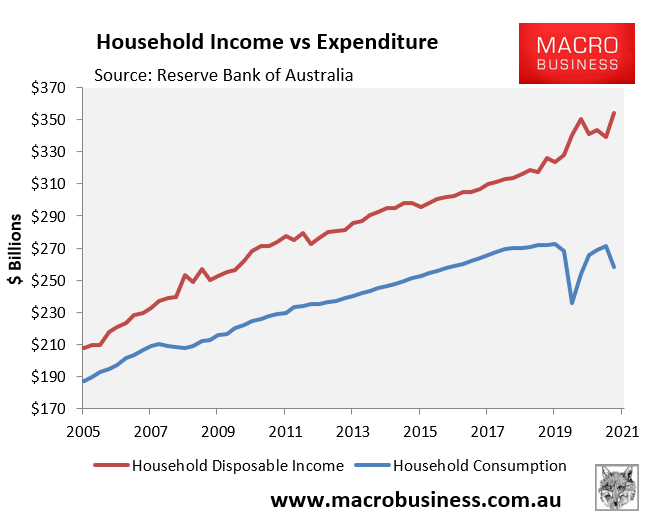 Over the six quarters since the pandemic began, Australia's households banked an extraordinary $327 billion of savings – a massive increase from the $119 billion saved in the six quarters prior: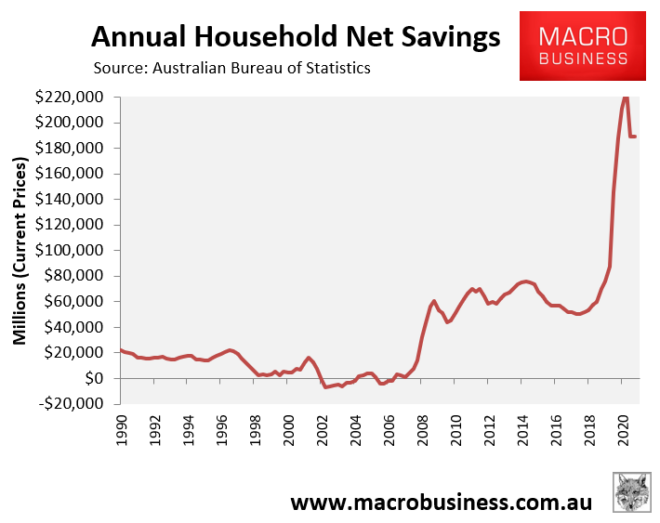 Accordingly, I am tipping a consumption boom next year at the same time as infrastructure and housing construction runs hot.
My primary issue is with the federal government's immigration, unemployment and wage forecasts. MYEFO forecasts negative 41,000 net overseas migration (NOM) over the 2021-22 financial year with increasing NOM thereafter:
The reopening of international borders will lead to a return to positive net overseas migration and higher population growth that will in turn support consumption growth. Net overseas migration is forecast to be around -41,000 persons in 2021-22, before increasing to 180,000 persons in 2022-23, 213,000 persons in 2023-24 and 235,000 persons in 2024-25.
Yet, Home Affairs Minister Karen Andrews has stated that at least 200,000 migrant workers will arrive in Australia by July 2022:
"We are working on a figure of 200,000, it may well be more than that but we will be actively looking to bring as many people into Australia as soon as we possibly can" – Karen Andrews, 22 November 2021.
Something doesn't add up?
Clearly, if immigration is rebooted to pre-COVID levels, as flagged by the federal government (but not MYEFO), then labour supply will grow strongly and both unemployment and wage growth won't hit MYEFO's lofty targets.
What else is new? The Australian Treasury has a long history of overestimating wage growth and downplaying the impact of mass immigration: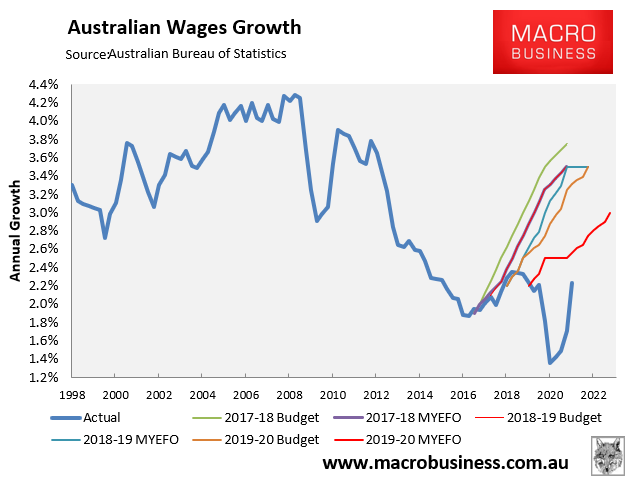 Par for the course.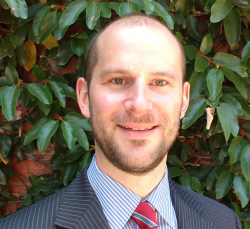 Latest posts by Unconventional Economist
(see all)