Legal eagles are all over the Liar's Berejiklian lies:
The chair of the Centre for Public Integrity and former NSW supreme court judge, Anthony Whealy, criticised Morrison for dismissing the serious issues raised by the Icac inquiry.

…"For Morrison to dismiss that as being of no significance, is to trash integrity and accountability in the most terrible fashion," he said.

…Former judge of the Victorian court of appeal Stephen Charles SC said Morrison's comments were "disgraceful".

"I thought that what they indicated that he was hoping the former premier would stand against Zali Steggall and that Icac's activities were interfering with his wishes."

…Barrister Geoffrey Watson, who was counsel assisting Icac in its investigation of Labor MP, Eddie Obeid, said Morrison was "trivialising" Icac's investigation when he accused it of simply investigating her personal relationship.

"It's not that he's said it's a kangaroo court, that's just stupid. It's that he said it was an investigation into who was her boyfriend. That's a trivialisation of an investigation into whether there had been compliance at the highest level with a code of conduct. You set the standards from the top," he said.

…The Law Council of Australia has called for "moderation in the debate over the proposed federal anti-corruption commission" after Morrison's "kangaroo court" comment last week.

"Respect for legal institutions underpins the administration of justice in Australia. The structure and powers of any commission are important topics for discussion, but any commentary must be tempered by fairness and balance," Law Council of Australia president, Dr Jacoba Brasch QC, said.
What is driving the Liar to such desperate stakes? Bernard Keane takes the political populism angle:
Comparisons with the Donald always risk being overstated, but Australia has reached a Trumpian moment with Scott Morrison: he is actively seeking to undermine the rule of law by not merely refusing to establish any meaningful kind of federal integrity body, but by seeking to destroy existing, effective state integrity bodies that might hold him and his political colleagues to account.

If the immediate goal of him boosting Gladys Berejiklian as a potential candidate for Warringah is to add one to the Coalition's seat tally at the election, the broader goal is to prevent and nullify any independent accountability systems.

It's difficult to overstate how passionately Morrison hates the idea of accountability, or any system or standard against which he can be assessed that he doesn't control. He passionately loathes it. From the start of his ministerial career, Morrison has sought to shut down capacity for external scrutiny of his actions, invoking the fiction of "on-water matters" to throw a blanket of secrecy over most of his activities as immigration minister and pushing the AFP to investigate journalists to identify immigration whistleblowers.
The fruits of years of this are apparent in new polling from Essential. The majority of the policy now has little or no faith in government. Precisely the disengagement that the Liar seeks to foster to divide and rule: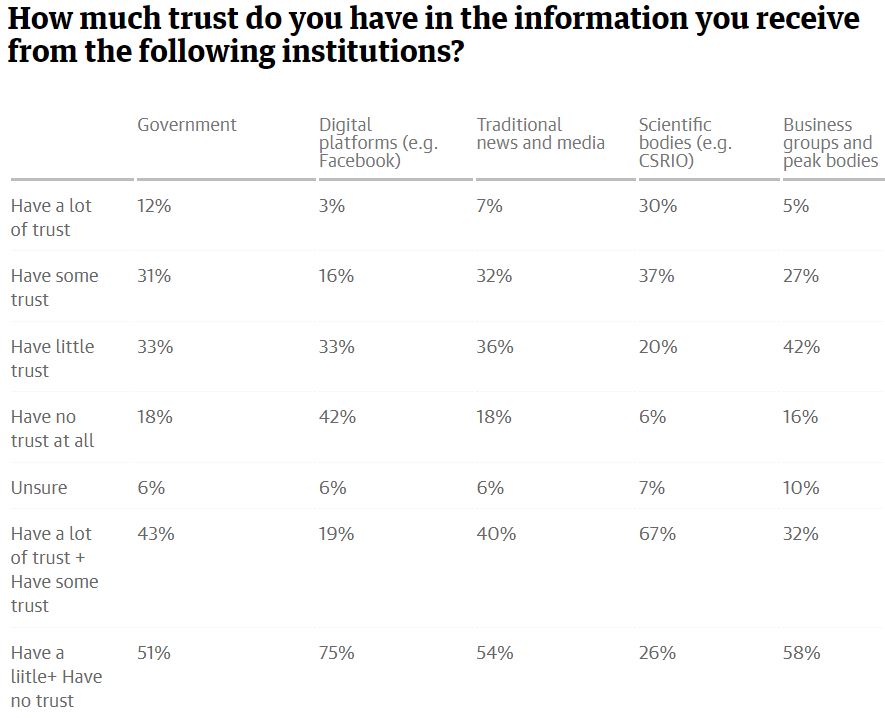 Australians are not evangelical about their politics in the way of Americans so I can't see them falling for the Liar's tribal politics over a modicum of common sense.
That said, the Liar's politics is so vile – mass sexual assaults, virus calamities and resulting recessions, climate fantasies, routine corruption, the courting of extremists, the active destruction of probity – he makes all who touch politics feel filthy and disengagement is the sane response.
Barf:
Western Australian MP James Hayward, who has been charged with child sex abuse, has not resigned from state Parliament and will continue to receive his salary and allowances until February, WA Today reports. Hayward's five charges relate to an eight-year-old girl and allegedly took place earlier this year. He was suspended from the Nationals on Thursday and resigned from the party the next day following the revelation, as news.com.au reports, but WA Governor Kim Beazley — who signs off on Parliament's resignations — hadn't received anything from Hayward yet.
Prime Minister Scott Morrison has denounced comments made by George Christensen on an American conspiracy theorist's online show after fellow government members called for the rogue MP to be pulled into line.

Mr Christensen, who is retiring at the next election, has been a frequent and vocal critic of pandemic controls, prolifically posting on social media to voice his opposition to lockdowns and vaccinations.

His latest comments were featured on the Infowars web series hosted by far-right American conspiracy theorist Alex Jones, who has been largely banned from social media sites such as Facebook, Instagram and YouTube for violating hate speech policies.
Hurl:
A taxpayer-funded staffer for federal MP Andrew Laming, Barclay McGain, has posed with a paintball-style toy assault rifle dressed as acquitted Kyle Rittenhouse, the teenager who shot dead two Black Lives Matter protesters and was acquitted of all criminal charges related to the deaths in a trial that deeply divided opinion in the US.

McGain posted the photo to social media on 27 November, 18 months after he was sacked from his electorate officer position by Laming over a controversial schoolies video that denigrated Indigenous Australians. Six months later he was rehired by Laming, who described McGain as an important asset to his office due to the staffer's youth connections.
But is this puswad politics a strategy? I don't think so. It's the logical consequence of a psychopath occupying the office of the CEO. As the psycho gaslights everybody, the organisation and its people devour each other.  This is why all executive recruitment should screen for the disordered.
Even the good Liberals are in mutiny now:
NSW Liberal officials have engaged ICAC barrister Scott Robertson to defend them against the possibility of a federal intervention by Scott Morrison to install preferred candidates into a swath of crucial battleground electorates.

The Australian has learned that Mr Robertson was consulted and is likely to be retained in any court proceedings after legal advice warned that the Prime Minister's threat to override the preselection process was potentially unlawful.

Mr Robertson acted as counsel assisting for the Independent Commission Against Corruption during its recent investigation of former NSW premier Gladys Bere­jiklian, who is now being courted by Mr Morrison and others to stand for the Sydney seat of Warringah.
And more:
NSW Premier Dominic Perrottet wants to end the Morrison government's "divide and conquer" approach to dealing with the federation and will push for premiers and chief ministers to unite under one banner.

Mr Perrottet will also suggest in a speech to the National Press Club on Wednesday that the Commonwealth take full responsibility of the National Disability Insurance Scheme in NSW in exchange for the state fully running childcare and early childhood education.
And more:
Climate activist Simon Holmes a Court says he is on track to raise up to $20m to campaign against Liberal MPs at the next election, with Josh Frydenberg and Energy Minister Angus Taylor among at least 10 government members in former safe seats who will face an onslaught from cashed-up ­independents.
The Liar has turned Australian politics into a multi-headed oozing puswad that only the truly lunatic can endure.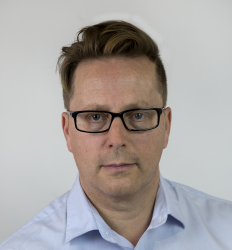 Latest posts by Houses and Holes
(see all)