Prices continued to push higher on Tuesday, with futures across Chinese and Singapore markets lifting for a fourth session in row, with demand hopes still lingering. But domestic rebar and coking coal futures slipped instead: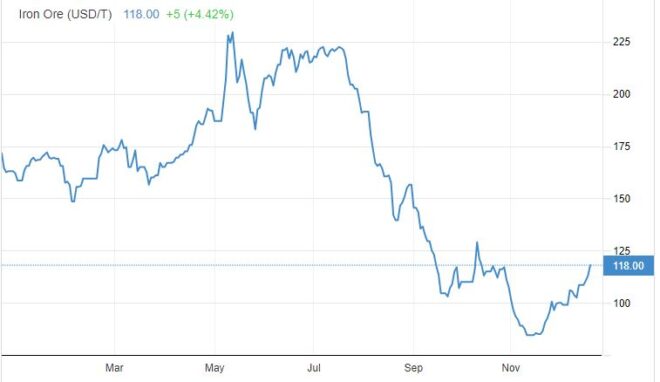 More on the sentiment and the burgeoning iron ore stockpile:
"Once again, the direction, momentum and quantum of iron ore prices is largely being dictated by sentiment given that very little has changed from a global supply-demand balance," said Atilla Widnell, managing director at Navigate Commodities in Singapore.

Dalian iron ore in particular has rebounded more than 30% from a November low, with some gains coming after Beijing early this month vowed to prioritise stabilising economic growth in 2022, fuelling hopes for more stimulus measures. But downside risks linger, such as the increased likelihood of another COVID-19 outbreak and lockdown in China, and a bloated inventory of imported iron ore now piling up at the country's ports.

The portside iron ore stockpile last week stood at the highest level since mid-2018, SteelHome data showed. Steel futures on the Shanghai Futures Exchange retreated after a six-session rally, with rebar falling as much as 2.1%, while hot-rolled coil shed 2.7%. Stainless steel gained 1%.

"Despite falling domestic steel rebar consumption, the bulls are lapping up repeated statements on the prospect of stimulus-driven demand for next year," Widnell said.
According to
Mysteel Global
, both Australian and Brazilian iron ore shipping leaped over 14% last week as we head into the end of the calendar year and the Chinese New Year:
Over December 13-19, the total volume of iron ore dispatched to global destinations from the 19 ports and 16 mining companies in Australia and Brazil under Mysteel's survey recovered by 3.2 million tonnes or 14.4% on week after a one-week dip, reaching 25.8 million tonnes, with both countries posting on-week gains in shipments.
Over the latest survey period, Australian iron ore shipments from its 10 ports bound for global destinations grew by 1.4 million tonnes or 8.2% on week to 19 million tonnes, and Brazil shipped about 6.7 million tonnes of iron ore from its nine ports worldwide, up by 1.8 million tonnes or 36.5%
Latest posts by Chris Becker
(see all)