The stimulus party is in full swing. Shame about reality:
In the new home market, in the week of November 22 – 28, transaction volume in the 15 major cities reached 28,481 units, jumping by 37.12% from the previous week, according to Zhuge Zhaofang. In particular, new home transactions reached 2,350 units in Beijing, rising by 28.35% from the previous week. Transactions in Nanjing jumped 190.96% and in Chongqing surged 185.42%.

Xu Xiaole, chief analyst at Beike Research Institute, said that the pick-up was partly due to seasonal factor and also attributable to improving financing environment.

According to data from Beike, average home mortgage rates for first-time home buyers in 100 major cities was 5.69% in November, falling by 4 basis points from a month earlier, and mortgage rates for second-home buyer fell by 3 basis points to 5.96%. Meanwhile, waiting time for approval of home mortgage loans at banks shortened in November for the first time since April this year.

Due to growing expectations of a cooling housing market, more home sellers are willing to lower prices which helped boost transactions, said Xu.

Analysts say that, the market is currently experiencing a correction after sharp cooling in the past few months and it doesn't represent a fundamental rebound of the overall market environment.

Guo believes that authorities have sent several positive signal for real estate financing which has help lift potential home buyers' expectations.

"Real estate policies remains tight with slightly loosening and home transaction situation in November may last until early next year. Overall performance in 2022 will depend on future policies adjustments," he noted.

According to the China Real Estate Information Corporation (CRIC), local governments' policy tightening is slowing further, indicating policy risk is bottoming out in the short term.

However, that doesn't mean the housing market is bottoming out and there is more room downside, although the downtrend may slow down amid marginally improving policies, it said.
A 4bps cut to mortgage rates? A few rising sales in top-tier cities where the correction isn't? The truth is there is no evidence of improving sales volumes in the aggregate: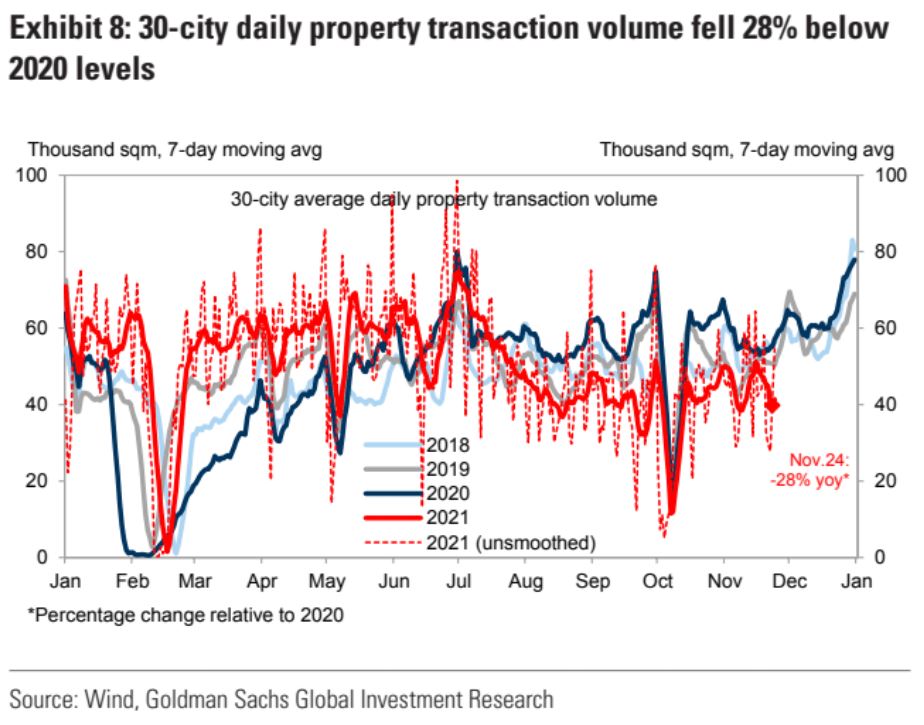 Because much of it is in lower tiers where the cavalier developers roamed. To wit:
Shares of China Gas Holdings Ltd. slumped by 20% on Tuesday, the worst performer in the MSCI China Index. The selloff followed the company's announcement that net income for the six months through September fell 19% year on year, as the number of new residential connections plunged by more than a third.

…The company "has more city gas projects in relatively small cities (in terms of population and project) hence is more vulnerable to property market downside risk than those focusing more on big cities," they added.
Those on the hope train are also ignoring land sales which remain unbelievably bad: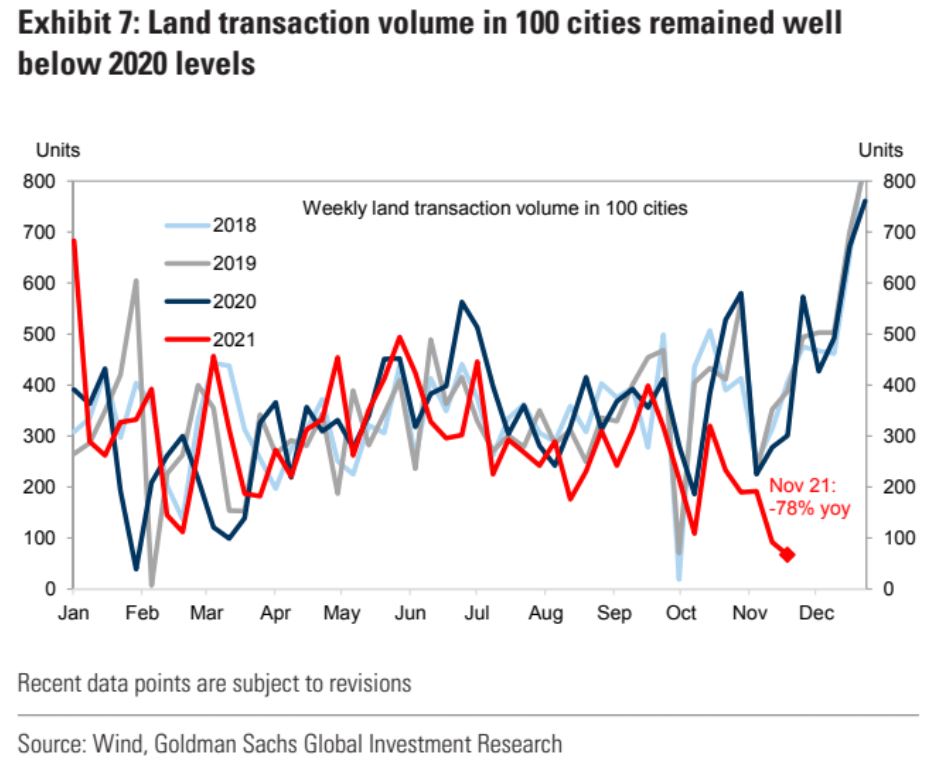 Where there has finally been some improvement is in infrastructure bonds: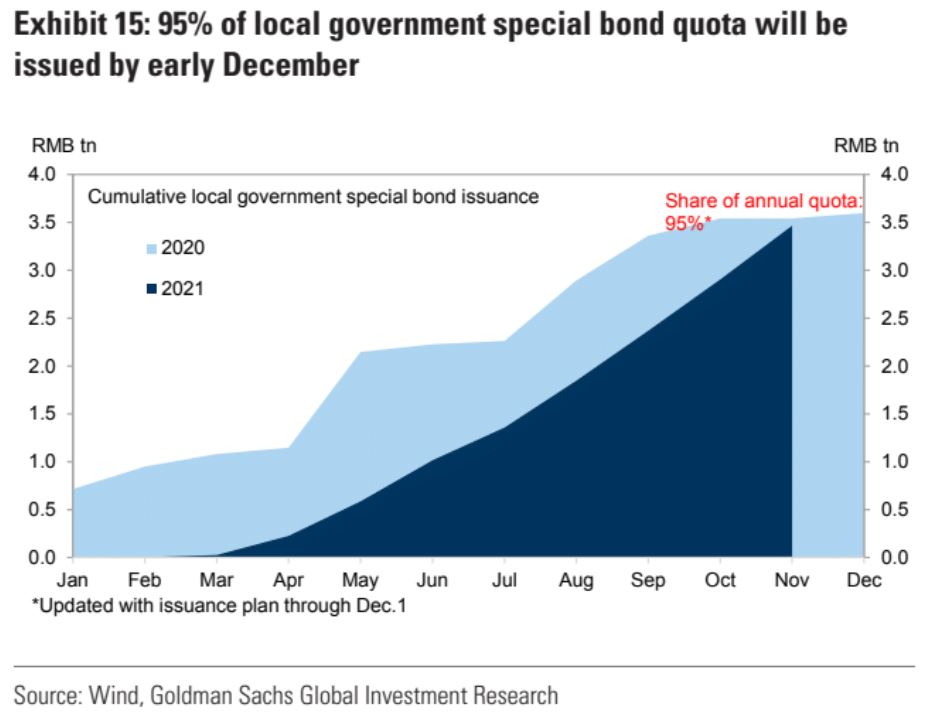 But that is less useful than it looks as well:
China's local government financial vehicles (LGFVs) had issued 5.1 trillion yuan of bonds this year as of November 28, hitting a new record high and representing 400 billion yuan increase from the previous record, according to data from Wind Information, a financial data provider.

Notably, a wide divergence is seen between different LGFVs, with the share of LGFV bonds with low ratings declining and meanwhile, an larger portion were issued by LGFVs of low-risk and more developed regions, showed the data.

As of November 28, China had an outstanding LGFV bonds of 12.75 trillion yuan, increasing by 15.3% from that at the end of 2020 and more than double the amount at the end of 2014. Outstanding LGFV bonds accounted for 57% of total outstanding corporate bonds in China's onshore market, rising by 10 percentage points from the end of 2014, showed the data.

Despite the growth, net financing via LGFV bonds so far this year amounted to 1.65 trillion yuan, lower than last year, due to a large amount debt maturity, showed the data.

…The data showed that a majority of outstanding LGFV bonds were from more developed provinces, with the share of Jiangsu and Zhejiang provinces combined accounting for 32.75% of the total, rising by 3 percentage points from the end of last year.

"Yield on three-year bonds issued by some LGFVs in some cities in Jiangsu and Zhejiang has declined to around 4%, but there are still strong demand from asset management institutions for the bonds. More institutions are interested in LGFV bonds from Jiangsu and Zhejiang regions," said fixed-income director at a Shanghai-based asset management company.

"Overall speaking, the government is tightening regulations for LGFV bonds," said an executive at a large city-level LGFV in South China. "Previously, issuers only had to make the use of bonds proceeds meet requirements of regulators' 'window guidance' or informal notice, but now LGFVs are categorized into different classes and subject to different rules."

At the start of the year, Chinese exchanges and the National Association of Financial Market Institutional Investors (NAFMII) categorised LGFV bonds into difference classes based on criteria used by the Ministry of Finance for local government bonds. The NAFMII imposes different restrictions on bond issuers in different categories and bonds used for different purposes, although it has never officially announced the list.

The Ministry of Finance categorizes local government bonds into four classes based on risk levels: red (debt ratio above 300%), orange (debt ratio lower than 300% but above 200%), yellow (debt ratio lower than 200% but above 120%) and green (debt ratio lower than 120%).

"When LGFV projects are submitted, someone will screen the projects according to the category list," said the Shanghai-based banker. "The list was not published and even in the NAFMII and the exchanges, the list is confidential with only a few people having access."
Remember that dedicated infrastructure bonds are only part of the story. The other part is direct financing of projects via local government revenue and that is based upon annihilated land sales. Goldman previously:
Revenue from sales of land use rights has been an important source of revenue for local governments in China, accounting for nearly 30% of local level fiscal revenue. Fiscal spending such as land development, urban and rural construction, education and other infrastructure related expenditure in theGovernment Managed Fund (GMF) account are highly dependent on land sales revenue. Therefore, the potential shortfall of fiscal revenue due to waning land sales suggests lower fiscal spending by local governments going forward.

Our historical analysis suggests changes in land sales revenue in the GMFaccount translate into the same magnitude of changes in infrastructure investments in RMB terms, while the impact of changes in net LGFV bond issuance and changes in local government bond issuance are well below one for one. This points to headwinds for infrastructure investments next year.

Looking ahead, higher new local government special bond quota and more flexibility in local government financing are necessary to offset the drag on infrastructure investments from declines in land sales revenue in 2022.
We can probably expect a muted rebound in infrastructure as some of the new bond issuances arrives on the ground but the only thing that I can see materially lifting bulk commodity demand in the next six months is a rampaging OMICRON shock that crashes everything first.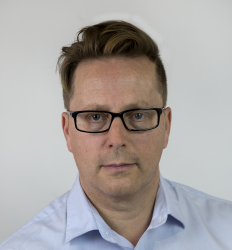 Latest posts by Houses and Holes
(see all)