Welcome to the new post-iron ore Chinese stimulus pattern. There'll be some stimulus for infrastructure but it is smaller than property and less steel-intensive plus the property adjustment will keep a lid on it via weak land sales. TSLombard with the note:
Beijing is shifting gears, moving from marginal easing to broader stimulus measures. As forecast, the Sixth Plenum has proved a turning point: after the elite political gathering, the PBoC signalled a dovish turn and announced a 50bps RRR reduction. Meanwhile, the Politburo yesterday confirmed easier property-sector policy and more expansive fiscal measures; we expect a recordhigh special-purpose bond quota for 2022 in the region of RMB 4trn. Our base case is playing out: China activity is stabilizing while credit and infrastructure growth are bottoming. We forecast GDP to reach 4.7% yoy in 2022. The Central Economic Work Conference at the end of December will give a clearer idea of the official GDP target – the number rumoured is 5-5.5% yoy. The broader easing signal marks a fresh stage in the first stimulus cycle of the "Common Prosperity" era. Under the new growth paradigm, China first ramped up support for government favoured green/tech/new infrastructure in an attempt to stabilize activity without using traditional credit levers. We think this policy pattern will repeat and open up a new type of defensive equity and credit play, when China slows policy–favoured-sectors are likely to outperform.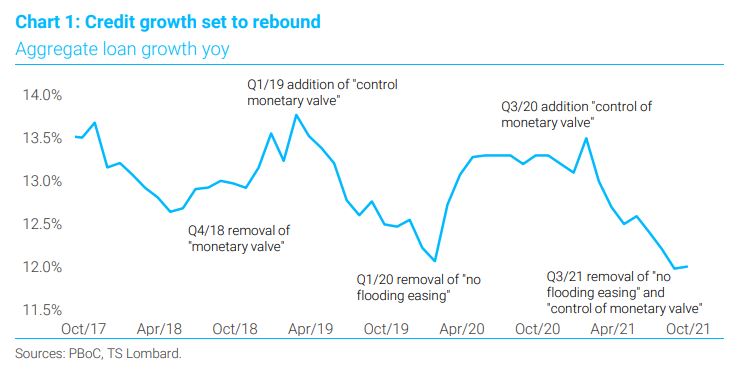 China growth has been decelerating rapidly since July but Beijing has turned more accommodative only gradually. A slower transition from neutral to stimulus is part of the new "cross cyclical" economic framework (details here). Politics was the other key driver of a delayed stimulus shift. Central authorities were not in panic mode and so chose to wait until the next scheduled central political gathering (Sixth Plenum) before signalling a shift to broader easing.
Sector-specific easing was the first stage of the current stimulus cycle. From July Beijing focused stimulus measures on policy-favoured sectors that have decent real-economy multipliers, including new energy (renewables and grid), new infrastructure (smart roads, telecoms) and the digital economy (5G, data centres). Initially tax and fee cuts were utilized, followed by aggressive targets for infrastructure completions. Liu He and Li Keqiang both called for the accelerated construction of leading projects in the 14th Five-Year Plan. At the same time, industry-specific plans and provincial targets were brought forward. Sichuan Province, for instance, pledged to add 220,000 5G base stations (four times the number currently in operation in the US) over the next three years.
'Green' rate cut. The major policy support (so far) for new energy, new infrastructure and the digital economy is a stealth rate cut. In early November, the PboC announced a new refinancing tool at a rate of 1.75% (commercial rate is ~5%) for up to 60% of any loan made to the aforementioned sectors. There is no value or time limits on the policy. We estimate it will inject RMB 1-1.2 trn annually into the "new" economy. This policy alone provided a boost to related equities and bonds.
China is now engaged in broad easing. Yesterday's Politburo meeting gave a clear signal on the property sector and fiscal spending. The statement issued after the meeting explicitly mentioned "facilitat[ing] the healthy development of property industry". This is likely to entail local government, SOE and bank support for the wider sector and involvement in the restructuring of Evergrande (in a similar manner to Anbang insurance). On macro, the emphasis is on stability and ensuring the economy grows in a reasonable range ahead of the 20th Party Congress. As we noted two weeks ago, the PBoC is more dovish: the 50bps RRR cut will likely be followed by another 50 bps reduction in H1/22. In late December, the Central Economic Work Conference will provide a clearer signal for 2022; the current rumour is that the theme will be "stable growth" with a 5-5.5% GDP target.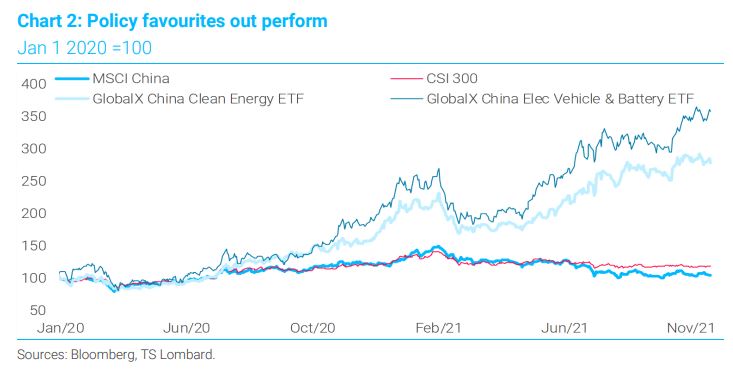 The first 'Common Prosperity' stimulus cycle has progressed from neutral to targeted stimulus and marginal easing to broad stimulus. From what we understand about policy priorities under the emerging "Common Prosperity" framework, stimulus exit is likely to proceed in reverse order: supportive measures for policy-favoured sectors will be removed last, if at all. Going forward, the easing pattern is likely to repeat during the next economic downturn.
A stimulus tool kit that relies on policy favourites as the first economic stabilization tool suggests that related equities and credit may outperform when PRC activity starts to slow. Tomorrow, in our weekly Macro Strategy, we will examine the market fundamentals underpinning this thesis and how to trade it. The difficulty in buying into the sectors now is valuations. Since April we have argued in favour of allocating to tech hardware and going underweight MSCI China. As the chart above shows, policy equities have outperformed. Price action today indicates that traders are switching from the "new defensives" back into traditional construction/chemicals and infrastructure stocks.
Cyclical, structural and secular tailwinds. Valuations are rich for good reason. We have noted the cyclical drivers, but there are also major structural and secular positives. The Party is betting heavily on technology as a panacea for growth, demographics, debt and national security concerns. Support for advanced manufacturing and research will remain strong: policymakers hope to restructure the economy so that new tech takes up the property sector's share of credit demand and growth (from Q1/21 to end Q3/21, green lending increased by RMB2.8trn while lending to real estate was up just RMB1.8trn). Beijing is picking sectoral winners when the victors are already clear. The world is going to need more 5G base stations, batteries, clean energy, electric vehicles, semiconductors, etc., and China is making sure it has the tech and companies to lead some of these sectors. Whether clean energy can replace property as a growth locomotive is another question entirely. Regardless, cyclical, structural and secular factors provide a compelling investment case.
China is ramping up stimulus measures to target stabilization. As noted, we think the worst in property-sector financing is over and that credit and infrastructure FAI growth have bottomed this quarter. We expect stabilizing activity in Q1/22 and full-year 2022 growth at 4.7% yoy. As we enter a new phase of the China stimulus cycle, we observe the potential for policy- favoured sectors to serve as new "defensives".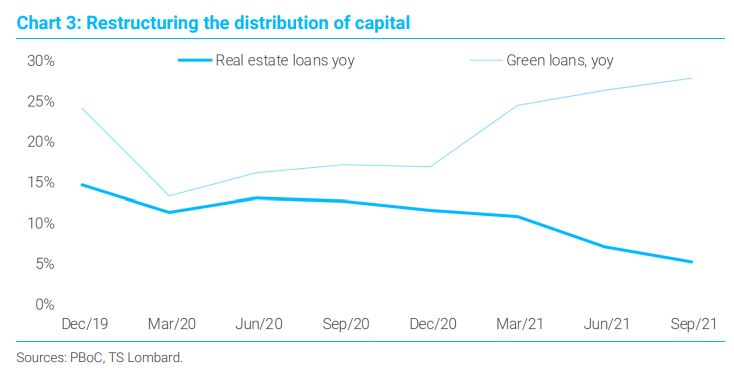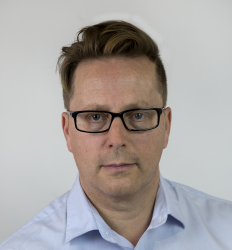 Latest posts by Houses and Holes
(see all)