Evergrande is back and not in a good way:
The embattled developer said in an exchange filing late Friday that it plans to "actively engage" with offshore creditors on a restructuring plan, offering its most explicit acknowledgment yet that its $300 billion of overseas and local liabilities have become unsustainable.

A barrage of statements from Chinese regulators — several of which landed just minutes after Evergrande's announcement — suggested authorities are striving to contain the fallout on financial markets and homeowners rather than orchestrate a bailout.

…The company's next test comes Monday. That's when a 30-day grace period ends on two dollar bond interest payments that were initially due Nov. 6: a $41.9 million coupon for a note maturing in 2022 and $40.6 million of interest on a security due the following year. Both bonds were issued by unit Scenery Journey Ltd.
It is not alone:
It is not Chinese developer Sunshine 100 China Holdings Ltd.defaulted on $179 million of debt and interest payments due Sunday as the pain of higher borrowing costs hits indebted companies across the sector.
Fitch summed up the state of affairs in Chinese property late last week:
The operating environment for Chinese developers is likely to remain challenging, with a meaningful recovery of funding likely to take place only towards 2H22, with the potential to lead to further defaults or distressed debt exchanges in the sector. We expect the increase in credit polarisation of developers and sector consolidation to expedite a decline in annual property sales volumes, underscoring our deteriorating sector outlook. Fitch expects a 10%-15% year-on-year decline in annual sales volumes, with an average selling price decline of around 5%. Restoration of homebuyer and creditor confidence is key. Many private developers have minimised land purchases to preserve liquidity, and may see a longer-term contraction in scale. However, state-owned developers and financially sound private developers have continued to purchase land bank, and are likely to increase market share. We expect the government to take further steps to stabilise the sector. However, any further policy loosening will be measured, given the government's clear intent to see deleveraging in the sector and curb speculative demand. Tepid, delayed policy responses or potential policy mis-steps that fail to stabilise the sector remain a key risk. Restoration of access to debt capital markets, starting with stronger developers, is also important for liquidity and financial stability, although this is likely to take some time.
Yep. Spreads blew out again for dollar bonds across the week and even a bullish Goldman is struggling to put lippy on a dying pig:
External sources of funding are needed…The significant underperformance across China property HY over recent months has led to a large portion of the bonds trading significantly below par. Despite that, issuers have only bought back a relatively small proportion of their bonds outstanding. For example, we estimate that issuers have bought back USD 872bn of notional amounts over the past month, even though maturities are heavy in the coming months (Exhibit 3). To us, this indicates tight liquidity amongst the developers, and external sources of funding are needed in order to meet all the upcoming bond maturities….but tough to come by. In our view, the difficulties faced by a number of China property developers are mainly due to the tight credit conditions, though recent signs suggest that the policy direction has eased moderately. For example, Reuters reported in early November that there has been a loosening of domestic bond issuance requirements, and a number of real estate companies are seeking to tap the onshore bond market. That said, whilst onshore property bond issuance has continued in recent weeks, the vast majority have come from state-owned enterprises (Exhibit 4). We do expect some developers will be able to issue RMB bonds (for example, Reuters reported that Country Garden and Longfor have filed for such issuance), though we believe only the bigger and stronger developers will be able to issue.

…We estimate there are over USD 17bn of China Property HY bonds maturing from now until the end of April 2022. In particular, January (USD 5.5bn coming due), March (USD 4.9bn coming due) and April (USD 5.0bn coming due) are heavy months for bond maturities. Potential actions issuers can take to meet their upcoming obligations include onshore bond issuance, asset sales, shareholders support and equity raising. Borrowers may also conduct bond exchanges, though bondholders may not be receptive to such transactions. Should these initiatives fail to be sufficient, payment default may be the only other option.
That will be fun to watch. The other options are asset divestment for which there are no buyers, discounted sales that trigger brand damage and lower sales, or issuing equity which feeds the spiral.
Needless to say, this toxic brew is preventing any rebound in sales: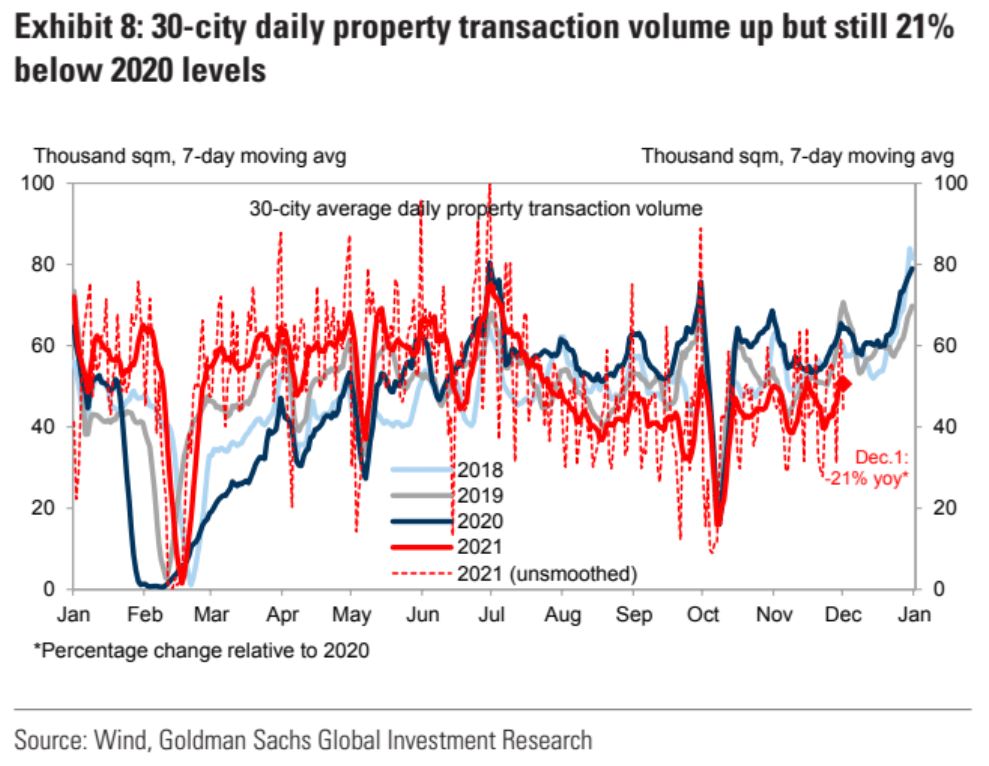 As well as paralysing developer balance sheets. At least land sales are no longer effective zero!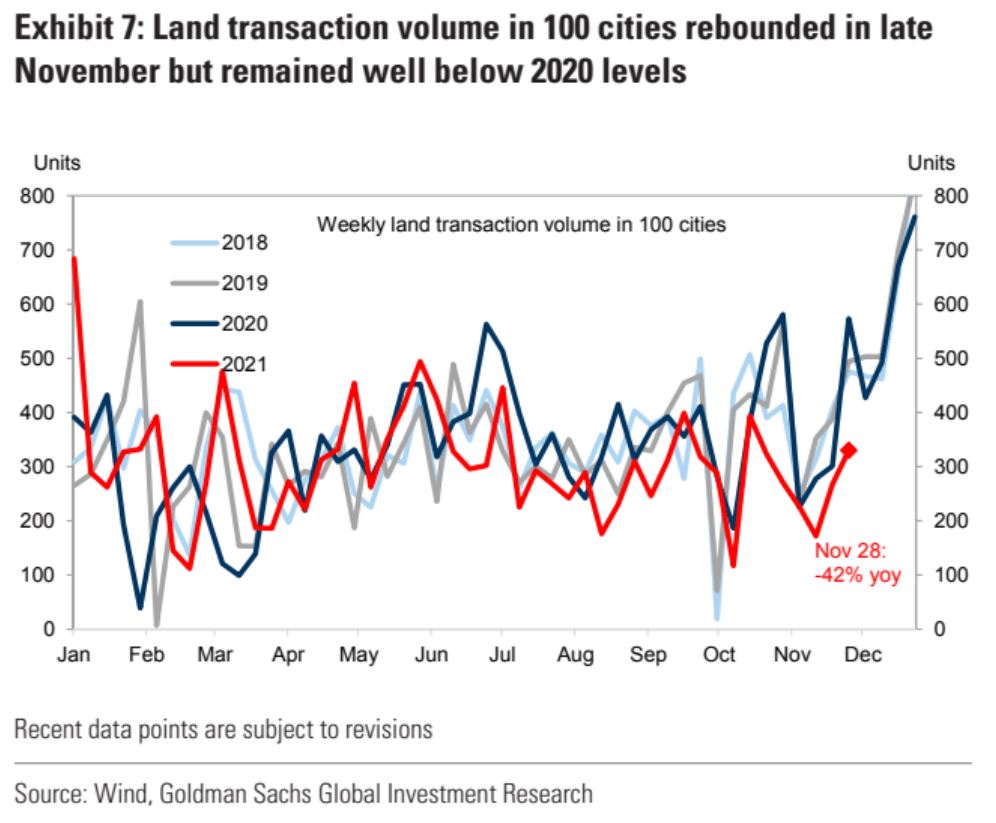 Somehow, I don't think that the next month of activity, which typically fills the pipeline for year-ahead construction, is going to go well.
In marginally better news, there has been some more progress on infrastructure bonds: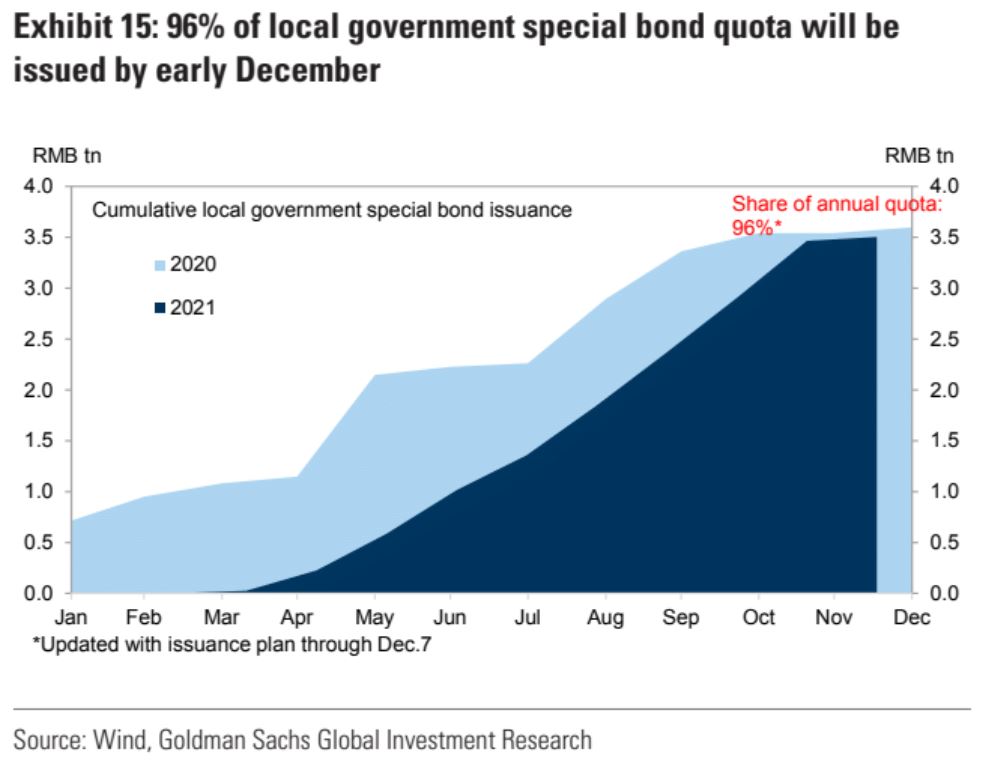 However, as discussed many times, that will also be held back by weak land sales revenue.
The upshot is, most analysts have pencilled in a small fall in Chinese property volumes and rising infrastructure investment in 2022. We are nowhere near either.
Hence, this:
During the meeting with IMF Managing Director Kristalina Georgieva on Friday (Dec 3), Premier Li commented that "China would maintain prudent macro policy, enhance policy effectiveness and pertinency, keep liquidity at reasonable and adequate levels, cut RRR when appropriate to increase support to the real economyand in particular SMEs". We think PM Li's comment implies a targeted RRR cut isvery likely in the near term. (Based on previous experiences, after Premier Li'scomment, PBOC usually announces the actual cut within a week). The net liquidityimpact may depend on whether the central bank rolls MLF in full on December 15th when RMB 950bn loans will mature.
But note that the cut will not be aimed at the property sector. Rather, offsets to it.
Chinese construction is going nowhere fast.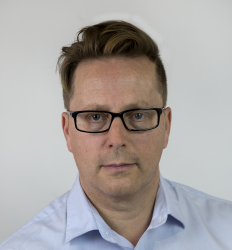 Latest posts by Houses and Holes
(see all)