Brisbane's property market has experienced the strongest growth out of the major capital cities this year, according to CoreLogic: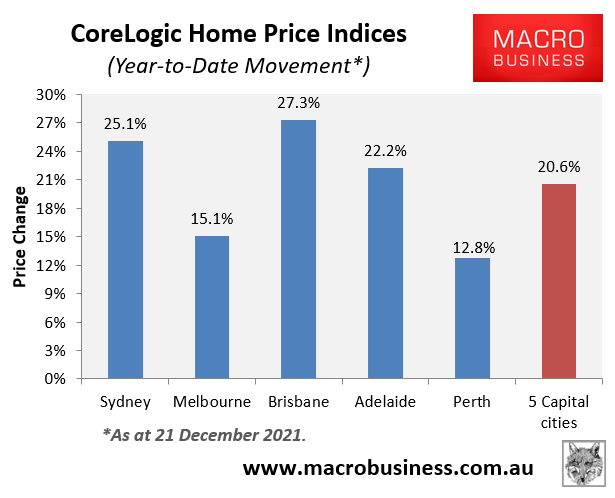 The Centre for Population's 2021 Population Statement suggests that Brisbane's bull run could continue on the back of strong interstate migration from Sydney and Melbourne:
Net interstate migration is forecast to increase for all states except New South Wales and Victoria in 2020-21 and 2021-22. This increase is expected to be driven by migration from New South Wales and Victoria to other states. Queensland is forecast to continue to  experience the largest net interstate migration gains as it has avoided extended lockdowns and has historically been a popular destination for interstate migrants.

Longer-term impacts of the pandemic are more uncertain, but it is assumed that the shock to interstate migration from the pandemic will be temporary. As such, interstate migration patterns are assumed to return to a historical distribution from 2023-24 onward…

Population growth in New South Wales is forecast to fall from 0.9 per cent in 2019-20 to zero per cent in 2020-21, and -0.1 per cent in 2021-22 (Chart 12). This would be the lowest rate of population growth in over 100 years…

In 2020-21, Victoria is forecast to record negative growth of -0.5 per cent, due to negative net overseas migration and negative net interstate migration (Chart 13). As travel restrictions ease and the economy recovers, Victoria's population growth rate is projected to recover to 0 per cent in 2021-22 and then to 1.9 per cent by 2024-25, making it once again the fastest growing state…

The population growth rate in Queensland is forecast to reach a low of 0.8 per cent in 2020-21, the lowest rate of growth recorded for the state since World War II. Notwithstanding this, Queensland is forecast to be the fastest growing state until 2023-24, before being overtaken by Victoria. Queensland is projected to continue to experience the largest net interstate migration gains of any state. Net interstate migration is projected to peak in 2021-22 and continue to be the main driver of Queensland's population growth until 2023-24 (Chart 14)…
Housing affordability is obviously a big carrot. Despite its recent strong growth, Brisbane property is still very 'cheap' compared to both Sydney and Melbourne, as illustrated clearly in the next charts: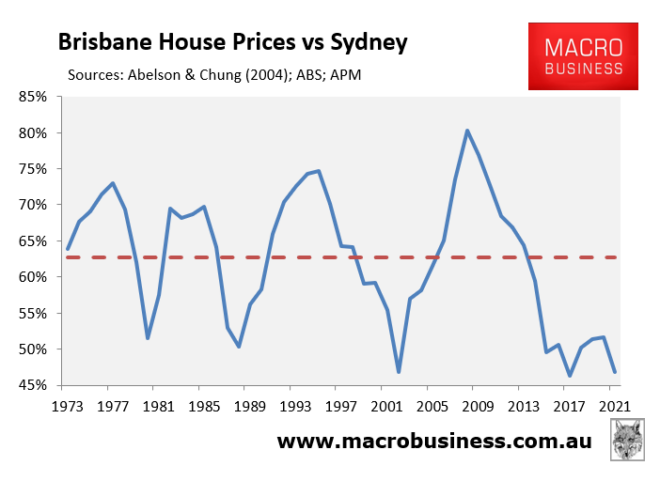 The median Brisbane house only costs around half as much as the typical Sydney house and less than 70% the cost of a Melbourne house.
The price-to-income ratio of homes in Queensland is also far less than NSW or Victoria: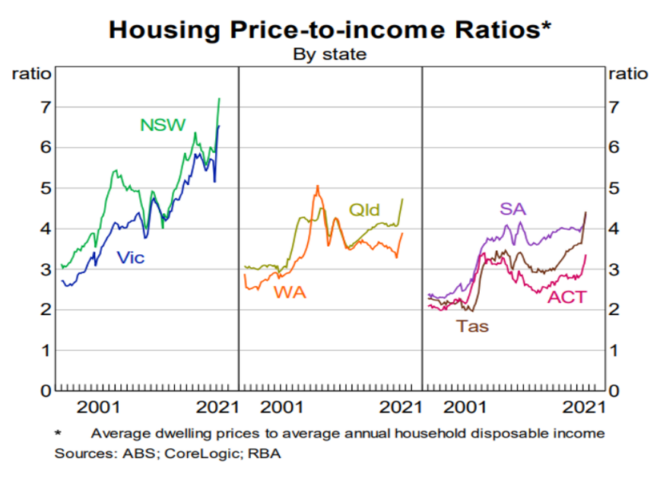 With both Sydney and Melbourne having just gone through long and painful lockdowns, and with such a wide affordability gap, it is easy to see a situation where many tens-of-thousands of southerners migrate north to South East Queensland in search of more affordable housing and better lifestyle.
Brisbane's 2032 Olympics should also fuel property demand.
While I am not expecting Brisbane property prices to catch up with Sydney or Melbourne, they should at least close the gap over the next decade, meaning Brisbane property will outperform its southern big city counterparts.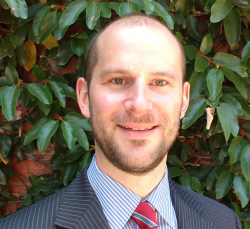 Latest posts by Unconventional Economist
(see all)