The AFR View has taken a shot at critics of a 'Big Australia' (yours truly). Below are the The AFR's key arguments alongside my rebuttal:
Critics of a "big Australia" tend to dismiss such calls to reboot the nation's immigration program as quickly as possible as simply returning to some population Ponzi scheme that benefits property developers without any boost to national prosperity or per capita income. Yet population and property have played a critical role in the national prosperity created in the seven decades since The Australian Financial Review was launched in 1951. The fundamental driver of this prosperity has been the shift from an economy based on exporting wool and wheat to Britain, to selling iron ore, coal and gas to Japan, South Korea, Taiwan and China. That has provided the national income that has attracted enterprising people from around the world to help build the homes, offices and shopping centres for a population that has expanded from 8 million in 1951 to nearly 26 million today…
Here's a genuine question for The AFR: how has the shift "to selling iron ore, coal and gas to Japan, South Korea, Taiwan and China" been achieved via immigration?
Those activities have taken place primarily in regional Western Australia and Queensland, whereas the overwhelming majority of Australia's immigration has landed in the capital cities (especially Sydney and Melbourne).
This immigration, in turn, has driven huge trade deficits in the migrant epicentres of New South Wales and Victoria: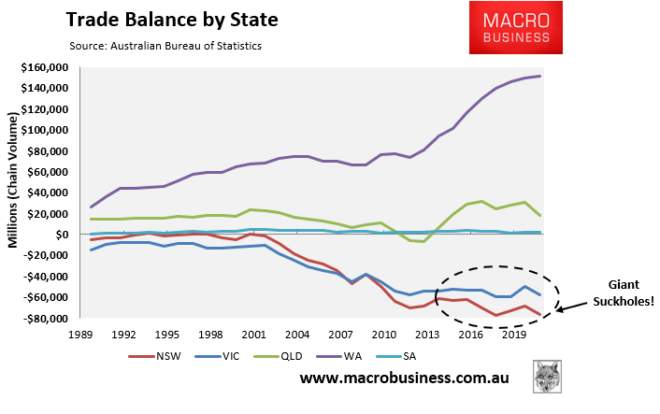 Anybody with a shred of common sense would recognise that sharing Australia's fixed mineral endowment (and commodity exports) among more people will necessarily dilute per capita incomes and living standards (other things equal). It is basic maths.
Does The AFR believe that residents of Brunei, a rich oil-exporting economy, would be wealthier if its population was 1.5 million instead of 500,000 people? The same principle applies to Australia.
Back to The AFR:
It is naive to think that Australia could have continued as a mostly white enclave of 8 million people living off the island continent's natural resource base seven decades ago, or to stand still today with a more multicultural population three times that size.
Classic straw man argument. Most opponents of a 'Big Australia' merely want to see Australia's immigration intake return to historical levels of ~100,000 people a year, not return to the break-neck pace that existed in the 15 years leading up to COVID where net overseas migration surged by 140%: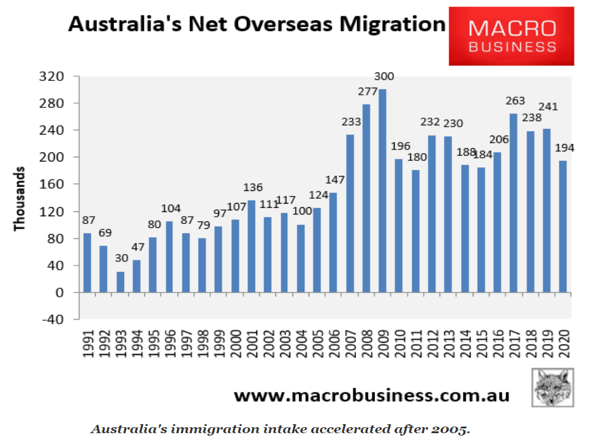 We are merely against the Intergenerational Report's mad projection that Australia's population will soar another by 13.1 million people (a 50% increase) in only 40 years on the back of 235,000 annual immigration, which will add the equivalent of another Sydney, Melbourne and Brisbane to Australia's current population: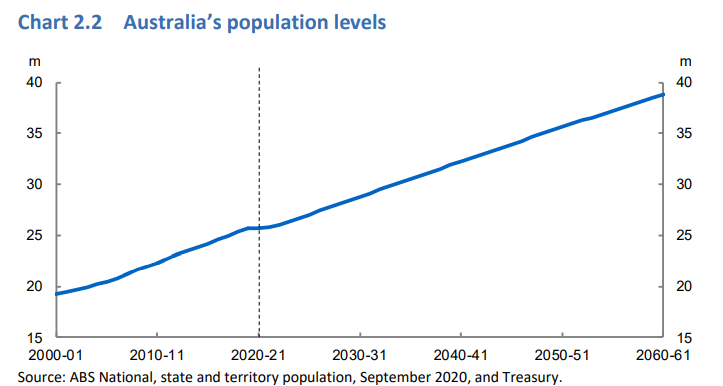 Most Australians agree with this position, as evidenced by recent opinion polls.
Australians recognise that the mass immigration program of 2005 to 2020 was managed appallingly and crush loaded everything in sight, resulting in widespread infrastructure bottlenecks across Australia's major cities and reduced liveability.
Sadly, the shills at The AFR shamelessly represent vested interests in the property/business lobby rather than the Australian people.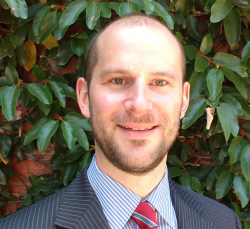 Latest posts by Unconventional Economist
(see all)