S&P Global Ratings contends that Victoria will emerge from the pandemic in the weakest financial position of all the states and territories, and will have more than triple the debt it did before the pandemic.
S&P tips that the majority of the states and territories will have more than double the debt they did in 2019, with the exception being Western Australia:

"We anticipate record infrastructure spending and lower revenue streams over the next decade," the report stated, adding infrastructure commitments and the Covid-19 hit to finances would "drive debt to record levels"…

States' and territories' combined total debt will reach 159 per cent of operating revenues by 2024, up from 83 per cent in 2019, S&P has forecast. In dollar terms, debt will more than double in that time from $270bn to $588bn.

"We anticipate Victoria's debt levels will rise the most, with debt more than tripling from 2019," the report stated. "Most other states will more than double their debt during the same period"…

Despite the massive additional debt pile, low interest rates would keep borrowing costs "manageable" at less than 4 per cent of ­revenues, S&P's report stated.

The two most locked-down states, Victoria and NSW, were unlikely to regain their AAA credit ratings "in the next few years", the report added.

S&P said Victoria had the weakest fiscal position and credit rating in the country…

"Victoria continues to display structurally weaker budgetary metrics and a higher debt burden relative to domestic peers," the report stated.
This is not surprising. Melbourne endured the longest lockdown in the world, thus requiring substantial financial support from the State Government.
The Victorian Government has also presided over a large increase in the public sector headcount, alongside the greatest infrastructure waste in the nation.
The bigger concern for Victorians is that their material living standards have stagnated for a decade. This is evidenced by Victoria recording the weakest growth in per capita GSP in the nation since the Global Financial Crisis (GFC) hit 13 years ago: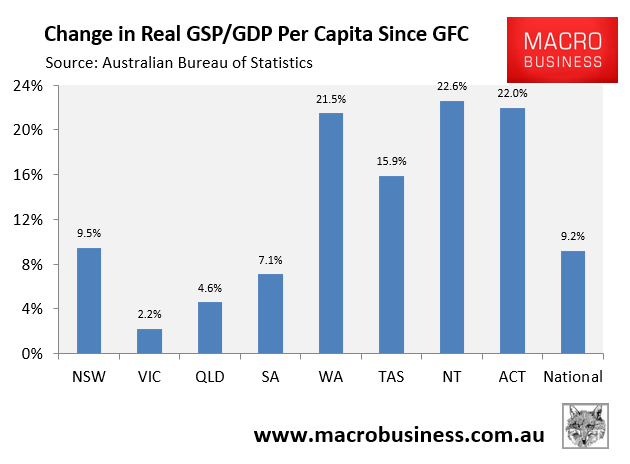 Victoria has also experienced the weakest growth in Gross State Income per Capita since the GFC: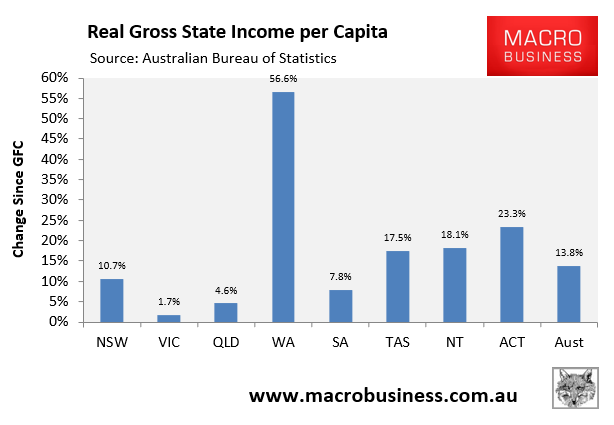 Whereas Victoria's Gross Household Disposable Income per capita was the second lowest in the nation as at 30 June 2021: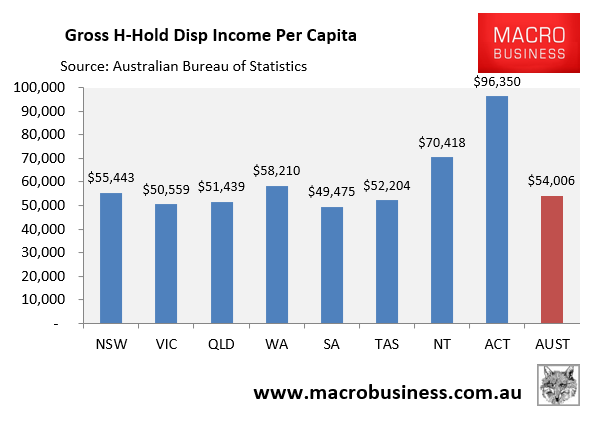 The sad reality is that Victoria's entire economic model revolves around importing people and then providing homes, infrastructure and services to accommodate them. Victoria is Australia's prime Ponzi economics state.
How will the Victorian Government create an economy that is based on genuine and sustainable growth, which actually improves the living standards of the resident population?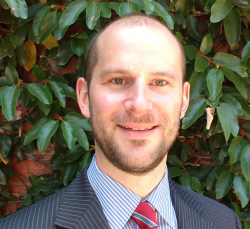 Latest posts by Unconventional Economist
(see all)