Research undertaken on behalf of the Finance Brokers Association of Australia shows that an official interest rate rise of just 1% would be enough to push many homeowners into mortgage stress.
The survey found that 57% of respondents would not be able to meet a $300 increase in their rent or monthly mortgage repayment. FBAA MD Peter White warns that an interest rate rise is inevitable, while many people could end up with negative equity if there is a correction in the housing market:

"Many Australians are clearly on the brink and are sleepwalking into disaster, living in the false hope that rates will stay this low."

He warned that "the housing market has soared and there is a reasonable chance will undergo a correction, meaning that those with low deposits who have stretched themselves to make large repayments could see themselves with negative equity, owing more than the value of the property. Add a mortgage increase they can't pay, and there could be a lot of people in real trouble"…

"This survey is a wake up call and shows that even a small rise in rates – which is looking more likely next year with rising inflation – could be catastrophic for our nation."
Separately, the Daily Telegraph reports there are currently 343 locations across NSW where repayments on a mortgage at median house prices would eat up more than a third of the average household income, which would swell to 400 suburbs if rates rose by 1%.
Warnings like these prop up every housing cycle whereby we are warned that thousands of people will be thrown into negative equity.
On an aggregate level at least, mortgage holders are in good shape. Households have accumulated record amounts of savings on the back of stimulus and debt repayments as a share of household income are at relatively low levels: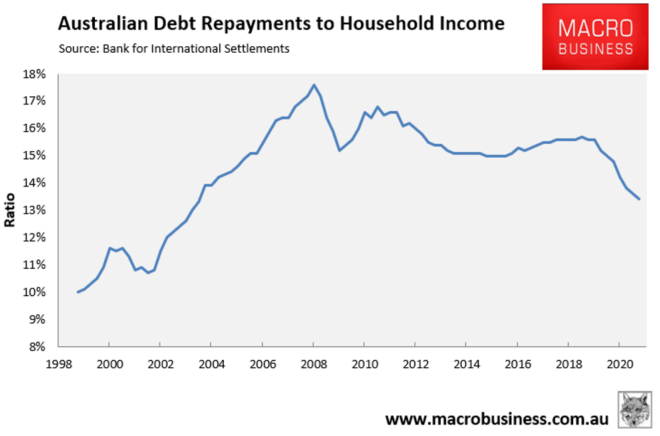 This suggests that most households should be able to withstand a 1% of rise in mortgage rates.
That said, there will always be mortgage holders at the margin that are badly exposed to rising mortgage rates. And we have just seen the proportion of mortgages issued at high debt-to-income ratios soar: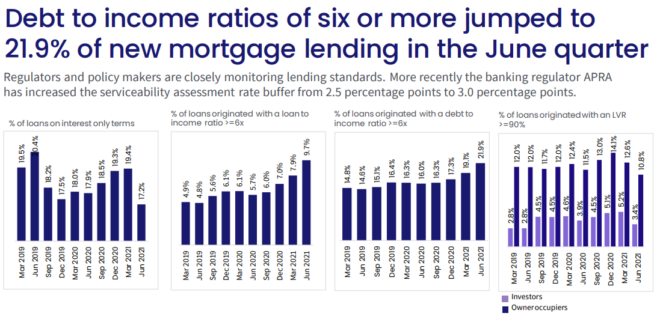 I am still not convinced that mortgage holders are facing a near-term sharp rise in rates.
The RBA has explicitly stated that interest rates will not rise until inflation is sustainably within its 2% to 3% target range. It has less explicitly explained than it does not expect this to occur until there is wages growth of at least 3% across the economy. Thus, the trigger for the RBA to lift interest rates will likely hinge on wage growth, which we will receive data on tomorrow.
We know that policy makers are itching to reboot the mass immigration program at the earliest opportunity, which would crush wage growth (and therefore inflation). We also can expect commodity prices to tank next year (crimping national income and the federal budget).
Thus, rather than be alarmist on inflation and interest rates, I am far more cautious and believe in a 'wait and see' approach.
Sure, we sill likely see some imported (cost-push) inflation from supply chain bottlenecks and energy. But the RBA will likely look through these impacts when determining rates, since they are likely to be transitory. There is also little point in raising rates (a demand management tool) to solve an imported supply-side shock.
That said, fixed mortgage rates are already rising, which should crimp property demand even if it does not impact existing borrowers that have already locked-in low rates.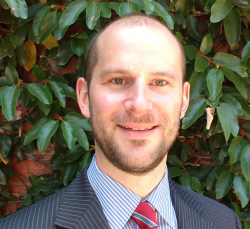 Latest posts by Unconventional Economist
(see all)