Pantheon Economics with the not:
Chinese Industry Avoids Calamity, but Q4 Looks Set for Weakness
China's economy is still in the doldrums, but a faint breeze is tugging at the sail. The horizon remains stormy and dark, however, and the currents are treacherous. Fixed asset investment slowed further in October, to 6.1% year-over-year, from 7.3%, driven by the ongoing calamity in the property sector. But industrial production offered better news, accelerating to 3.5% year-over-year growth in October, from 3.1% in September, shrugging off factory closures and energy shortages. Still, industrial activity growth remains well below its typical run rate. Retail sales also seem to offer hope, climbing to 4.9% growth year-over-year, from 4.4% in September, but we think the data flatter to deceive. All told, we are a bit more optimistic about the outlook, but the bar was low.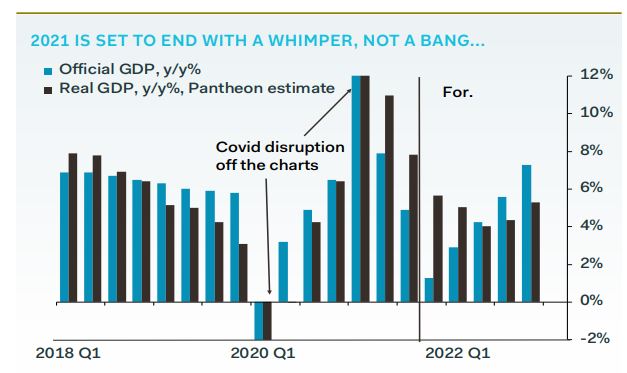 2021 IS SET TO END WITH A WHIMPER, NOT A BANG…
China's property woes intensified in October October's weakness in FAI was led by real estate. Property investment growth slowed to 7.2% on a year-to-date basis, shrinking outright for the second straight month; the year-over-year rate fell to 5.5%, from -3.1% in September. Manufacturing and infrastructure also decelerated on a year-to-date basis, but showed improvement year-over-year, hinting at a bottoming out in some subcomponents of fixed asset investment.
October was a turbulent month for property. Evergrande avoided default, but many smaller rivals did not. Offshore funding conditions have tightened dramatically. Consumers are unsurprisingly cautious about buying a home in this environment, and developers are too busy staying alive to allocate resources to new construction. New starts and sales are both cratering as a result. Sales shrank 24.1% year-over-year in October, in both value and volume terms, while starts collapsed, plummeting 33.9% yearover-year, after a 14.3% fall in September. Prices, meanwhile, had their worst showing since early 2015.
New and second-hand home prices fell by 0.3% month-on-month in October, having declined 0.1% and 0.2%, respectively, in September.
This has had predictable consequences for developer financing, as our chart below shows. Presales revenues continue their precipitous decline, falling 12.9% year-over-year in October, after a 9.8% drop in September. Total funds received some support from an increase in bond and equity
sales, but nonetheless dropped 9.5% on the year.
Consequently, we expect property investment to remain subdued. Stimulus hopes, to us, look overblown.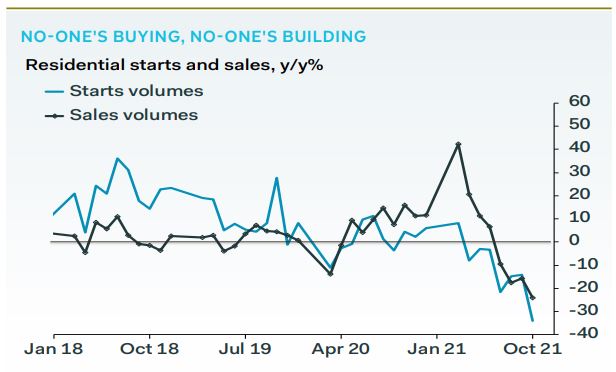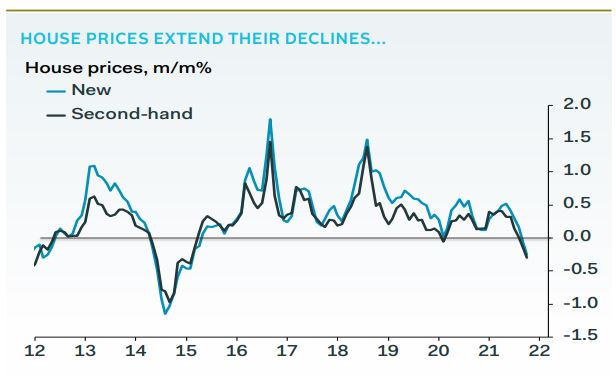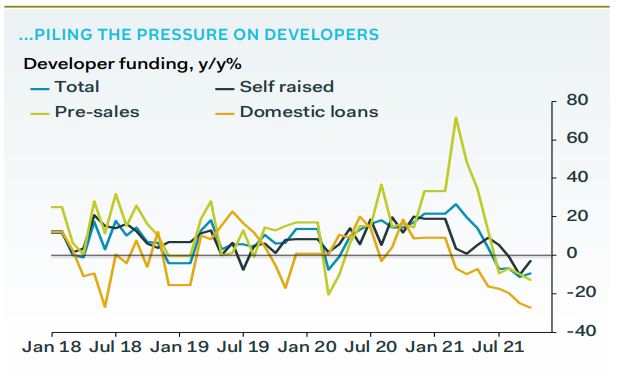 The worst may be over, but can industry recover?
We were wrongfooted by the consensus-beating October industrial production print. We had expected a further decline, given intensifying energy shortages until mid-October. Instead, Chinese industry seems to have turned a corner, with activity rising by 0.4% on the month, seasonally adjusted, after essentially zero growth in September.
We should not get too carried away; at 3.5% yearover-year, industrial production is still at its weakest in decades, excluding the pandemic. Continued growth at this rate would put China on track for a miserable final quarter. Luckily, we think the gains have further to go, but definite downside risks are still lurking.
We were not completely wrong about October, energy shortages did continue to weigh on production, though a full breakdown is lacking. But energyintensive sectors, like ferrous metal production, saw further weakness in October. The improvement was largely led by energy-producing sectors, like mining— coal especially—and power generation. Higher prices for energy, and commands from Beijing to boost coal output, seem to have done the trick. Manufacturing barely gained at all, picking-up to 2.5% year-overyear growth in October, from 2.4%, suggesting persistent challenges.
Industrial growth currently has a narrow base, making it unsteady. But with the worst of the energy shortages over, the industrial recovery should now spread to other sectors. Consequently, we expect a further pick-up next month. But risks from the energy side persist, with ongoing rationing of natural gas and diesel, and a colder winter is boosting heating demand. The property sector will also weigh on production, particularly for raw materials in construction. Overall, we are a touch more optimistic that a collapse of industrial output can be avoided.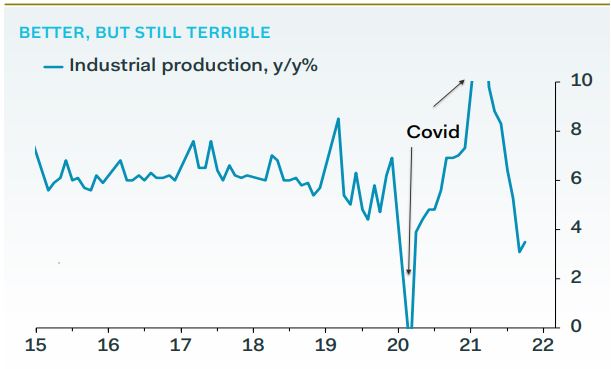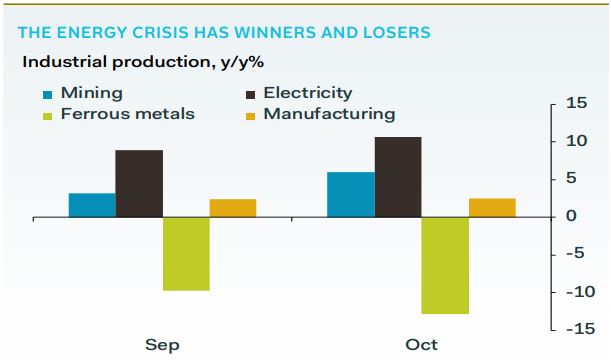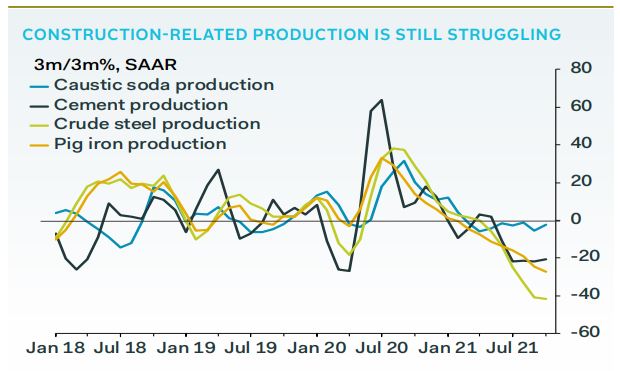 The consumer mirage
The consensus-beating improvement in retail sales was unsurprising to us. The reported strength of Singles' Day pre-sales, again starting earlier this year than last, pointed to an acceleration in the annual growth rate, as we argued here. Retail sales will therefore disappoint in November. We can capture some of this with a seasonal adjustment, but because pre-sales occur earlier every year, the effect is not fully stripped out, even in a year-over-year comparison. October's strength is sadly a mirage.
Underlying weakness in consumer demand is also visible in the behaviour of big ticket items and durable goods, which continue to soften. We view this as a material and psychological consequence of collapsing home sales, depressing consumer confidence but also the demand for new home furnishings, white goods, and so on. Note too that retail sales slowed in real terms, suggesting some of the headline strength was simply a price effect. Combined with the Covid outbreak, which ramped up in late October, we expect a sharp pullback in consumer activity in November.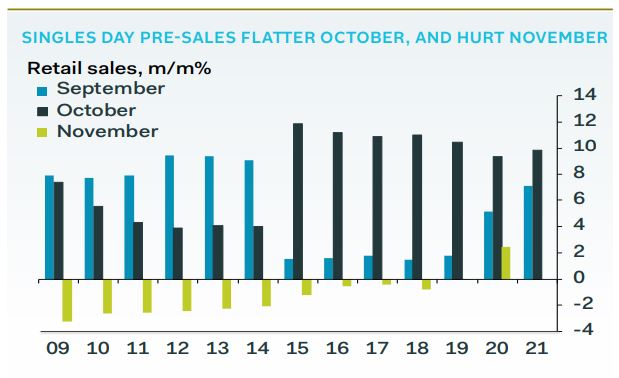 2021 forecast upgraded, but not out of the woods
Industrial production has performed better than we expected, even as investment and retail sales play out in line with our forecasts. We had worried that energy shortages would see industrial production fall on a quarter-on-quarter basis, dragging overall growth down with it. Instead, it looks like the policy response has achieved just enough to maintain stability, if not a strong rebound.
We still think the final quarter will be a weak one for Chinese GDP, but are upgrading it to reflect a lessening of our pessimism. We now expect fully ear growth of 7.5%. Note that this does not amount to calling for a sharp rebound. Property and consumption will likely constitute a drag for the next two months, but industrial production will be better than we had feared, if still anaemic.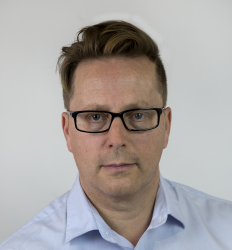 Latest posts by Houses and Holes
(see all)