Last week I reported how the Victorian Bar – the professional association of barristers – has urged the state government to reconsider its controversial new pandemic laws which would grant the Andrews Government "unlimited, unreviewable power" that "authorises extreme limitations of basic liberties of all Victorians and confers enormous powers on the executive".
Sixty barristers in turn signed an open letter in which they warn that the legislation would enable the government to effectively rule the state by decree for the foreseeable future.
Days later the Law Institute of Victoria (LIV) – the peak body representing nearly 20,000 legal professionals in Victoria – warned that the Andrews Government's bill lacks sufficient parliamentary oversight and would allow the government to declare a pandemic for an unlimited period of time. The LIV has also questioned why such laws are necessary given Victoria is approaching its 90% full vaccination target.
Now Victoria's Equal Opportunity & Human Rights Commission has expressed serious concern about the proposed pandemic laws. It wants the Andrews Government to clarify exactly how the state's Charter of Human Rights and Responsibilities will apply if the bill's pandemic-specific powers are invoked.
Amongst other things, the bill would allow the government to make targeted pandemic orders based on specific attributes, such as age, gender, marital status or political belief:

"A clause like this only enhances the need for certainty that any pandemic orders made will be compatible with the Charter of Human rights," a VEOHRC spokesperson said.

"It is the Commission's view that the Bill should require pandemic orders to be compatible with human rights in the Charter…

The commission also recommended that the pandemic measures be "time-bound" and that safeguards be put in place to ensure people who may struggle to comply with the orders, such as those with a mental illness or disability, are not adversely affected by increased penalties.
The next table, prepared by the Herald-Sun, highlights the key parties that have raised concern about the proposed pandemic powers: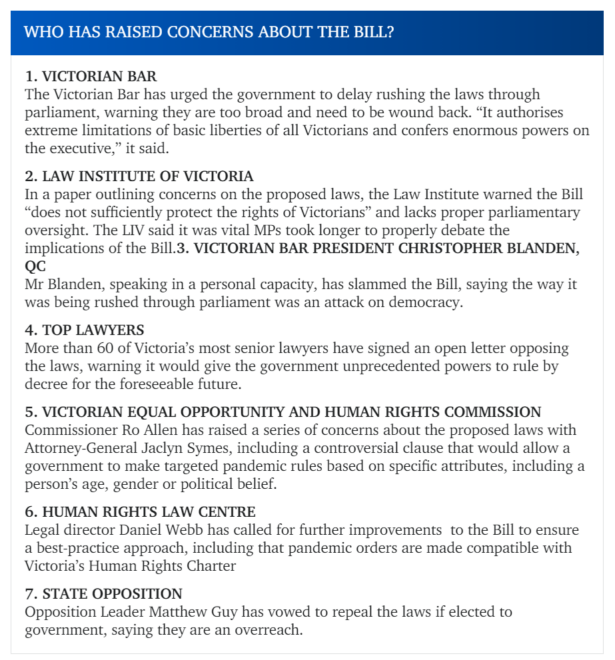 Tens-of-thousands of Victorians also peacefully protested against the bill in Melbourne's CBD over the weekend.
As I noted on Friday, the key problem is that Victoria lacks an effective opposition party.
Despite the world's longest lockdown, Australia's worst COVID outcomes, and heavy-handed tactics by the police, Victorians overwhelmingly still support the Andrews Government:

Victoria is the closest thing in Australia to a 'one party state'. One party states breed authoritarian leaders like Daniel Andrews, who also happens to be in bed with the CCP (as evidenced by his 'Belt & Road' deal).
Victoria desperately needs a strong opposition, not the useless rabble that is the Victorian Liberals.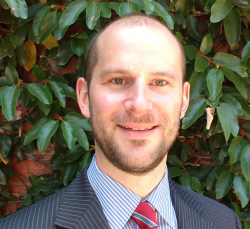 Latest posts by Unconventional Economist
(see all)