The Grattan Institute has release a report entitled "A place to call home", which calls for the establishment of a $20 billion social housing future fund.
Below is the blog post explaining the proposal followed by my response:
Australia has a housing crisis. Australians are spending more of their incomes on housing than in the past. Poorer people are feeling the pinch most. Many low-income renters are living in poverty, and many more are suffering financial stress. Inequality is increasing, and more Australians are becoming homeless.

Australia's social housing stock has stagnated

Social housing – where rents are typically capped at 25 per cent of tenants' incomes – can make a big difference to the lives of vulnerable Australians. Australian evidence and international experience shows social housing substantially reduces tenants' risk of homelessness.

Yet the stock of social housing – currently around 430,000 dwellings – has barely grown in 20 years, while Australia's population has increased by 33 per cent. About 6 per cent of housing in Australia was social in 1991. It's now less than 4 per cent…

With fewer low-income Australians owning their home or living in social housing, their housing costs are rising. The bottom 20 per cent of households by income now spend 29 per cent of their income on housing on average, up from 22 per cent in 1995.

But boosting social housing won't come cheap

Social housing is expensive because governments provide a big rental discount to vulnerable tenants. If governments were going to try to recoup these costs over time, as private landlords do, the rents they would need to charge would be higher than vulnerable residents can afford to pay.

This means there is an ongoing 'subsidy gap' which can either be paid upfront (i.e. by writing off the net present value of the annual subsidy) or an annual basis by recognising that the social rents will fall short of the market rent for the home.

In 2018, the annual subsidy gap payment was estimated at about $13,000, or around $15,000 in today's dollars, although that varies substantially across Australia. The upfront subsidy gap is about $300,000, which can be covered via capital grants to community housing providers or state governments to expand public housing.

The challenge for the federal government is how to pay for more social housing.

The Federal Government should establish a Social Housing Future Fund

The Federal Government should establish a Social Housing Future Fund, which could make regular capital grants to state governments and community housing providers.

The Federal Government already manages $247.8 billion in assets across six future funds to address long-term problems ranging from covering federal public servants' superannuation entitlements to funding medical research.

The endowments for existing federal future funds were typically raised from asset privatisations, explicit budget savings, and expected future budget surpluses. The endowment for a Social Housing Future Fund could be established by borrowing at today's ultra-low interest rates and invested with the Future Fund Board of Guardians. Some states, including Victoria, NSW, and Queensland already operate social housing investment funds, in some cases financed by government borrowing.

The value of the new federal Social Housing Future Fund should be maintained over time to keep pace with inflation, and the investment returns above the inflation rate used to fund capital grants for new social housing units, allocated via the National Housing Finance and Investment Corporation (NHFIC). Capital grants would be allocated via a competitive tender, with requirements for dwelling size and location, maximising the housing subsidies delivered to tenants.

Such a fund could boost social housing with little or no hit to the federal government's budget bottom line. Since the initial endowment is an investment, it wouldn't appear on the underlying budget balance. Instead, only the annual returns on the fund, less debt interest costs and any capital grants allocated, would affect the budget balance each year. For example, the government could issue $20 billion in bonds, and invest it into the fund. The government would have to pay interest on the bonds but can generally earn higher returns on its investment.

Nor would establishing such a fund hurt the federal government's balance sheet. An extra $20 billion in gross debt is small fry compared to the nearly $1 trillion in debt currently on issue, supported by about $500 billion a year in federal government revenues. What's more, the increased debt would be offset by assets of equivalent value in the form of investments held by the Future Fund – in the form of stocks, bonds, and infrastructure holdings.
While the Fund would expose taxpayers to extra investment risk – the price of higher returns – the new fund would add less than one-tenth to total existing assets currently managed by the Future Fund.

How much social housing could a $20 billion Future Fund support?

A $20 billion fund, with an investment mandate to target real (after-inflation) returns of 4-to-5 per cent, could over time provide a dividend averaging $900 million each year. Such a fund could deliver 3,000 extra social housing units a year in perpetuity, assuming capital grants of $300,000 per dwelling to cover the upfront subsidy gap. If commenced in 2022-23, the Future Fund could build 24,000 social housing dwellings by 2030, and 54,000 by 2040. Future governments could choose to top up the fund endowment, helping expand the social housing share of the national housing stock in future.
The direct financial cost to the federal government would be modest – about $400 million a year, or less than 0.1 per cent of federal government spending each year, in the form of interest costs on the outstanding debt. Alternatively, part of the return from the Future Fund could be used to cover these debt interest costs, leaving $500 million available each year to fund the construction of about 1,700 new social housing dwellings each year with no hit to the Government's underlying cash balance.

Dragging the states to the table

The Morrison Government has been clear that it regards social housing as the responsibility of state governments. Yet the history of Australia's federation shows that large social programs, from Medicare to the post-WW2 expansion of social housing, only succeed with federal support. This reflects Australia's 'vertical fiscal imbalance': for every five dollars in taxes levied each year in Australia, the federal government collects four and the states only one.

Nonetheless the Federal Government's frustration with state inaction on social housing is not without some basis. In the decade after the last big federal social housing investment – the $6 billion Social Housing Initiative by the Rudd-Gillard governments which built 20,000 social homes during the Global Financial Crisis, and renovated thousands more – state investment in social housing has been anaemic. In the five years leading into COVID, the total stock of social housing increased by just 1,600 homes. Only in response to the COVID crisis have state governments adopted social housing construction programs as economic stimulus, notably the Big Housing Build in Victoria.

The Federal Government should require state governments to match federal contributions to new social housing, as a condition of any grants being allocated to their state. Any state that does not agree to provide matching contributions would be ineligible for any capital grants for social housing in that year, with the proceeds instead reinvested in the Future Fund and re-distributed across all states the following year.

If matched state funding was forthcoming, the Future Fund could provide 6,000 social homes a year – enough to stabilise the social housing share of the total housing stock. It would double the total social housing build to 48,000 new homes by 2030, and 108,000 by 2040…

Beyond ensuring a flow of additional social housing for those at greatest risk of long-term homelessness, further support for low-income housing should be focused on direct financial assistance via increases in Commonwealth Rent Assistance.

Commonwealth Rent Assistance should be boosted by at least 40 per cent and it should be indexed to changes in rents typically paid by people receiving income support. This would be a fairer and more cost-effective way to reduce financial stress and poverty among poorer renters. It's well targeted: about 80 per cent of Rent Assistance goes to the poorest fifth of households. Rents wouldn't increase much, because only some of the extra income would be spent on housing…
MB has long supported boosting investment in social housing and we agree wholeheartedly with the Grattan Institute's proposals, which are well argued and make perfect policy sense.
Where we differ is that the Grattan Institute is also a card carrying supporter of the mass immigration 'Big Australia' policy, which is the primary reason why "Australia's population has increased by 33 per cent" and the driver behind Australia's social housing shortfall.
The latest Intergenerational Report projects that Australia's population will swell by 13.1 million people (a 50% increase) in only 40 years on the back of extreme net overseas migration of 235,000 people a year: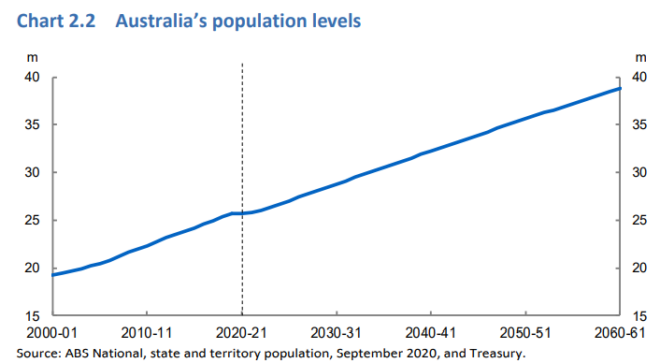 Therefore, Australia's deficiency of social housing would likely worsen even with Grattan's social housing reforms.
Indeed, the immigration issue highlights the contradictions of the Grattan institute across a number of policy areas:
Grattan laments the poor wages and employment opportunities provided to Australia's youth, but contradictorily supports flooding the labour market with migrants to compete for jobs;
Grattan laments Australia's poor progress at meeting its 'net zero' emisions reduction goals, but contradictorily supports Australia growing its population by 50% over the next 40 years, which will necessarily drive up emissions and wreck the natural environment;
Grattan continually bemoans Australia's infrastructure waste, but ignores the extreme immigration driving the demand for expensive new infrastructure;
Grattan continually laments Australia's lack of housing supply and poor planning, but contradictorily supports the mass immigration driving the problems; and
Grattan laments the lack of social housing, but supports the mass immigration driven population growth causing the shortfall.
In short, the Grattan Institute suffers from a chronic case of cognitive dissonance and needs to start examining issues as a whole, rather than in silos.
Grattan's undying support for mass immigration is inconsistent with its other policy goals.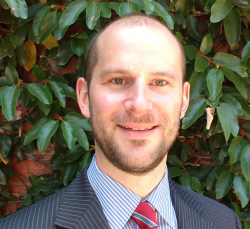 Latest posts by Unconventional Economist
(see all)