See the latest Australian dollar analysis here:
TS Lombard with the note:
For the PBoC, growth and financial stability concerns trump inflation and worries about monetary policy divergence. The bank's recently released Q3 monetary policy report indicates a dovish shift and confirms our expectations of sustained policy support for the economy, particularly for the property sector. A 50 bps RRR cut is likely in the next six months. Easier credit for real estate will continue to roll out and the nadir in developer funding is likely passing, but the sector will remain a large drag on activity in 2022 and for years to come. The dovish turn has surprised markets: CGB 10-year yields have dropped sharply in the past week to nudge closer towards our yearend target of 2.9. Expected growth (China activity will bottom out in Q1/22 but rebound to just 4.7% yoy in 2022 as a whole) and monetary policy divergence (PBoC stays dovish even as the Fed tapers and hikes once next year) add conviction to our H2/22 RMB depreciation call.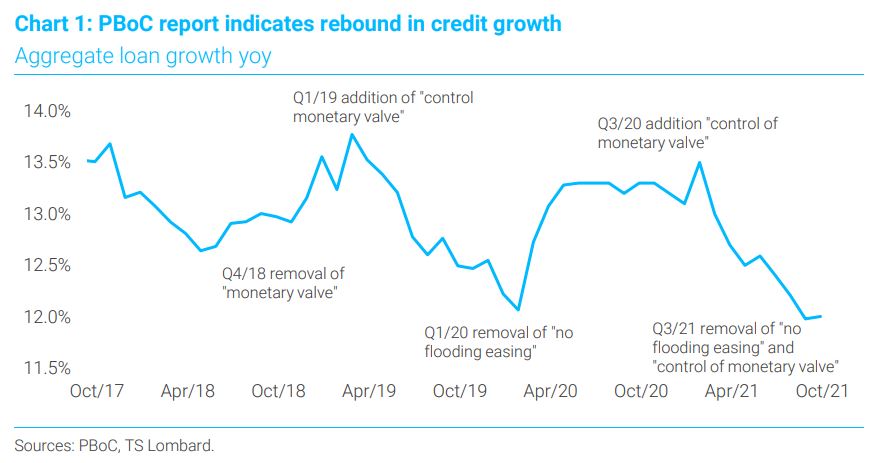 In each quarterly monetary policy report the PBoC includes special-interest sections, which give us an idea of policymakers' focus areas. The Q3/21 report devoted three pages to "Monetary Policy Adjustments in Developed Economies". The bank's analysis is as follows: "A prudent monetary stance should be the mainstay of policy, with a focus on China and greater autonomy (from the Fed/DM central banks), and the strength and pace of the policy should be managed in accordance with the domestic economic situation and price trends."
This message is repeated throughout the report and echoes statements by Monetary Policy Committee members over the past months: China is ready and willing to diverge from the Fed.
On broader monetary policy concerns, the bank removed hawkish language such as "sticking with normal monetary policy", "refraining from flooding easing" and "controlling the valve on monetary supply". Instead, the document emphasized "enhancing the stability of credit growth" and "supporting the real economy". The rhetoric reinforces our existing view of continued accommodative monetary policy. As the chart on the previous page shows, the removal/addition of phrases quoted above tends to signal peaks and troughs in credit aggregates. We have been calling a Q4/21 bottom in credit growth for some time.
The PBoC has already conducted a targeted interest rate cuts and is supplying short-term liquidity via OMO and MLF. Further broad easing is likely – we predict a 50 bps RRR cut in the next six months.
More Tai chi than Kung fu. We have written on the evolution of China's stimulus reaction function: the threshold for intervention, the speed of reaction and the effectiveness of policy levers are higher, slower and weaker, respectively. Severe difficulties in real estate, which accounts for approximately 30% of credit demand, make it difficult for the PBoC to boost credit growth. The bank is likely to use quantity (RRR/OMO/MLF) and directed lending measures rather than cuts to benchmark rates. We can already observe this in the property sector, where banks have been told to accelerate mortgage approvals and new project loans. Large local-government debt issuance – there is likely to be a record high annual special-purpose bonds quota for infrastructure in 2022 – will help stabilize credit growth, too. The drag from property sector weakness and central government focus on slower sustainable growth means that stimulus will be more Tai chi than Kung fu, and credit aggregates will not jump as quickly or as high as in past easing cycles. We expect total social financing to average 11% yoy over the next 12 months.
Messaging on the property sector was more dovish. The mantra "housing is for living in, not for speculation" remained foremost in the report, but the bank emphasized stabilizing prices and the steady development of the sector. A line was added to indicate the willingness of the PBoC to work with local governments to resolve forthcoming regional property-sector credit issues.
Sector funding conditions are still tight, the PBoC needs to do – and will do – more to limit the broader spillover risk. The expansion of new funding channels (interbank bonds and ABS) to more private-sector firms is the next step. Property-developer interbank bond issuance rose to RMB42.5bn in the first three weeks of November – a threefold increase over October. Looking ahead, banks' annual lending quotas and red line controls on developer debt aggregates are automatically reset in January, which will provide a fresh source of liquidity. The worst funding contraction for developers is passing; however, the property sector will remain a large drag on activity in 2022 and for years to come. Although funding for developers is set to bottom, it is still some way from positive growth, while new credit for the sector leads investment by around nine months, sales and investment certainly have further to fall.
Finally, the PBoC showed early signs of concern over the pace of RMB appreciation, emphasizing the need to enhance two-way fluctuations. With commercial banks already selling RMB, the PBoC is likely to start jawboning attempts to weaken the currency in the coming weeks.
Appreciation pressure on USD/CNY will persist as China's trade surplus, portfolio inflows and geopolitics all provide strong tailwinds. We expect those factors to begin reversing in Q2/22 and growth and monetary policy differentials to push RMB depreciation during H2/22.
The PBoC has clearly set out its stall, shifting towards stronger support for the economy.
Credit growth is set to rebound and sector-specific funding conditions improve. This is not a classic China stimulus: property-sector weakness and Beijing's sustainability concerns mean that total social financing will bounce only modestly. We expect it to average 11% yoy over the next 12 months. The economy is stabilizing rather than accelerating.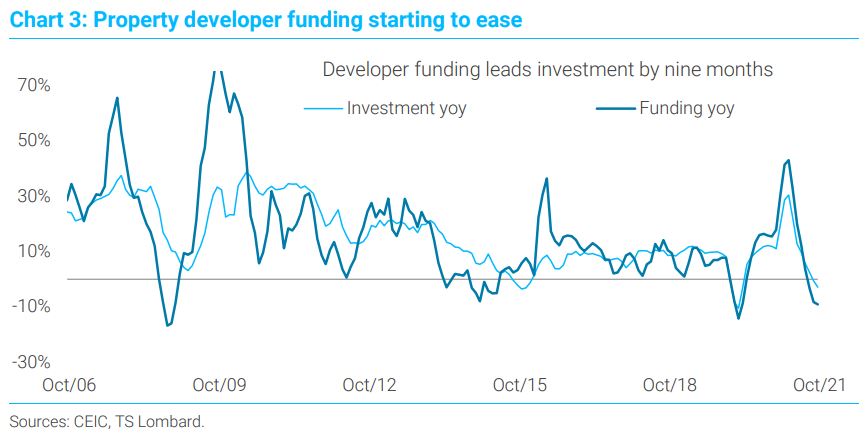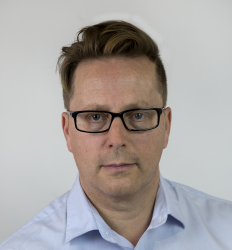 Latest posts by Houses and Holes
(see all)