The Australian Prudential Regulatory Authority (APRA) yesterday afternoon released its new "more risk-sensitive" bank capital framework, which incentivises banks to lend to lower-risk owner occupiers rather than higher risk investors:
The framework, developed over four years of consultation, will help to ensure Australian banks continue to have the financial strength to withstand future adverse economic conditions, ensuring depositors are protected and lending is supported.

Alongside the new framework, which is summarised in an information paper released today, APRA has published updated prudential standards for capital adequacy and credit risk capital.

As Australian banks already meet the "unquestionably strong" benchmarks set by APRA in 2017, the new framework does not require banks to raise additional capital. Instead, the new framework will strengthen financial resilience by:

ensuring existing high levels of capital adequacy are maintained;
providing more flexibility and responsiveness to risks in the operating environment;
being more risk sensitive, through increasing capital requirements for higher risk lending and decreasing it for lower risks;
supporting competition by limiting differences in capital requirements between smaller and larger banks;
improving the comparability of bank capital ratios, both domestically and with global peers; and
reducing operational burden for smaller banks.
The new framework is summarised below: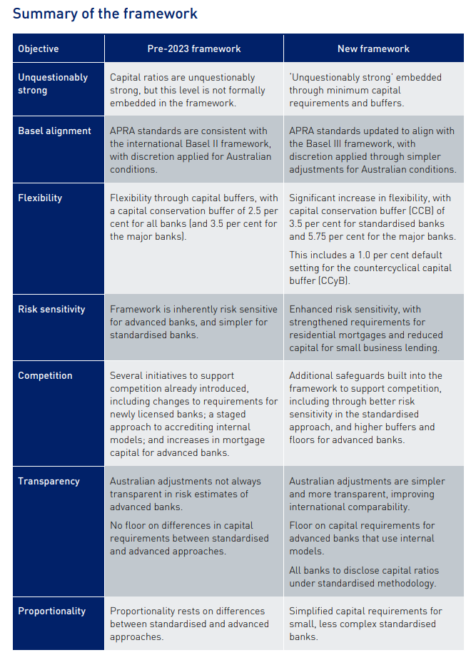 The new capital framework has been designed to allocate higher capital requirements for higher risk lending and lower requirements for lower risk.
Residential mortgages overall are deemed 'low risk' and are subject to lower capital charges: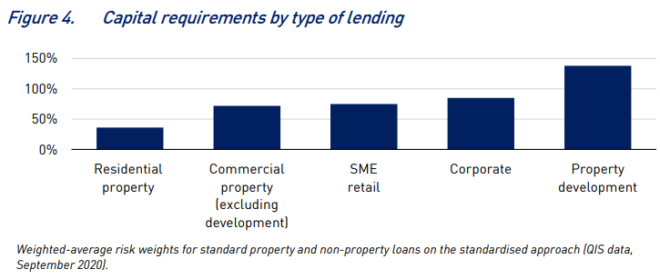 However, loans to owner-occupiers repaying principal and interest have been deemed lower risk, and investors loans and interest-only loans higher risk:

Accordingly, the risk-weight is lower for owner-occupier principal and interest mortgages and for those with bigger deposits than it is for investor loans and interest-only loans:

APRA suggests that the major banks are likely to see a small reduction in their risk-weighted assets on average under the new rules, due to a fall in risk weights for commercial property and large corporate loans. This may mean they can slightly reduce the amount of capital they need to hold.
However, mortgages will see a slight increase in overall capital requirements, reflecting Australia's high concentration of mortgage lending:
One of the objectives of the new framework has been to strengthen the amount of capital held by banks for residential mortgage lending, given the industry concentration in this asset class. In APRA stress testing, mortgages are a significant driver of overall losses, and typically account for around a third of aggregate bad debts.
Overall, these changes are sensible in that they will 'punish' higher risk lending at the margin, while also encourage lending to businesses.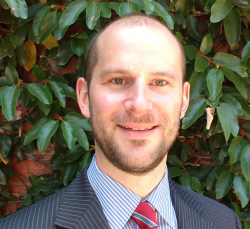 Latest posts by Unconventional Economist
(see all)