Like Australia, New Zealand's COVID vaccination efforts have been spectacular.
As shown in the table below, 85% of the eligible (16+) population has received at least one vaccine dose, with 66% full vaccinated: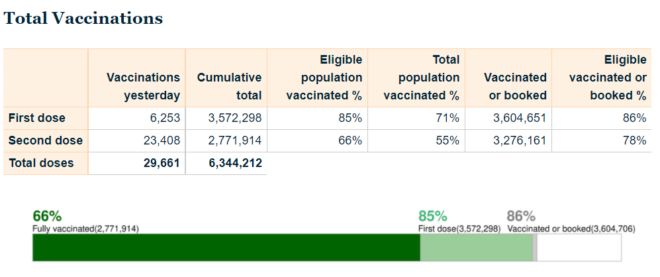 This has moved New Zealand from global vaccination laggard towards leader: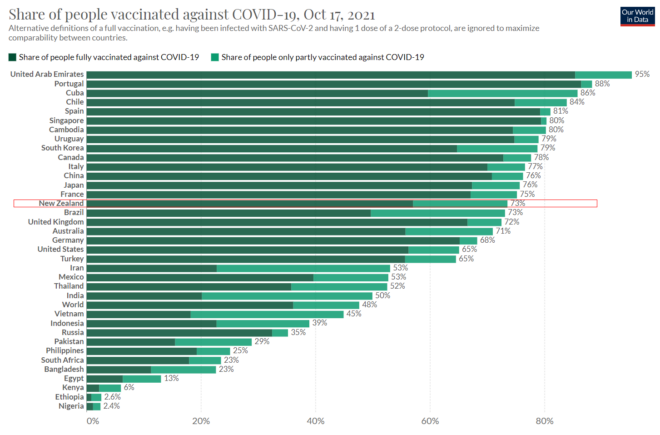 Auckland – New Zealand's largest city of 1.7 million people – has been in lockdown for 63 days despite having only 1,736 community cases and Auckland being more highly vaccinated than New Zealand as a whole. 89% of the Greater Auckland's eligible population has received one vaccine dose and 70% are fully vaccinated.
Yet, despite the low active case numbers and Auckland's high vaccination rate, Prime Minister Jacinda Ardern yesterday announced that Auckland would remain in lockdown for another two weeks:
Ardern has not yet announced a specific point in vaccination levels where restrictions will be loosened, but has previously ruled out dropping public health measures before the country reaches 90%. She said on Monday afternoon that restrictions would be needed for a while longer to avoid a spike in cases…

"If we get this right, if we keep case numbers low while we vaccinate people then it makes it easier for us to keep control of Covid, while we ease restrictions in the future, and that is everyone's goal," she said. "The question for cabinet today has been how do we avoid a spike in case numbers, and hospitalisations, and protect vulnerable communities as much as possible in the coming weeks, while we keep lifting vaccination numbers."
There has only been two deaths in this outbreak out of more than 1700 cases. At what point will Aucklanders say "enough is, enough" and revolt against Jacinda Ardern's draconian lockdown?
Residents of Auckland must be looking across the pond at Sydney and Melbourne and wondering what the hell is going on?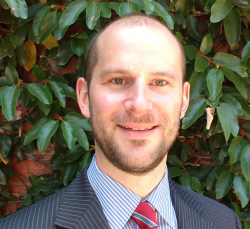 Latest posts by Unconventional Economist
(see all)