After recording the tightest rental vacancy rate since the Global Financial Crisis (GFC) in August, SQM Research recorded a small 0.1% rise in the national vacancy rate in October: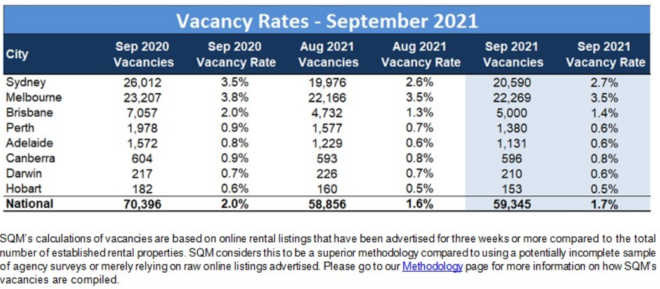 Sydney and Brisbane's vacancy rate rose to 2.7% and 1.4% respectively in September from 2.6% and 1.3% in August.
In Adelaide, Perth, Darwin, Canberra and Hobart the vacancy rate remained below 1.0%, whereas Melbourne's vacancy rate remained steady and elevated at 3.5%.
Vacancy rates rose in the Sydney CBD and Melbourne CBD to 8.2% and 8.4% respectively.
Meanwhile, SQM's asking rents index rose by 0.6% for houses and 1.7% for units over September to be up 10.2% and 2.9% respectively over the year.
According to Louis Christopher, managing director of SQM Research:
"Rental vacancy rates were little changed in September, and were generally favouring landlords except for the Sydney CBD and large parts of Melbourne. As NSW and Victoria come out of lockdown and back to some sense of normality we expect some movement in the rental market. CBD locations may well improve for property owners as overseas students return to our shores. However, regional vacancy rates may also rise as longer term city dwellers seek a return to a larger choice of amenities, family and friends."
CoreLogic's latest housing report recorded 8.9% annual rental growth nationally, which was the fastest pace of rental growth since July 2008. Moreover, all markets other than Melbourne and Regional NT posted solid to extreme growth: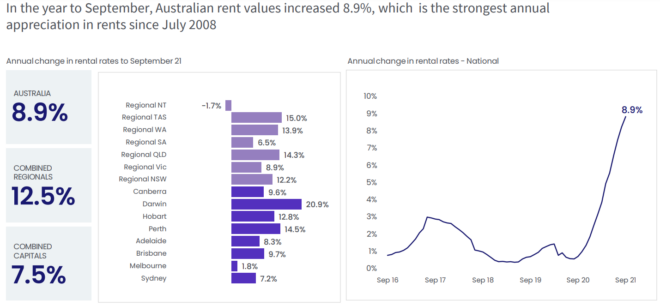 Thus, it remains a very tight rental market.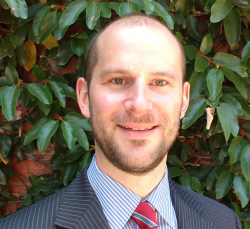 Latest posts by Unconventional Economist
(see all)