Labor's Home Affairs spokesperson Kristina Keneally on Friday broke her silence on the immigration debate, dropping motherhood statements that Australia needs a migration program "that supports good, secure jobs for Australians – that stamps out wage theft and exploitation":
"As we start to open to the world again, where is Mr Morrison's plan for re-starting Australia's migration program?" Senator Keneally said…

Senator Keneally said the "historic moment" of closing the international borders had presented the chance to transform the migration program.

She called for a migration program "that supports good, secure jobs for Australians – that stamps out wage theft and exploitation".

"A migration program that creates equitable economic growth in which all Australians can share"…

The Labor senator raised concerns that temporary migration had risen to a "historic high" under the Morrison government and "made it harder for people to settle permanently or become citizens".

She said this had turned a "successful model of migration on its head" and taken Australia's migration program in the "wrong direction".

"It is hard not to notice temporary visa holders, denied JobSeeker and JobKeeper, queueing up at food banks and charities during the pandemic," she said.

"It is hard not to notice shocking examples of wage theft, like at 7-11, or exploitation, as chronicled in the #88daysaslave in the Working Holiday Maker program."
Only two months ago, Labor supported a parliamentary the migration committee's recommendations that 'skilled' visa holders and international students be given easier access to work rights and permanent residency, in a plan designed by business groups and universities to ease labour shortages (read lower wages) and drive up student enrollments:
The committee's proposal to give all temporary skilled visa holders a pathway to permanent residency was driven by businesses saying they were struggling to find workers to fill skill shortages.

The plan would effectively reverse changes made under former Prime Minister Malcolm Turnbull in 2017 when his government narrowed the pathways to permanent residency by scrapping the 457 visa…

The committee suggested the government offer the "best and brightest" international students, who were willing to fill skill shortages, a two-year pathway to permanent residency under the employer nominated scheme, shaving one year off the process. It also recommended offering students longer temporary graduate visas of three years to give them time to find jobs…

The report also called for workers who go to regional areas to have an easier path to residency, including easier English tests and looser experience requirements.

Labor committee member Julian Hill branded the recommendations a "remarkable and blatant repudiation" of Mr Dutton's tenure as immigration minister… Mr Hill, speaking on behalf of the Labor committee members, said they agreed with most but not all of its recommendations…
So basically, Labor also supports 'Big Australia' mass immigration. Only they want it skewed more towards permanent visas rather than temporaries.
Thankfully, the Electrical Trades Union (ETU) has done a much better job of representing Australians, categorically rejecting the NSW and federal governments' mass immigration push and instead calling policy makers to "increase training and wages, not immigration":
The NSW Premier last week opened the door to allowing an additional two million people into the country in the next five years, whilst the Morrison Government is currently negotiating a free trade deal with Britain which will make it easier for hundreds of thousands more Britons to take Australian jobs.

This is despite the stagnant wages and working conditions indicating no competition amongst employers to attract staff.

"Dominic Perrottet and Scott Morrison are solving a problem which doesn't exist," said Michael Wright Assistant National Secretary of the Electrical Trades Union of Australia.

"If the resource and sectors were suffering critical skills shortages, we would see rising wages and improving conditions. Instead, we're fighting against insecure work and a race to the bottom with labour hire. Dumping thousands of temporary British migrants into our capital cities is only going to make these problems worse.

"And the answer to skills shortages is always more training for local apprentices, not bringing in vulnerable workers from overseas.

"We have also seen reports of worrying plans to abolish labour market testing which would allow major employers to import cheap labour to undercut their workforce without any statistical proof of a skills shortage.

"All Australians wage earners know they haven't seen a pay rise in a decade, but meanwhile their mortgages, rents, and grocery and utility bills have all gone up.

"This feels suspiciously like Scott Morrison and Dominic Perrottet doing the bidding of their mates in the big end of town by bringing in cheap labour to undercut hardworking Australians, it's a total betrayal.

"This is big business gearing up to pump up their profits at the expense of their workforce under the guise of a COVID recovery plan.

"We urgently need more information about the Federal Government's immigration changes before millions more people are let loose on our jobs market. It's time for Scott Morrison to come clean on his plan to sell out Australian workers."
If Labor had half a brain, it would copy the sentiment of the ETU and would take a policy of significantly lower immigration (both temporary and permanent) to the next election.
Doing so would not only be excellent policy that would protect the wellbeing of incumbent Australians, but it would also see Labor win in a landside.
We know this because the overwhelming majority of Australians oppose pre-COVID levels of immigration, as evidenced by the latest representative polling by The Australian Population Research Institute (TAPRI).
In particular, 70% of Aussies want lower levels of immigration (of which 48% want significantly lower or zero immigration):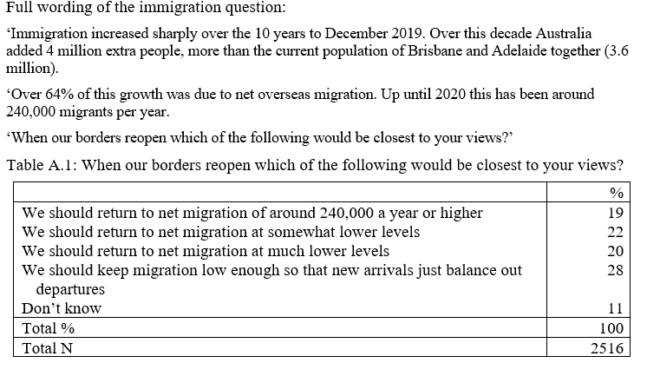 The overwhelming majority (61%) of Australians do not support importing labour to fill skills shortages and would prefer employers pay higher wages and train Australians:

The overwhelming majority (69%) of Australians do not believe that Australia needs more people:

Why? Because more people means declining liveability, a degraded environment and more expensive housing: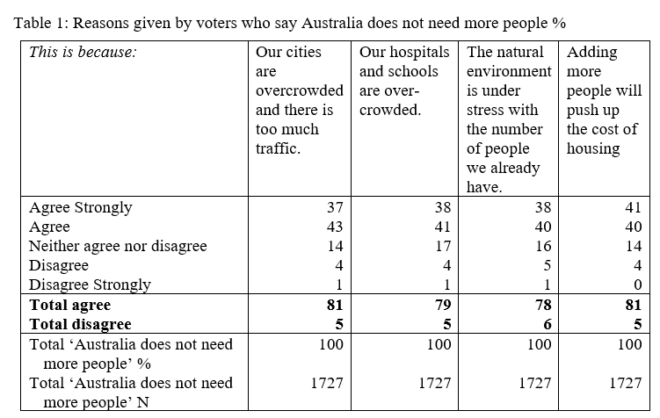 And before somebody howls 'dog whistling' or 'racism', lower immigration is overwhelmingly supported by migrants as well as the Australian born: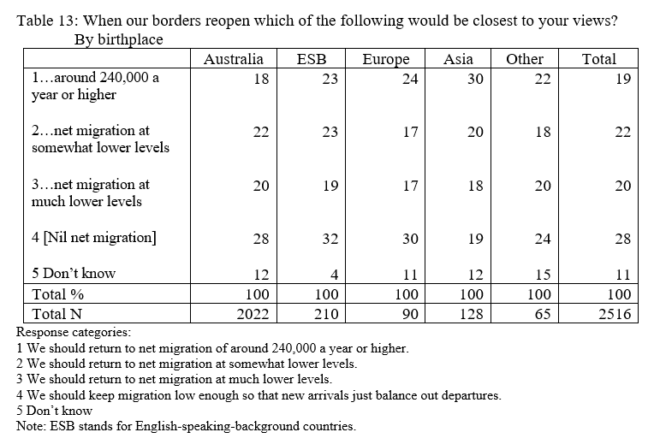 Other opinion polls show similar support for lower levels of immigration after the pandemic than existed beforehand.
In other words, Labor should represent Australian voters, rather than big business, and take a lower immigration platform to the upcoming federal election.
It's time for Labor to represent Australians and its traditional working class base.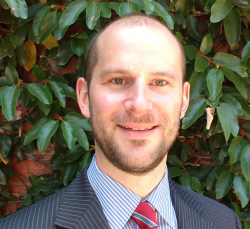 Latest posts by Unconventional Economist
(see all)