Labor and the unions have tentatively pushed back against plans to quickly reboot Australia's immigration program, arguing that flooding the nation with temporary migrants will crush wage growth:
Opposition immigration spokeswoman Kristina Keneally, citing Dr Lowe, said high levels of temporary migration had contributed to Australia's sluggish wage growth.

"We need a migration system that ensures that Australians get a first go and a fair go at jobs. We need a migration system that stamps out exploitation. We need a migration system that builds upon Australia's successful legacy … of permanent settlement," Senator Keneally said.

"This Liberal government over the last eight years has pushed temporary migration to historic highs. It has led to shocking exploitation of temporary migrants. It has led to wage theft, and … it spreads across the economy"…

ACTU president Michele O'Neil said federal government policy favoured temporary migrants over permanent migrants, opening the way to exploitation of vulnerable people and driving down wages.

She said claims of a skills shortage could be addressed by offering potential workers better pay.

"We are concerned that claims by employers in relation to widespread skill shortages have not been independently verified and in many cases could be addressed by offering higher pay and conditions to attract local workers," she said.

"This government has consistently watered-down and removed labour market testing requirements in trade deals and visa programs, meaning that employers can get access to vulnerable temporary visa workers without even advertising the job locally first."
This is a good start. But Labor needs to do two things with respect to immigration policy.
First, it needs to promise to run an immigration program post pandemic that is significantly smaller than the one run pre-pandemic. Australians want a substantially smaller immigration intake, as confirmed by recent opinion polls: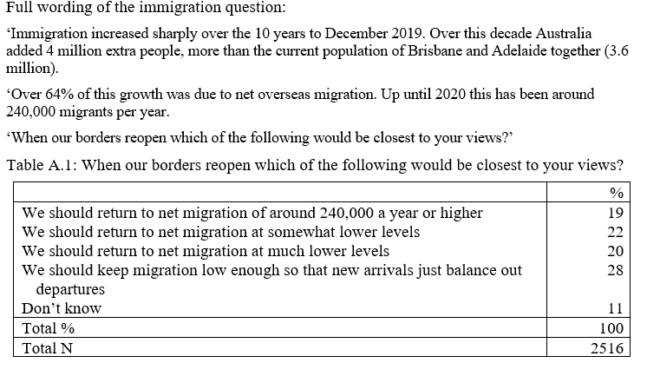 The overwhelming majority of Australian also do not believe that the nation needs more people:

Why? Because more people means declining liveability, a degraded environment and more expensive housing: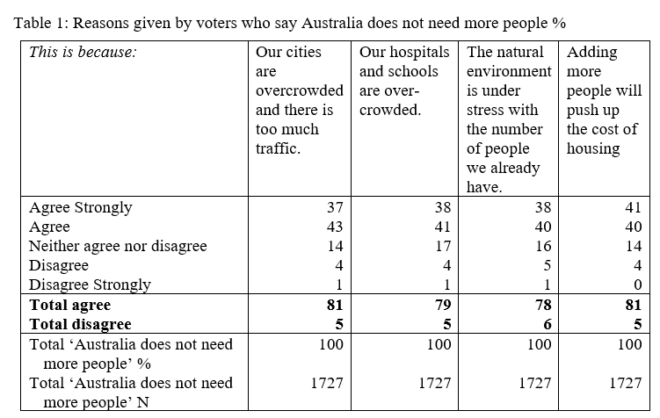 And before somebody howls 'dog whistling' or 'racism', lower immigration is overwhelmingly supported by migrants as well as the Australian born: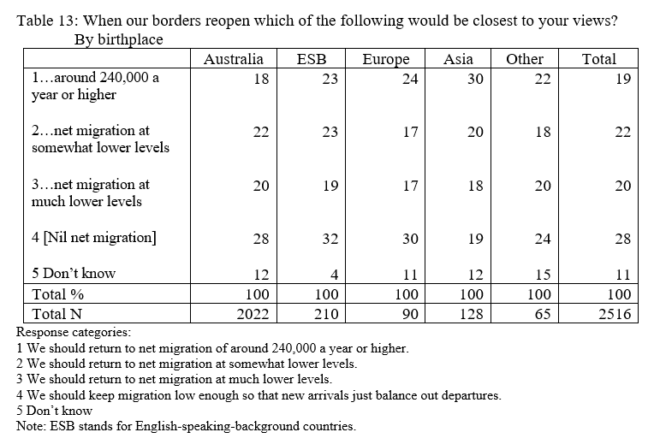 Second, Labor require all work visas (other than the well-regulated Pacific Islands Seasonal Work Program) – both temporary and permanent – be paid at least at the 75th percentile of earnings (preferably higher). This would equate to a minimum salary of $90,500 currently, which would rise over time with earnings:
Setting a pay floor at this level would ensure that work visas are used sparingly by Australian businesses to employ only highly skilled migrants with specialised skills, not abused by businesses as a tool for undercutting local workers, reducing wage costs, and eliminating the need for training.
In other words, Labor should represent Australian voters, rather than big business, and take a lower immigration platform to the upcoming federal election. Doing so would see Labor storm into office in a landslide.
It's time for Labor to represent Australians and its traditional working class base.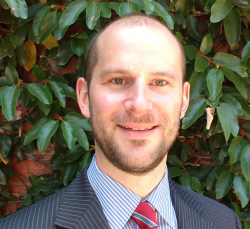 Latest posts by Unconventional Economist
(see all)