The AFR's Joe Aston has continued his assault against the Morrison Government's JobKeeper waste, this time rubbishing the Australian Treasury's paper defending JobKeeper overpayments.
Aston claims that the actual level of 'waste' is closer to $40 billion, not the $27 billion claimed by Treasury:
All of the major newspapers dutifully reported that between April and September 2020, $27 billion in JobKeeper was paid to recipients who didn't experience a 30 per cent turnover decline.

If only $27 billion was all it was!

On page 40 of the report, Treasury explains that its analysis is based upon a $47.6 billion sample of the $70.3 billion paid in the first phase of JobKeeper. For reasons that are arguably flimsy and inarguably self-serving, Treasury's analysis excluded all of the JobKeeper paid to not-for-profits like rich private schools and stadium churches and to subsidiaries of consolidated groups like Specsavers and Harvey Norman.

That means the $27 billion of JobKeeper paid to recipients who didn't experience a 30 per cent turnover decline was actually 56.7 per cent of the $47.6 billion sample. Extrapolated to the full $70.3 billion of JobKeeper paid in the first phase, $39.9 billion of JobKeeper was paid to recipients who didn't experience a 30 per cent turnover decline. Whether $40 billion or $27 billion, none of this excess is flattering. Why bother with the sophistry?

This is not Treasury's finest hour…

Nowhere does this report explain the cost of "saving" these 85,000 jobs. Well, it was $469,130 per job over six months, or $938,260 annualised…

Yes, Frydenberg spent $18,043 per week, per job "saved", despite only paying those employees $750 per week. That means the other $17,293 per week went straight down the gullets of employers. But this was not waste. Oh no, this was not waste…

So why, then, did Treasury neglect to justify its advice not to retest the turnover of JobKeeper recipients after three months instead of six, as New Zealand did? Doing so would've saved the Australian government $20 billion, enough to pay for two nuclear submarines, or 2500 car parks in the seat of Kooyong.

Nowhere in its contorted insights did Treasury deign to ask itself what value for money it achieved for taxpayers or to identify the mistakes it made…

Such is the abysmal product of letting such a deeply diminished public institution mark its own homework. With Frydenberg as its teacher, we can scarcely be surprised.
My biggest issue with the Australian Treasury is that it knew in June 2020 that 157,650 firms with rising turnover had received a whopping $4.61 billion in JobKeeper funds. Yet it kept JobKeeper eligibility unchanged and hosed an additional $9.2 billion of taxpayer money on companies with rising turnover over the following three months without introducing any claw back mechanism: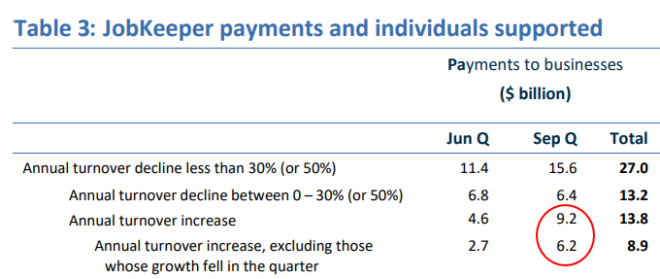 This is indefensible, in my view. No amount of spin can deny Treasury's grave oversight.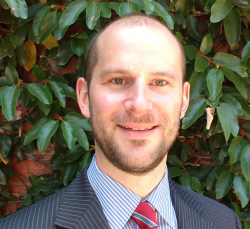 Latest posts by Unconventional Economist
(see all)