Good and bad news today for the Chinese property crash today. It has been a few better days for developer spreads and equity as the PBoC gets busy with its jawbone. Wider financial conditions remain tight:

But the demand side of property is seeing easing:

As the construction market outright crashes:

But hopes that the reform campaign is over have been dashed by the rollout of the land-tax:
China's top legislature said the country will roll out a pilot scheme of property tax in selected regions, as part of a wider "common prosperity" programme to enhance housing affordability and tame runaway prices.

The State Council, the country's Cabinet, will select the first regions and decide on other details of the pilot, according to the official Xinhua News Agency.

The tax will apply to residential and non-residential property as well as land and property owners, but does not apply to legally owned rural landor where residences are built on it, Xinhua said.

The pilot will last for five years from the issue of the details, before the National People's Congress (NPC) turns it into a nationwide law, it said.

The Ministry of Finance and the State Taxation Administration will draft the relevant measures and regulations for supporting the pilot programme, it added.

The idea of a levy on home owners first surfaced in 2003 but has failed to take off due to concerns that it would damage property demand, home prices, household wealth and future real estate projects. It has faced resistance from stakeholders including local governments, who fear it would erode property values or trigger a market sell-off.

Local authorities of Shanghai and Chongqing, two of the most populous and wealthiest municipalities in China, were authorised by the central government in 2011 to collect taxes on real estate within their jurisdictions, part of a plan to curb rising prices. A new government team that took over under Xi Jinping's presidency a year later deferred the idea of expanding the pilot, according to state media, citing technical difficulties.

Efforts to revive the tax began anew in May, as housing prices kept rising despite a slew of administrative measures across the nation to curb speculation.

The effort took on extra urgency when Xi defined for the first time what "common prosperity" means during an August meeting of China's economic leaders: favourable changes in taxes and social security payments for middle income earners, policies that increase earnings for low-income groups and crackdowns on practices and loopholes that may give rise to "illicit income."

Previous property tax pilot programs only applied to houses, but the latest one will cover state-owned land for construction purposes, Yan Yuejin, research director at Shanghai-based E-house China R&D Institute, said on Sunday.

The wealthy province of Zhejiang, tech hub Shenzhen and the southern island province of Hainan which is developing free trade businesses are expected to join the pilot program, Yan said.

"Zhejiang province, in particular its capital city of Hangzhou, is very likely to be included in the program as the province is aiming to building itself into a pilot zone for common prosperity by 2025, so it would have good foundation and demonstration effect to be included in the trial," he said.

Hangzhou, the base of e-commerce giant Alibaba, is China's eighth-richest city, with economic output reaching 1.61 trillion yuan ($252 billion) last year, about 70 per cent of Hong Kong's GDP.

Citic Securities said in a note on Monday that the cities of Shanghai, Chongqing and Shenzhen as well as Hainan province are expected to be included in the first batch of regions for the property tax pilot.

In the short run, the introduction of property tax will bring down home prices in some big cities, said Lian Ping, head of Zhixin Investment Research Institute, adding that some owners with multiple houses already started selling properties in recent days.
One wonders just how big the "pilot" will be. Perhaps the constraint on that will be more the five-year trial than the geographic spread? There is apparently strong resistance to it. We shall see. Anyway, I agree with the Goldman view:
…long-term policy direction such as property deleveraging remains unchanged as evidenced by the latest news on starting property tax trials in select cities.
Wrapping us up is more from the increasingly bearish BofA:
A well-worn script

In recent decades, China has followed a simple script when it comes to growth slowdowns: gather enough data to confirm that the weakness is sustained, take some small symbolic actions and then ease policy decisively, pushing growth back to trend. This formula protected China from the worst of the Great Financial Crisis and helped overcome periodic slowdowns since then, including a very rapid recovery from the Covid shock.

China's aggressive stabilization policy in part explains the remarkable stability of year-over-year real GDP growth in China (Exhibit 1). Some of this stability is very likely due to smoothing by the statistical agencies as illustrated by the much more volatile (and nonpolitical) nominal GDP statistics, but aggressive policy has likely played a major role as well.

The policy seems to reflect a strong desire to avoid the"social instability "that could come with recessions. Missing the growth target also would mean some loss of face for a government that prides itself in delivering strong, stable GDP growth. Of course there are serious downsides to such an aggressive reaction function. Pouring credit into the economy every time growth slows creates a growing moral hazard problem and the associated surge in debt as a share of GDP.

Helen Qiao and team have been surprised at the tepid policy response to the slowdown this year. Earlier this week they took a big slice out of their forecast, including cutting growth next year to just 4.0%. Helen has been below consensus for some time, but this puts her at the very bottom of the forecasts reported to Bloomberg (Exhibit 2). She still expects policymakers to deliver quick and effective credit easing this quarter. However, the usual lags from policy implementation to economic outcomes mean that property sales will likely drop by not only 25% yoy this quarter, but also 4-to-10% next year.

Underscoring the uncertainty of the outlook, Helen also published an alternative bearish scenario with just 2.2% growth next year due to ineffective credit easing. In this case the Chinese property market could see major turmoil, with cratering sales and borrowers potentially losing access to dollar funding.
Such index-hugging is why the market is so out-of-step with the Chinese reality. Dollar-funding is already unruly for developers. The crash on the ground is already happening. The impact on growth will be much worse than any of the forecasts.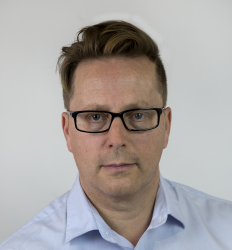 Latest posts by Houses and Holes
(see all)