CoreLogic has released its Quarterly Rental Review, which reveals that rents are rising at their fastest pace since the Global Financial Crisis hit in 2008:
Growth in rental rates has eased slightly, with the national rental index rising by 1.9% over the September quarter compared to a 2.1% rise over the June quarter. While we have seen some easing in rental growth, national rental rates are 8.9% higher year-on-year which is the highest annual growth in dwelling rents since July 2008.

Regional rents are rising faster than capital city rents, with regional dwelling rents up 2.2% over the September quarter (down from 2.7% in the previous quarter), while capital city dwelling rents increased by 1.7% over the latest quarter (down from 1.9% over the June quarter). Regional Australia recorded an annual rate of rental growth of 12.5% in September 2021. This is the highest annual growth result on record, with the CoreLogic rental index commencing from 2005. In comparison, the combined capital cities recorded annual rental growth of 7.5% over the same period, the highest annual growth rate for the combined capitals since January 2009.

Following an earlier surge in rents, Perth (0.3%) was the weakest rental market over the September quarter, followed by Melbourne (1.2%) and Canberra (1.5%). Meanwhile, the strongest quarterly rental growth was recorded in Brisbane (2.6%) and Sydney (2.3%). Adelaide remains the cheapest capital city for rentals, with typical dwelling rents coming in at $440p/w, which is $193p/w cheaper than the most expensive capital city rental market (Canberra). Melbourne is the second cheapest rental market, with a typical dwelling costing $450p/w to rent, just $10p/w more expensive than Adelaide. As mentioned, Canberra is the most expensive rental market, with the median rent for a dwelling at $633p/w, followed by Sydney ($595p/w), Darwin ($561p/w), Hobart ($507p/w) and Brisbane ($491p/w).

House rents have been rising at a substantially faster pace than unit rents through the COVID period to-date, however the gap is narrowing as rental demand deflects towards the more affordable unit sector. National rental growth increased by 1.9% for both houses and units over the September quarter, after the previous quarter saw national house rents rising by 2.3%, compared to a lower 1.6% for unit rents over the three months to June. Meanwhile, national rental rates have seen annual growth of 10.3% for houses and 5.2% for units over the last 12 months.

The combined capitals recorded weaker quarterly rental growth when compared to the regional markets, with both capital city house and unit rents up 1.7% over the latest quarter. The combined regional market has seen quarterly rental growth of 2.2% for houses and 2.4% for units.

The combined regional rental index recorded its highest rate of annual growth on record for both houses and units over the 12 months to September. Rental rates for houses rose by 12.3% annually, while unit rental rates rose by 13.2%. Looking at the combined capital cities over the same period, house rents increased by 9.5% annually, compared to unit rents which increased by 3.5%…

National rental yields have been declining on a monthly basis since October 2020, with the national gross rental yield recorded at 3.29% at the end of September 2021, down 12 basis points from June (3.41%), and 48 basis points lower than a year earlier (3.77%).

Across the combined capital cities, gross rental yields were recorded at 3.02% in September 2021 compared to 3.12% the previous quarter and 3.48% a year earlier. While across the combined regional markets, gross rental yields came in at 4.35% in September 2021, down from 4.51% the previous quarter and 4.93% a year earlier…
The latest rental vacancy data from SQM Research shows that rental vacancy rates remain incredibly tight, tracking at their lowest level since 2011: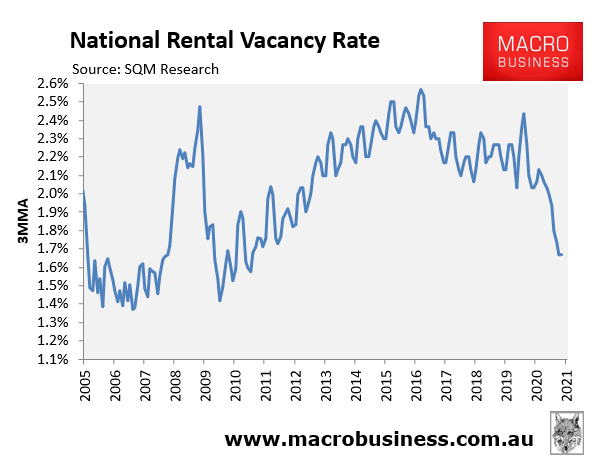 Thus, rental growth will likely remain strong into 2022.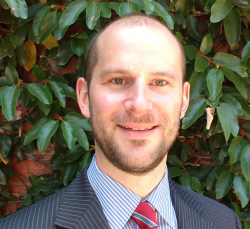 Latest posts by Unconventional Economist
(see all)