The Australian Sovereign Capability Alliance has called on the federal government to appoint a minister for Australian sovereign capability.
This follows the release of a report it commissioned, which found that Australia has the lowest level of manufacturing self-sufficiency of any country within the OECD.
ASCA director Martin Hamilton-Smith claims Australia is reliant on other countries for everything it needs in an emergency , with its vulnerability being exposed during the pandemic.
From The New Daily:
The report from Flinders University's Australian Industrial Transformation Institute shows Australia is independently unable to meet its essential needs in times of crisis, following a three-decade-long collapse in Australian manufacturing…

"We have become dependent on everything that we need to survive in an emergency coming in from overseas," Mr Hamilton-Smith said…

According to the report, Australia has largely regressed to become an importer of goods in the areas of health, energy and infrastructure, defence and space, science, communications and technology, and advanced manufacturing.

It has a self-sufficiency ratio of 71.5 per cent – compared to 83.2 per cent in the UK, 89 per cent in the US, 120.8 per cent in Germany, and 203.2 per cent in Ireland.

The research also reveals Australia is too reliant on non-value-added raw material and food exports and is the lowest producer of manufactured goods it consumes in the OECD.
The Harvard Kennedy School's Center for International Development last year released its latest Atlas of Economic Complexity, which ranked Australia as having one of the least complex economies. The Atlas measures the diversity and sophistication of national exports, with almost all of Australia's exports not requiring a degree to make. The Center for International Development contends that for countries to get richer that they need to develop more sophisticated products, but Australia has been very tardy when it comes to innovation: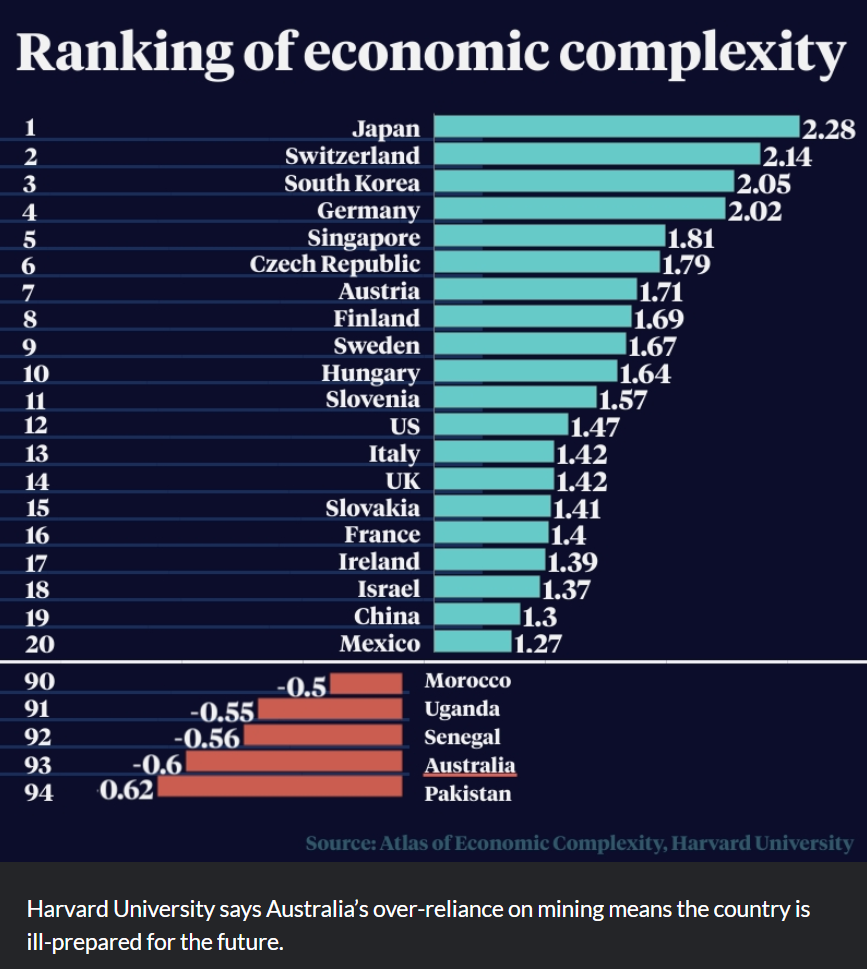 You will note from the above table that the most sophisticated nations have big manufacturing industries. By contrast, Australia has let its manufacturing industry collapse and now has the lowest manufacturing share across the OECD.
Adding to Australia's malaise is its 'dumb growth' economic model, which relies on importing hundreds of thousands of bodies every year, alongside increasing household debt, which drives consumption and malinvestment into property and catch-up infrastructure, rather than productivity.
Perversely, adding a million extra people every 2.5 to 3.0 years – as was the case pre-COVID and is projected in the Intergenerational Report – also dilutes Australia's mineral base – the primary source of the nation's wealth – which then makes us poorer per capita.
"Rich and dumb, and getting dumber" perfectly describes the contemporary Australian economy.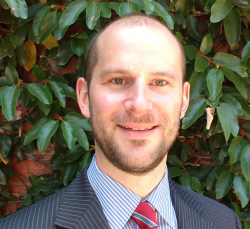 Latest posts by Unconventional Economist
(see all)