See the latest Australian dollar analysis here:
Asian equities are not yet out of the dark yet with a rally across Chinese shares based on a Evergrande coupon payment but the concern could quickly swift to foreign holders which may upset bond markets tonight, regardless of the latest Fed meeting. The USD remains relatively firm against most of the risk currencies with gold lifting again for the third session in a row, while Bitcoin continues to deflate from its Monday morning start, currently at just above the $42K level, with short term momentum inverting and possibly suggesting a breakout is imminent above the short term trendline: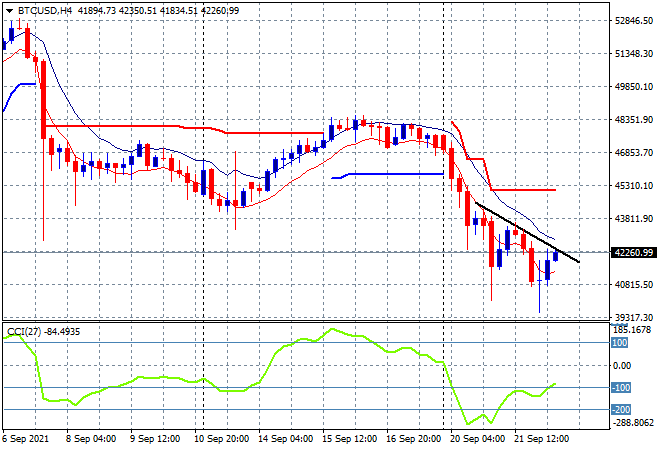 The Shanghai Composite finally reopened and took the last couple of sessions in its stride, closing 0.4% higher at 3629 points with the Hang Seng Index this time having the day off instead. Japanese risk markets absorbed the latest BOJ meeting with Yen selling off sharply this afternoon while the Nikkei 225 remained in sell mode, losing 0.7% to close at 29639 points as it continues its rollover: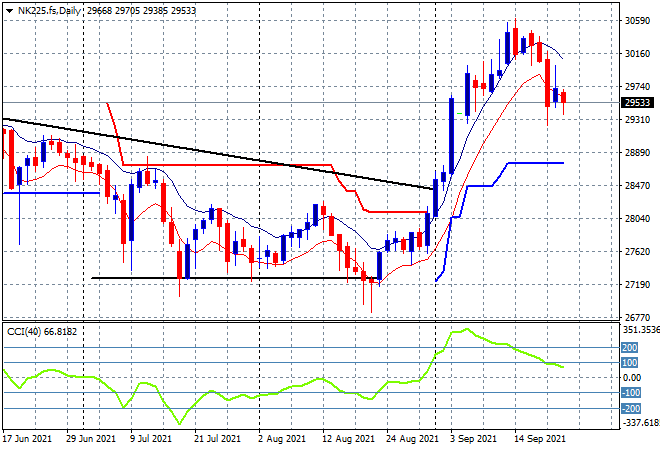 Australian stocks managed to again put in a small rise, with the ASX200 finishing 0.3% higher at 7296 points but still well below previous medium term support as the Australian dollar was unable to get out of its rout after last night's blip was wiped out, remaining depressed at the mid 72 level: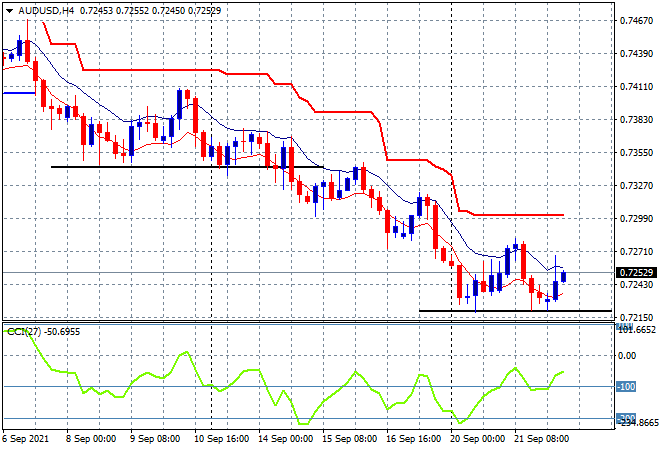 Eurostoxx and S&P futures are up around 0.7% with the four hourly chart of the S&P500 showing price once again wanting to bounce back after last night's dead cat bounce and rollover. But again, this does not yet indicate a move back above the previous support level at 4400 points: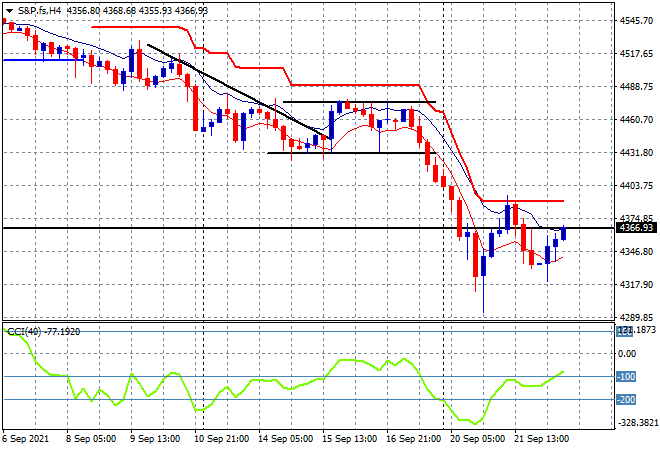 The economic calendar will focus squarely on the FOMC meeting and press conference that is scheduled for very early tomorrow morning, Australian time.
Latest posts by Chris Becker
(see all)