Note from Westpac: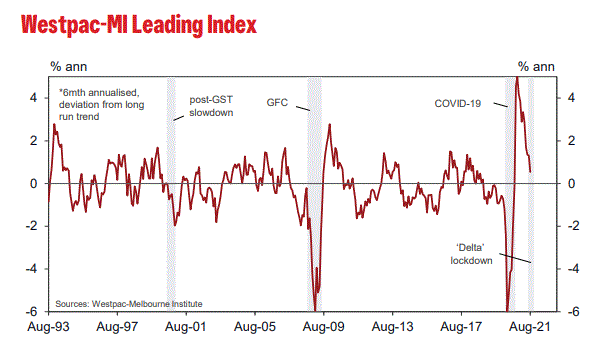 The Leading Index has held up surprisingly well during this downturn but it seems likely that there is more weakness on the way.
For example, while all components have contributed to the slowdown in growth since March, commodity prices and equities have been reasonably resilient. Developments in those markets in September are likely to drag the Index down further.
Westpac expects the economy to contract by 4% in the September quarter; show a modest 1.6% recovery in the December quarter as the NSW and Victoria lockdowns are eased and building into a 7.4% surge in growth in 2022.
By December we would be expecting to see signs of this recovery in the Leading Index as it paves the way for a very strong rebound in 2022, highlighted by a 5.6% lift in the first half of the year.
The Leading Index growth rate has fallen abruptly over the last five months, from 3.43% in March to just 0.54% in August.
The largest contributions to the fall in the Index have come through a slowdown in domestic activity with hours worked (–1.25ppts) and dwelling approvals (–0.43ppts).
Confidence measures have also weighed on the Index. The Westpac- Melbourne Institute Composite Expectations Index contributed 0.28ppts to the fall, while Unemployment Expectations (–0.13ppts) also played a role.
Internationally-focussed components have also slowed the Index, although generally representing more modest impacts than the domestic components. The flattening of the yield curve, as long bond rates have declined, has contributed to a loss of 0.44ppts. The S&P/ASX200 (–0.19ppts); commodity prices (–0.10ppts) and US Industrial Production (–0.07ppts) represented much smaller drags on the Index growth rate.
The Reserve Bank Board next meets on October 5. The Board is unlikely to change policy settings now until February next year when the next step in winding back the bond purchase program will be taken.
Given our positive outlook for growth in 2022 we expect the Board will be aiming to fully wind back purchases by May/August.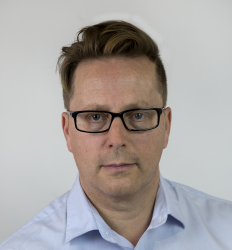 Latest posts by Houses and Holes
(see all)