The problem with getting the diagnosis wrong is that you mistreat the symptoms. If you think you have a cold but really have a brain tumor then soldiering on with Codral is not a great idea.
Evergrande yesterday released an unbelievably vague statement about reaching some deal with someone, somewhere. More importantly, the PBoC injected more liquidity: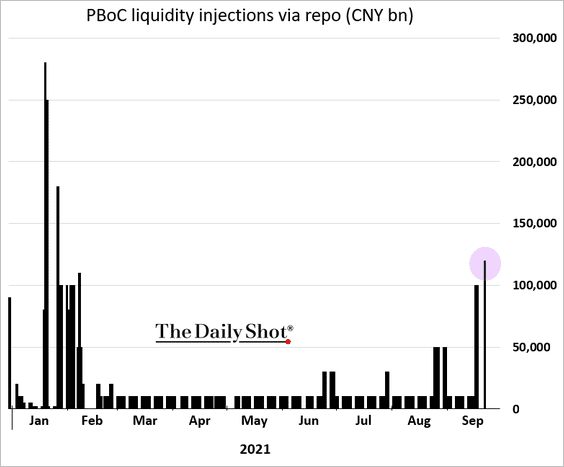 If you thought that Evergrande was some kind of one-off "Lehman like" event then this would get you excited.
The problem is it's not. Evergrande is only a symptom of the Chinese property developer deleveraging campaign.
This is why the intervention of the PBoC is the more important move. It is a mild easing, or, at least, fighting against the tightening that was happening as spreads blow out on the property development sector. That is more systemic.
But it's not enough. It is typical of the kind of incremental easing that we see from Chinese authorities as they chase growth lower. It will not change that trajectory.
Very soon we are going to see some form of Evergrande restructuring. It will privilege local investors over international. It will seek to make whole property investors especially and restore stalled projects.
But it will not lift the Three Red Lines policy behind it all. Nor will it prevent the next Evergrande from rolling up.
Evergrande is not Lehman. It is Greece in 2010; a small part of a larger campaign to restructure the Chinese economy that will make a material dent in growth, especially the commodity-intensive variety.
We are still considerably short of any sense that that is over. Nordea has the right take:
Even if Evergrande is not a Lehman-event, fundamentals in the Chinese Real Estate market remain very concerning. Home price to income ratios are much worse than in the West and recent volume data suggests a clearly weakening housing market.

The Chinese Real Estate sector has been an ongoing worry to many analysts over the past five years, but how bad is the situation? We have taken a look at the fundamentals, which showcase worrying trends even before a potential Evergrande is taken into consideration. If housing markets are bubbly in the West, then the cork has some serious latent explosion power in China.

The Chinese economy already slowed ahead of the focus on Evergrande (Why worry about Evergrande?), if not solely, then at least partly, due to a deceleration in credit growth in the economy. The peak in the Chinese credit impulse occurred right around the August-2020 launch of the "three red lines" policy, which was designed to put a material dampener on an otherwise rapidly growing Real Estate sector in China. Real estate investment as % of GDP has been running in double-digit territory for years now, which is not long-term (or even medium-term) sustainable.

The three red lines are:

i) Liability-to-asset ratio (excluding advance receipts) of less than 70%

ii) Net gearing ratio of less than 100%

iii) Cash-to-short-term debt ratio of more than 1x

If all three red lines are breached, a Real Estate developer is NOT allowed to grow the debt base at all (Evergrande has been stuck in this situation for a while).

The correlation between credit growth and house price developments has since weakened materially, which is a signal that the three red lines policy may have worked as intended already. This also means that we see a clear risk that Chinese authorities want to send a firm signal to Real Estate developers in China that bailouts are not automatically to be expected.

Chart 1. Credit growth impulse versus monthly house price changes in China

Housing affordability is accordingly bad in China, with price-to-income ratios in extreme bubble territory (at least by Western standards). Price to income ratios in Beijing have exceeded 25, while also Shanghai looks stretched. The national average is also far above price-to-income ratios seen anywhere in the West, and while some of it may be explained away by either taxation differences or different development stages, we would still argue that these numbers are frightening from a fundamental perspective.

Chart 2. Price-to-income ratios of home prices in selected Chinese cities

The subprime crisis in the US was "triggered" by median house price to income ratios of 7-8, which is even below the current national average in China. This means that a potential ugly latent crisis could unfold unless Chinese authorities manage to cage in Evergrande contagion risks. Other large developers such as Country Garden have substantially less gearing than Evergrande, but we would be surprised not to see intra-sector contagion to other smaller but geared Real Estate developers.

The big difference from China to the West is obviously that the Chinese authorities hold a much larger possibility of de facto controlling price developments, which is arguable THE reason why China sceptics have been wrongly calling for a bursting housing bubble for years already. Evergrande could the proof that authorities deliberately try to bring down leverage in the sector and accordingly also house prices in a contained way.

Chart 3. Housing affordability in China versus the West

It is therefore not out of this world to think of the following modus operandi in China over the coming weeks. Evergrande will not pay dues on international/offshore debt, which leaves bond/equity holders at high risk of being wiped out. The CCP will try to contain the domestic risks by "bailing out" local lenders and contractors by slowly but surely transferring Evergrandes assets to a quasi-public entity over the coming years. This will ensure that the local supply chain steers mostly clear of contagion as the publicly backed quasi-fund will ensure that contractors will get paid (albeit possibly with a delay and/or a palatable discount of 30-40%).

If we are right, all projects will likely be concluded and the roughly $150bn debt/risk on contractors/suppliers will be decently contained. As soon as the potential managed default is "known", PBoC may start easing policy to contain the downside pressure on the rest of the economy. Expect both a rate cut and more cuts to the reserve requirements of commercial banks from October/November. This is likely to take USD/CNY higher (and EUR/USD lower) before New Year's.

We expect the spill over effects on an already slowing housing market to be the largest contagion risk in an Evergrande restructuring / default scenario. Recent daily averages of sales volumes in Chinese Real Estate markets were already seasonally low before Evergrande turned into global breaking news, and we are clearly watching whether the volumes will rebound significantly post the moon festival.

China was already slowing clearly before Evergrande hit the wires, and this story will likely only emphasize the direction with further negative repercussions for global growth. This is likely to take the steam out of the cyclical part of the global economy, which may warrant asset allocation trend shifts away from cyclical assets (Global: How to position for a (clearly) weaker credit impulse?)

Chart 4. Volumes in Chinese housing markets already looked seasonally (very) low before the moon festival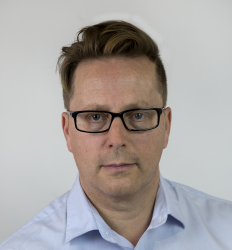 Latest posts by Houses and Holes
(see all)