Below is Deloitte's Weekly economic briefing, which assesses the prospects facing Australia's retail sector.
The latest issue of Deloitte Access Economics' Retail Forecasts brings an all too familiar story for Australia where, in the September quarter, COVID-related restrictions have eaten away at the relatively solid start to the year.
Lockdowns have been particularly hard for non-essential retail, including clothing and department store sales, with the doors for many retailers closed for normal business over most, if not all, of the quarter.
Evidence from the series of lockdowns already experienced in Victoria indicate consumers tend wait when it comes to their spending, with a hit to retailers during stay-at-home orders. But when given the chance, they do come back with a vengeance.
The risk is how quickly non-essential retail can open up when the time comes. While previously this was driven by low case numbers, Delta has driven a shift in focus to one of high vaccination rates.
There will again likely be a bounce in spending when restrictions are eventually eased, but unlike last year's lockdowns, the upside potential for retailers is lower in 2021. Purchases of household goods, games, and other retail items to keep consumers entertained while stuck at home were mostly made in 2020. As a result, there appears to be less demand to re-stock these items in 2021, taking some of the steam out of retail demand.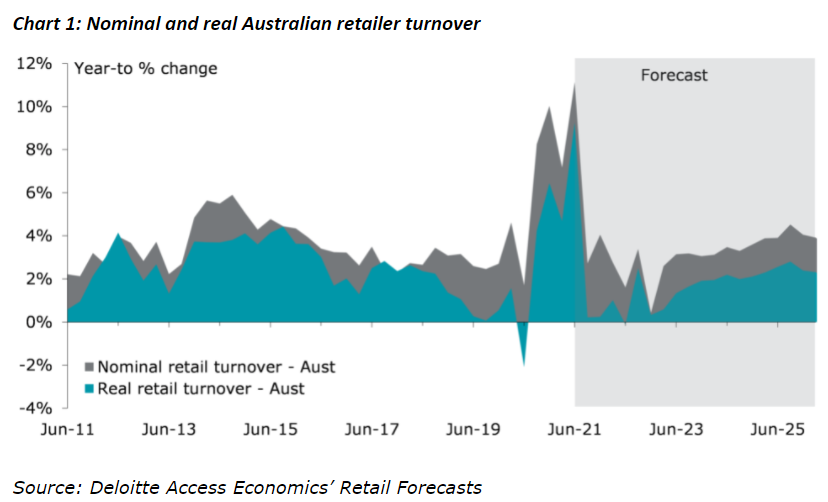 Latest confidence data suggest consumers may already have one eye to this next recovery. The Westpac-Melbourne Institute Index of Consumer Confidence for Australia increased 2% in September, despite half the population being subject to lockdown orders and restrictions. Businesses also showed signs of resilience, with the NAB Business Confidence Index rising 2% in August.
The UK's recent Freedom Day perhaps provides Australia with some idea of what a post-lockdown landscape may look like.
Total consumer spending activity has increased only marginally since then, subsequently remaining relatively flat. And worryingly for retailers, they are no longer the number one choice for consumers and their pounds. There was an expectation that retail foot traffic would surge, but the reality since Freedom Day has been more subdued – mobility has increased, but still remains below pre-COVID trends.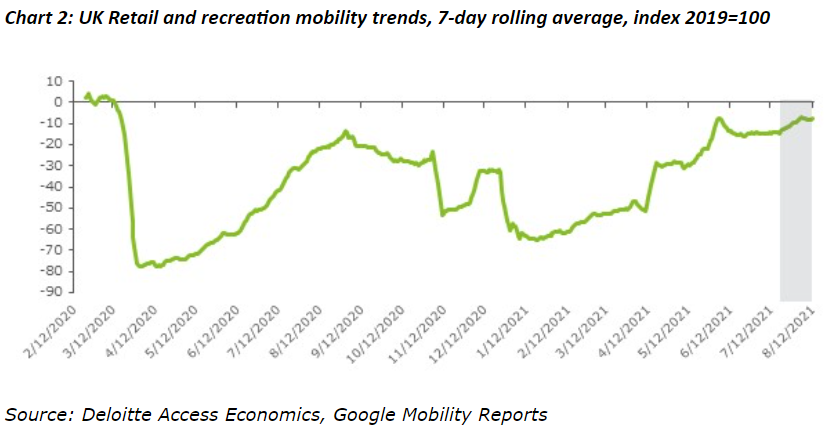 Total credit and debit card spending increased 8.1% since Freedom Day, but most of the change is due to increased spending on social activities. And with quarantine-free travel available to some areas of the world, UK residents have been quick to jump on a plane. In the week ending 23 May 2021, when international restarted, the average number of daily flights in a week was up 120%, although flights are still only at 48% of the levels reached in pre-COVID 2019.
August retail sales data in the UK indicates retail sales have declined for the fourth consecutive month, and easing restrictions has seen spending flock to travel and away from non-food retailers.
What does this mean for Australia's retail recovery? It is likely eased restrictions will give a boost to retailers as pent up demand to shop in-store occurs, but this spending power may face strong competition from the attractions of social activities and travel.
What is important to note is that the drop in retail spending in the UK may not be all due to a fall in demand. The country still experiences daily COVID cases over twenty times those of Australia, and issues with supply, including workers and logistic disruptions, are also likely a factor in the weaker retail recovery.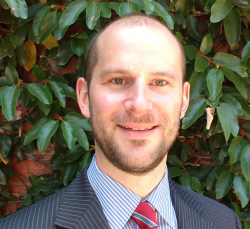 Latest posts by Unconventional Economist
(see all)