Recall the Hayne Banking Royal Commission's very first recommendation, which was to maintain responsible lending laws:
Hayne arrived at this recommendation after observing multiple cases of predatory lending over the Royal Commission's 12 month deliberation.
Also recall that Treasurer Josh Frydenberg tried to repeal these responsible lending laws, claiming they are essential to helping the economy recover from COVID:
"Ensuring consumers and small businesses can get timely access to credit as the economy continues to recover from the COVID crisis".

"The reforms are intended to improve efficiency, reducing the time and cost associated with the provision of credit for consumers and small businesses", [Treasurer Josh Frydenbeg said].
The Fact Sheet supporting the legislation to repeal responsible lending rules claimed they were restricting the flow of credit:
The importance of credit to households and businesses makes access to credit vital to Australia's economic success. Economic studies have consistently demonstrated a positive relationship between credit growth and economic growth, with the cost and availability of credit a strong determinant of credit growth.

Credit underpins the Australian dream of home ownership…

Now, more than ever, it is important that there are no unnecessary barriers to the flow of credit to households and business, especially small and medium sized businesses, as the economy recovers…

As the Governor of the Reserve Bank of Australia observed recently, what began as responsible lending principles has translated into a practice that has become imbalanced between a lender and its customer, leading to the undesirable consequence of unduly restricting lending.
Macquarie Research's annual mortgage broker survey comprehensively debunks the Coalition's suggestion that credit is being restricted, revealing that "borrowing capacity in Australia remains very elevated compared to the rest of the world". From The AFR:
Brokers told Macquarie that on a weighted average basis, about 38 per cent of customers borrowed close to their maximum capacity in the 2021 financial year.
Macquarie estimates that the borrowing capacity of owner occupiers rose by about 7 per cent in 2021 (and about 5 per cent across the major banks) thanks mainly to lower interest rates.
Borrowing capacity in Australia remains very elevated compared to the rest of the world. Macquarie says Australian banks were prepared to lend at about 7 times a borrower's gross income, which is much higher than the 4.2 times to 5.2 times seen across Britain, the United States, Canada and Sweden.
Australian banks continue to offer their clients between 35 per cent and 65 per cent more credit than their global peers.
APRA's own statistics show that 22 per cent of loans in the June quarter had a debt-to-income ratio equal to or greater than 6 times, up from about 16 per cent last year.
Thus, the entire justification for axing responsible lending obligations has been obliterated. Australia is in fact the land of easy mortgage credit.
Instead of enacting reforms to make lending easier, APRA should implement macro-prudential curbs on mortgage lending.
Mortgage demand is white hot and new investor lending is now tracking near prior peaks when macro-prudential curbs were implemented by APRA: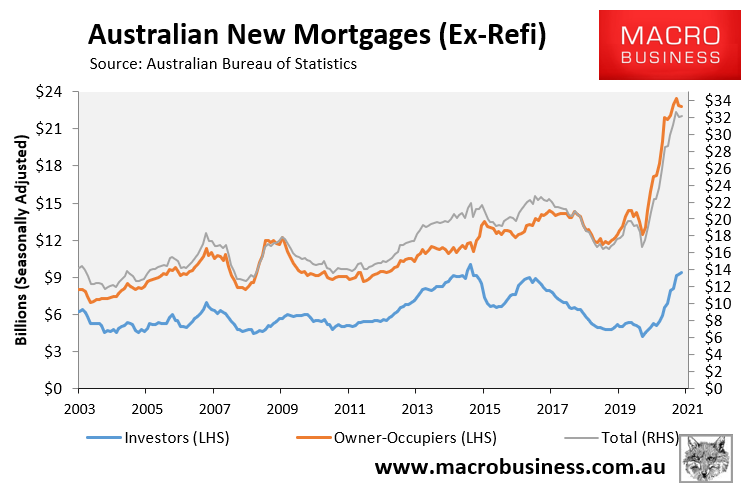 Instead of letting property prices and mortgage debt levels inflate even further, APRA should get on the front foot and take macro-prudential action now. What is the benefit of waiting?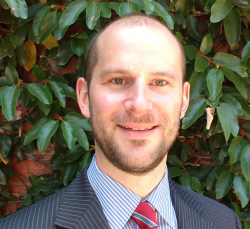 Latest posts by Unconventional Economist
(see all)