Eleven years ago, then Treasury secretary Ken Henry released the Henry Tax review. The review was intended to guide tax system reforms over the next 10 to 20 years, but its recommendations were ignored by successive governments.
Yesterday, Ken Henry criticised inaction from political leaders on tax reform, claiming the nation has been travelling in the opposite direction to what he recommended, leaving the country in a unsustainable fiscal position to meet future spending needs:
"Assessed against the benchmarks of our report, the Australian tax system is in a considerably worse place today. Indeed, the Australian tax system is in a parlous state," Dr Henry said.

"It's not capable of raising sufficient revenue to fund the activities of government. Not in any particular year nor on average over a run of years of any duration.

"Since that's the purpose of taxation, there can be no avoiding the conclusion that the Australian tax system is not fit for purpose."

He pointed out federal government spending is growing at a faster rate than economic growth.

"The only tax base in the federation that's being relied on to produce revenue growth at a faster rate than GDP is personal income tax," he said, adding fiscal drag – a situation where inflation or rising incomes shifts people into higher tax brackets – is the "sole instrument now being deployed" for budget repair.

"All other tax bases across the federation are fiscally unreliable," he said.

He said the GST base is eroding, fuel excise is at risk due to the electrification of the vehicle fleet, stamp duties are volatile and company tax collections are dependent on iron ore prices.

He wants the government to place less reliance on traditionally Commonwealth-levied bases such as income tax and more focus on typically state-levied charges on consumption, road use, land and other natural resources.
The OECD's latest Australian economic survey, released last week, illustrated Australia's over-reliance on personal income taxes: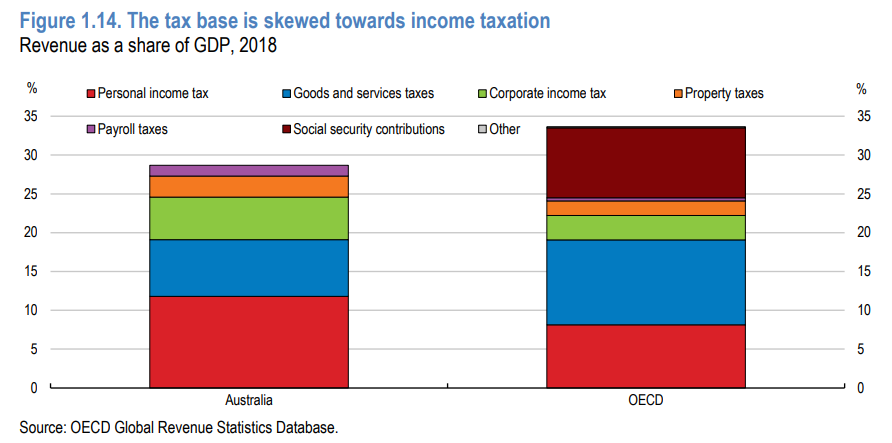 Like Ken Henry, it recommended a package of tax reforms that I agree with:
Increasing the contribution of the goods and services tax to the overall tax mix
Further reducing personal income taxes
Aligning the taxation of different forms of savings.
Reducing the capital gains tax discount
Replacing stamp duty with a recurrent land tax
Better pricing road use and environmental externalities
Review the taxation of corporate income.
Continue to evaluate the approach to natural resource taxation
My only gripe is that both parties have largely ignored wealth as a potential source of tax revenue to fund an ageing population (explained in detail here).
Providing government services to the richest generation in history can easily be paid for by properly taxing the richest generation in history.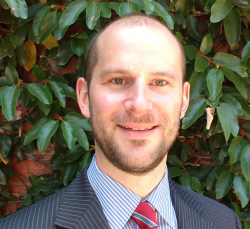 Latest posts by Unconventional Economist
(see all)