It's a very strange time. The pandemic we know about. I am referring to a secondary effect. The rise of irrationality in people and policy.
I've lost count of the number of strange conversations I've had in recent times with people I formerly thought of as stable or rational. The trauma of the pandemic has destabilised many. From basic fear of the virus to the loss of our freedoms to the collapse of the succour of daily routine to myriad rabbit holes that have opened up on the internet.
Is it too much to conclude that the same is happening in our leadership caste?
Let's take Gladys Berejiklian. Our Gladys has gone from "gold standard" pandemic manager to covered in excrement. The Berejiklian government's successful management of COVID1 with contract tracing blinded it to the dangers of COVID2 and now it has failed completely to contain the virus.
It did not need to be this way. The Berejiklian government never locked down hard and early enough to contain Delta and now Sydney is weary of trying. The virus is out and nobody has the will left to eliminate it.
Was it Gladys' pride that stood in the way? Unable to admit she had it wrong, has all of Sydney now become a reflection of Gladys Berejiklian's narcissism? Or, put another way, is Sydney now being punished by an irrational and out-of-control personality?
At the end of the day, this is an academic question. What matters in the real world is that Sydney and NSW are increasingly unlikely to contain Delta. The Berejiklian government is clearly nudging away from lockdowns and towards vaccines as its preferred virus management tool.
It was always going to happen but it is transpiring in chaos on the run not as a coordinated plan and that has significant implications for the Australian economy over the next 6-9 months.
If we accept that 80% herd immunity is the benchmark needed to safely reopen, then it's going to take the rest of this year to get there if things go well: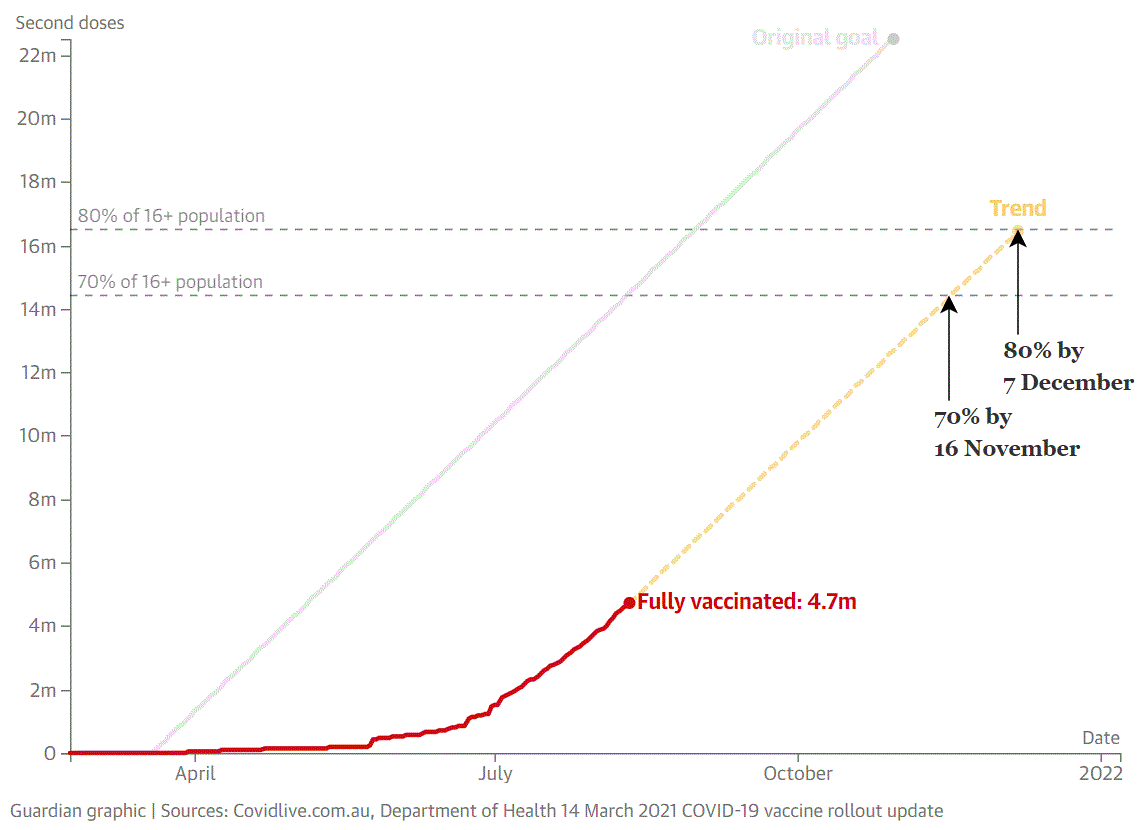 The Berejiklian government is talking about easing restrictions much earlier and perhaps it will. But not much. The real-life and political consequences of doing so too early are dire. Even so, NSW is certainly going to give up zero COVID before other states and turn itself into an irresistible beachhead for the virus in consequence.
This process is very unlikely to be smooth. NSW is going to be in and out of lockdown as a crazed Gladys Berejikian pulls levers frantically to match her political goals of minimal deaths and maximum freedom.
For the other states, then, which may also have leaders operating on pride and not responsibility, we are also going to see rolling lockdowns as NSW bleeds virus through every border pore. This will slow any ultimate reopening as well, as NSW becomes the other states' guinea pig, though it will aid the vaccine takeup.
This COVID apartheid is going to last another 6-9 months. What does that do to the economy? Yesterday's NAB business survey gave us our first real taste: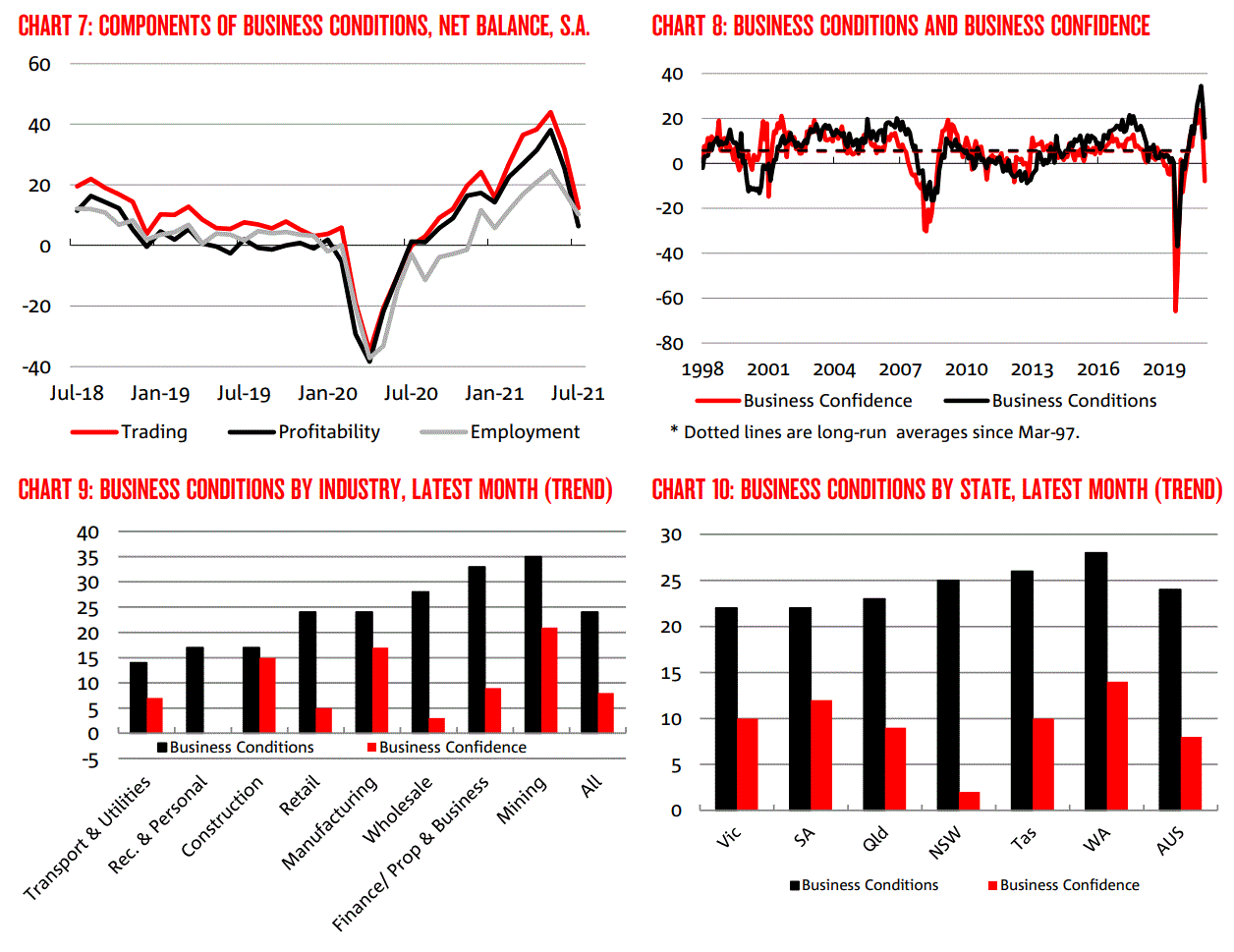 To cut a long story short, the reopening boom hit an unyielding brick wall in July. Some of the components are still OK. Employment is the big one. But the sharp turn in trend is discouraging.
Moreover, this will probably get worse yet as the next 6-9 months in and out of lockdowns wears down households and businesses.
And it will likely be accompanied by a rising external shock as China slows and the post-COVID commodity bubble pops to boot. That will land on nominal growth, wages and inflation with an almighty thud.
These are not the circumstances that the RBA has based its outlook upon. It has made clear that it sees a quick and clean lockdown followed by a quick and clean reopening. A repeat of earlier COVID experience. With two-quarters of negative growth "very unlikely"
As things stand, what is coming instead is a federation of economic apartheid with rings of steel around every state, ceaseless disruption via lockdown and halting reopening, eroding confidence, falling national income and nominal growth and an inflation outlook getting flushed away.
Employment will be the key. But it looks more than odds-on that we are entering two-quarters of negative growth and the RBA will have to warm up the printer again.
Unless its pride also gets in the way.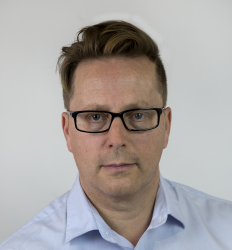 Latest posts by Houses and Holes
(see all)