An excellent note from Nomura on exactly what we have been discussing for six months:
The deviations between the Fed and the market's economic sentiment and monetary policy outlook have become quite conspicuous, and we think that the two are likely to collide head-on in the near future. At this point, we expect the market to move sharply in either direction, and in fact the implied volatility rate for the US bond market (MOVE) is rising again after stabilizing briefly after the July FOMC (Figure 1). As we discussed in detail in the 2 August edition of Macro Strategy Weekly, in his press conference after the July FOMC, Fed Chair Jerome Powell seems to have determined that it would be difficult to slow the move toward monetary normalization in the Fed overall and decided to take control of the QE tapering process rather than isolating himself as a dovish stalwart. Corroborating this view, on 2 August, Federal Reserve Governor Christopher Waller, who has taken a dovish stance similar to Powell up until now, signaled a hawkish shift with his assertions that if job reports for the next two months show improvements, the Fed could announce a reduction in QE in September and finish those reductions about five to six months after beginning. We think this is because the risk of stubbornly high risk cannot be ignored. If Fed Vice Chair Richard Clarida expresses similar views in his 4 August speech, it could be read as the Fed reserve board members' current stance. This would raise the likelihood that Powell would mention intentions to begin reducing QE and preparations to tackle high inflation (bringing rate hikes forward) at the Jackson Hole summit in late August.
In the US bond market, yields have declined since the CPI shock in mid-May, driven by super-long yields, which are the hardest for the Fed to control, but at present medium-term yields, which are in the Fed's range of defense, are gradually coming under downward pressure as well. This is because near-term, as well as medium-term, Fed rate hike expectations are falling (Figure 2). The market has priced in 48bp in rate hikes over the next two years, and has not fully priced in the two rate hikes in 2023 predicted at the June FOMC. We think the market, regardless of the Fed's intentions, is aware of the risks that: 1) governments could take hardline measures such as lockdowns in response to the renewed spread of coronavirus variants; and 2) risk-off flows stemming from China could grow more serious. The market's iron rule is to avoid fighting the Fed, but the Fed itself will not blindly push through its course of action once it has decided, and in some cases the Fed makes adjustments in its stance to fit changing conditions. (2) above in particular is reminiscent of the Fed's policy error when it began raising rates at end-2015, even though the global economy and markets were in turmoil due to China's decision to devalue RMB (Figure 2).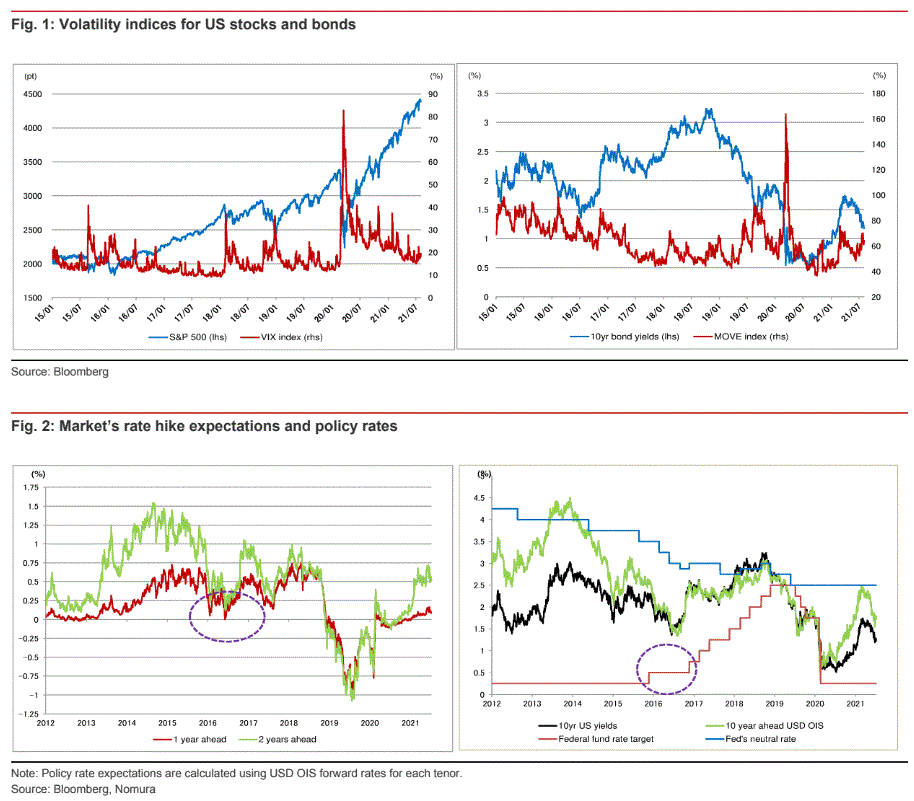 Then-Fed Chair Janet Yellen already seems to have thought of rate hikes as a natural extension of QE tapering, as evidenced by her "gaffe" in mentioning that rate hikes could begin "around six months" after QE tapering had finished. After QE3 tapering finished in October 2014, in March 2015 the Fed made it clear that it intended to raise rates within the year, apparently more concerned about an asset bubble than inflation concerns. Nevertheless, a rate hike decision was postponed until December because China devalued RMB in summer 2015, throwing financial markets into turmoil. The Fed has never been particularly skilled in reflecting foreign trades and market trades in its policy conduct. However, the Fed came under criticism when risk-off flows worsened after the rate hike and US inflation expectations began to undercut 2.0% (Figure 3). At her Congressional testimony in February 2016, Yellen stated that the Fed would put off additional rate hikes due to significant tightening in the financial environment (Figure 4). In addition to these hints about delays to Fed rate hikes, globally share prices rebounded and US inflation expectations bottomed out, but US rates continued to lower the rate hike expectations priced in until July 2016.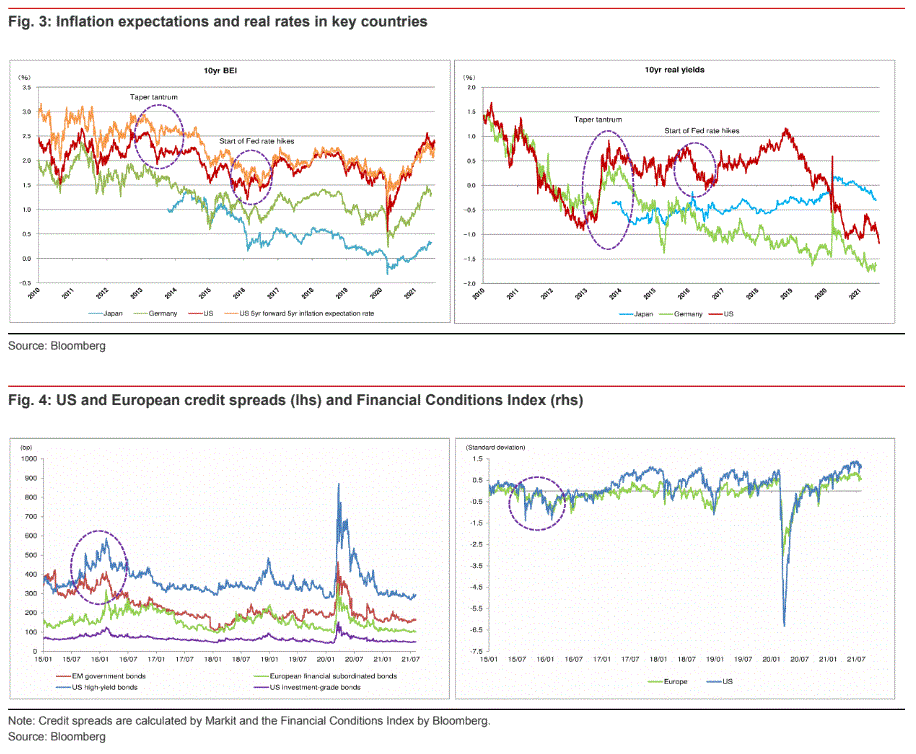 In the current phase, US inflation expectations and the Financial Conditions Index are the key that could lead to changes in the Fed's policy stance. The 5yr forward 5yr inflation expectations that the Fed weighs heavily fell to 2.06% on the day after the July FOMC. If this rate clearly undercuts 2.0%, it could force the Fed to reassess the timing of the start of QE tapering and its pace. At the same time, in the current phase, the Fed is debating whether to taper QE, not whether to raise rates, which minimizes the extent to which the market has priced in rate hikes; the instability in the economy and markets is also proportionately more mild. The Financial Conditions Index looks quite accommodative compared to this earlier period. As a result, if the Fed hints at a delay to QE tapering, it could cause long-term yields, as well as share prices, to bottom out. At the same time, even if the Fed does not delay QE tapering, as this author expects, the economy could pick up again as the cases driven by coronavirus variants subside and supply constraints are resolved, China could provide reinforcements with more accommodative financial and monetary policy, and markets could turn risk-on again. However, this could take several months, and during this period risk assets could be vulnerable and long-term yields come under downward bias.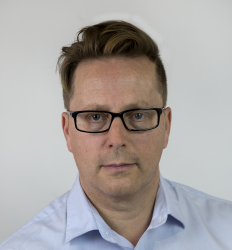 Latest posts by Houses and Holes
(see all)