China released its June credit data on Friday night and it was better than it has been for much of 2021. New yuan loans arrived at 3.67tr yuan with banks comprising 2.1tr yuan of that: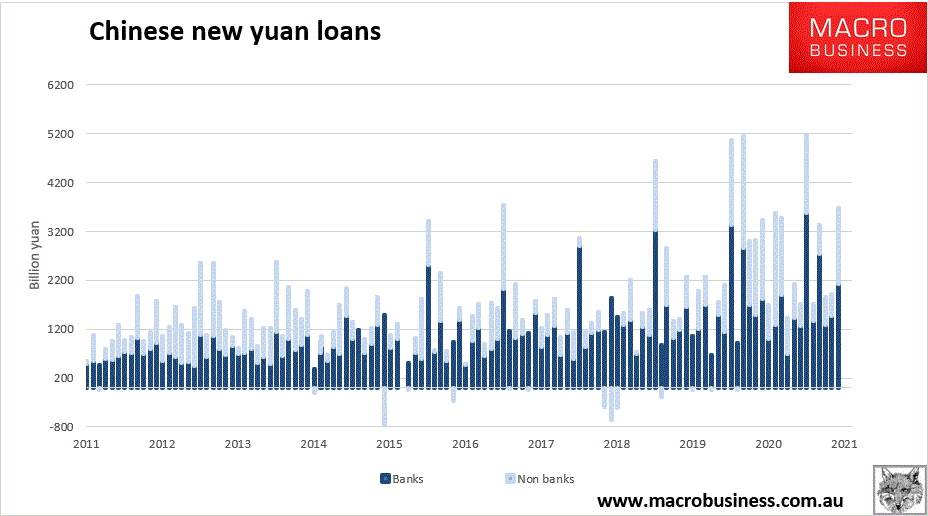 This was the first monthly year-on-year growth in four at a modest 6%: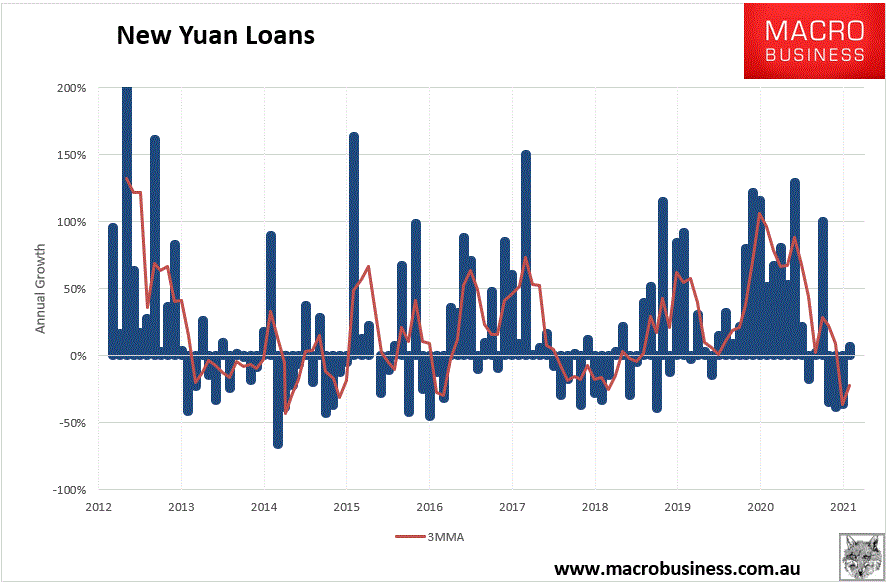 M2 accelerated to 8.8%: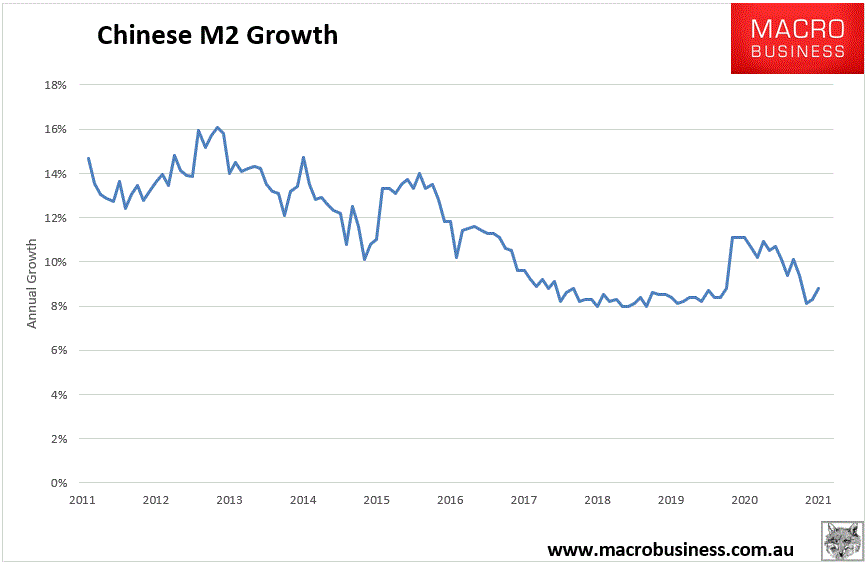 But broad credit still eased to 11%: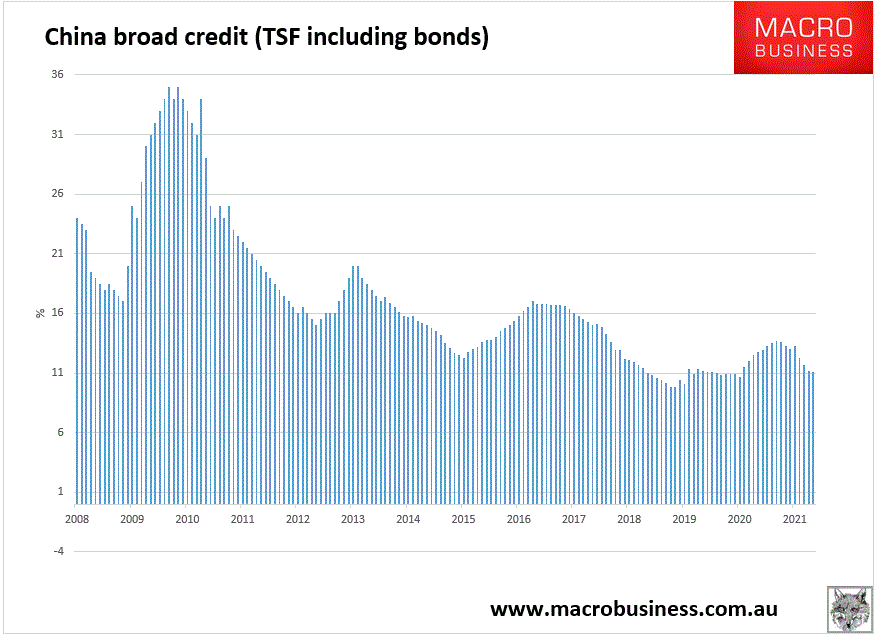 Year-to-date new credit is still down 14.4%, or some $670bn, though the trend stabilised somewhat: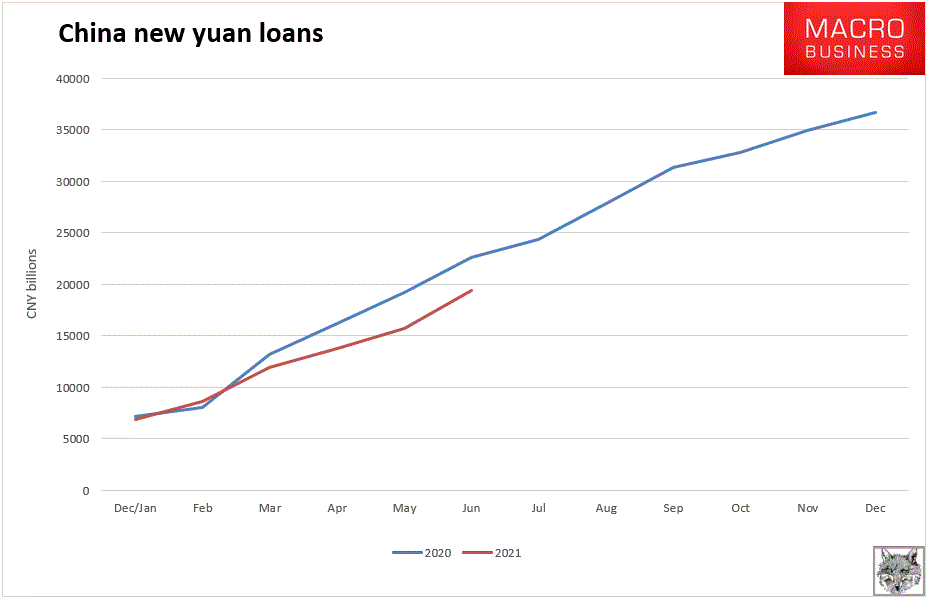 Goldman has some detail:
Among major TSF components, Rmb loans remained robust. Medium-to-long term loans to corporates accelerated, and short-term loans(including bill financing) also rebounded in June. Household medium-to-long term loan growth slowed, likely related to tight restrictions on mortgage lending. Although short-term household loans growth went up, it remained notably weaker than the average last year. Corporate bond issuance rebounded notably in June after a dip in May (and LGFV bonds issuance also recovered significantly). Trust loans and entrusted loans continued to contract, at a roughly similar pace to the recent months. Government bond issuance picked up in June, primarily on higher central government bond net issuance and local government special bonds issuance (special bond issuance was Rmb 430bn in June, up from Rmb 352bn in May), but it moderated after seasonal adjustment, which was the major factor behind the moderation in sequential growth of TSF.

Despite better local government special purpose vehicle borrowing, local fiscal authorities have still only used 30% of their quotas versus 70% this time last year. This is a major headwind for infrastructure investment ahead. It remains a mystery why it is so weak but the notion that it is the Three Red Lines policy killing developer land purchases and thus disrupting local government balance sheets is still in play. Or local governments are simply following the word not letter of Beijing policy. Alternatively, local government borrowing will skyrocket in H2 to fulfil borrowing quotas which will ease the pace of slowing growth at the margin.
Either way, the PBoC has begun the great panic. Morgan Stanley:
Beijing Affirms Pivot to Easing

The 50bps broad RRR cut marks a shift from tightening to an easing bias. Followed by a faster pace of local government bond issuance, we expect broad credit growth to stabilize by 3Q, sustaining economic growth. The PBoC announced a 50bps broad-based RRR cut today, effective on July 15, more dovish than the market expected: The central bank estimates this could release Rmb1trn in long-term liquidity to the market, which would be used to repay part of the maturing medium-term lending facility (MLF) and fill the liquidity gap induced by tax season in late July. It said the RRR cut is a move after monetary policy normalization.

We believe this marks a shift from counter cyclical tightening to an easing bias–in view of the recent growth hiccup amid Covid resurgence, supply chain disruptions, and further moderation in domestic consumption. Liquidity injection via RRR cut could facilitate a faster pace of local government bond issuance.

This has increased our conviction that broad credit growth could stabilize at~10.6%YoY by September, followed by an uptick in 4Q to~11% from a lowbase, sustaining economic growth in 2H.

However, this should not be interpreted as the start of a new major easing cycle: We believe the RRR cut is more a policy fine-tuning to prevent downside risks to growth. This is particularly the case as a large amount of MLF will mature in coming months (Exhibit3), which could offset the impact of the RRR cut if not fully rolled over. Meanwhile, the existing macroprudential measures are likely to remain in place to ensure financial stability.
This has happened faster than I expected which tells us that the economy is doing worse than I thought. The severe credit tightening of the past nine months has hit, along with the few other headwinds cited by MS.
RRR cuts will do bugger all to turn this around over H2, and will do nothing to encourage local government bond issuance. But such cuts are best viewed as the first step in the Chinese process of panicked reversal out of another failed attempt at deleveraging and economic restructuring.
So, I still expect growth to slow sharply in the months ahead, especially in commodity-centric segments of housing and infrastructure. But I have also now brought forward my timetable for the Chinese panicked policy reversal:
PBOC rate cuts in Q4.
New fiscal spending and abandoning Three Red Lines in Q1, 22.
The Chinese slowdown is still on a collision course with the US fiscal cliff and collapsing global inventory supercycle through H2 this year. Commodity demand and prices should still come off sharply with both. The yuan will fall a lot with rate cuts. That's bearish AUD.
Beyond that, later 2022 now shapes for China as another panicked reversal to MOAR debt and a short-term commodity rebound on the irreversible road into the middle income trap.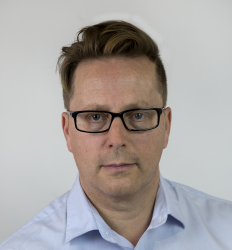 Latest posts by Houses and Holes
(see all)