By Gareth Aird, head of Australian economics at CBA
Key Points
The lockdown of Greater Sydney has significantly increased the level of uncertainty over economic outcomes in the near term.
There will be a negative hit to GDP and employment over Q3 21 because of the lockdown, but income for impacted workers and businesses will remain supported through the entirety of the lockdown due to payments from the Commonwealth and NSW Governments.
Support payments and industry assistance will keep the economic furniture intact so that when restrictions are eased economic activity should rebound swiftly, as has previously been the case.
Overview
CBA's upbeat view on the Australian economic outlook in 2021 has always been predicated on the assumption that any outbreaks of COVID‑19 are traced and well contained, and significant restrictions are not reimposed for an extended period. Indeed at every forecast upgrade along the way over the past nine months we have restated that assumption given that health and economic outcomes are inexorably linked.
Up until this point that assumption has held up. But the current lockdown of Greater Sydney and the rate of community transmission of COVID‑19 poses a significant risk to the Australian economy over H2 21.
To recap, the lockdown of Greater Sydney started at 6pm on 26 June which means that it has so far run for 2½ weeks. Over that period the daily number of new COVID‑19 cases has trended up rather than down. Nobody knows at this stage when the lockdown will end. And there is a risk that restrictions are further tightened. In that context we are not in a rush to publish an updated set of economic forecasts. But we think that it is worthwhile having a look at the potential economic impact of the lockdown given the importance of Greater Sydney to the national economy.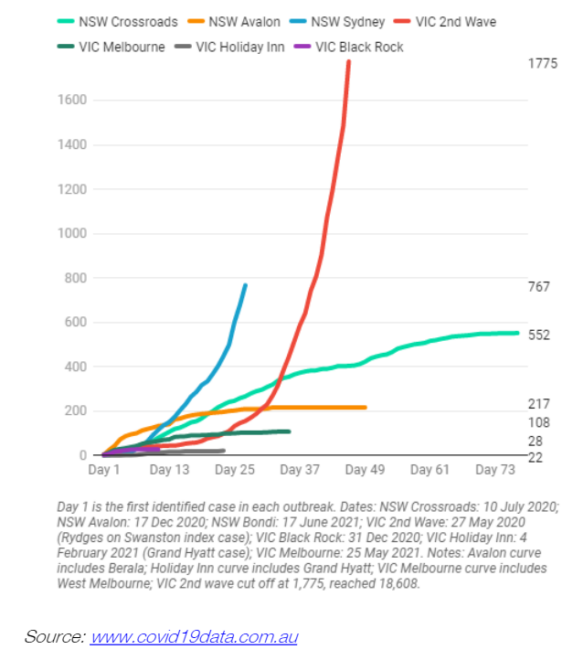 Based on the information we have to date, a reasonable starting point to assess the potential impact of the lockdown on the economy is to assume a further four week extension of the lockdown in its current form. That would see the lockdown last ~7 weeks which would have large near term implications for GDP and employment. The blow to income, however, is cushioned by government payments to households and businesses. Support from industry, particularly the banking sector, will also minimise the medium to longer term damage from the lockdown.
This note looks at the potential impact of the lockdown from both an employment and GDP perspective. We also discuss our call on the RBA in the context of the lockdown.
The potential direct hit to GDP
Greater Sydney's contribution to GDP is estimated to be around 25%. Based on our internal data on card spend and the recent experience with lockdowns we estimate that each week of the lockdown in its current form shaves ~$A1bn off GDP (a reduction of 0.05% from annual GDP or 0.2% from quarterly GDP). A lockdown therefore of ~7 weeks would subtract a large 1.4% from Q3 21 GDP (note that only four days of the lockdown were in Q2 21). Such an outcome on our figuring would see the national economy contract over the September quarter(by around 0.7%).
By the same token GDP growth would be stronger in Q4 21 due to an easing of restrictions. The total hit to GDP in 2021 would be around 0.4% because the lost production over the September quarter represents a permanent loss in output.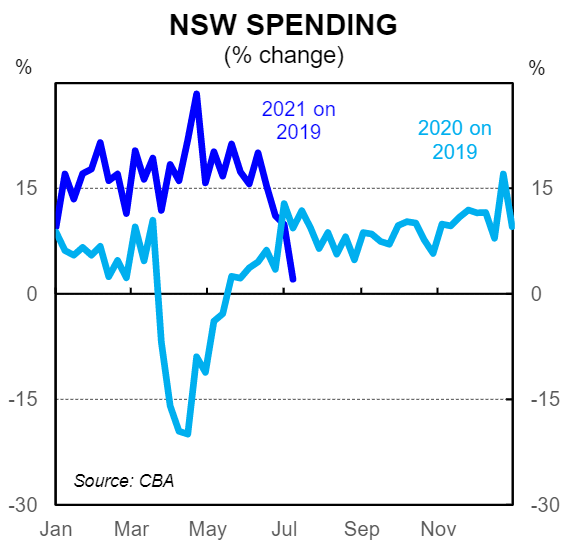 The potential hit to the labour market
Previous snap 1-2week lockdowns across the country have had an impact on hours worked, but very little impact on measured employment (i.e.an employee told not to work for a week or two has not been stood down).
This lockdown, however, is different. A lockdown of ~7 weeks in Greater Sydney could see a significant number of NSW workers stood down. The impact will be captured in monthly labour force surveys (most notably the July and August surveys).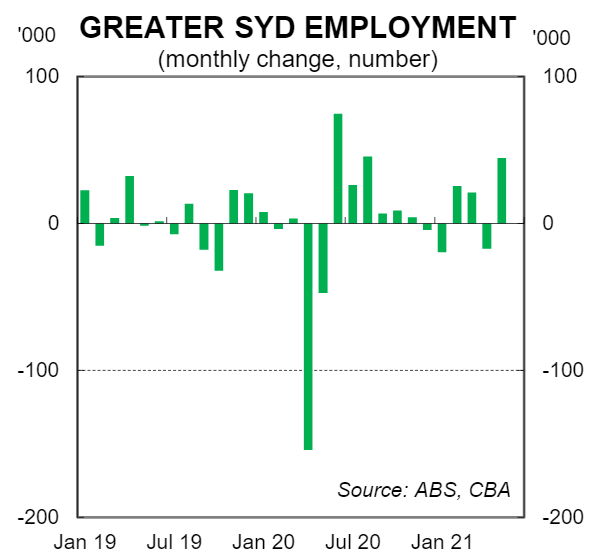 Around 22% of the national workforce is employed in Greater Sydney. Over April and May 2020 when Australia went into a national lockdown, employment in Greater Sydney fell by 200k.Over the same period unemployment rose by a much smaller 50k(see facing charts). The difference between the much larger fall in employment relative to the increase in unemployment is reconciled by the sharp fall in the participation rate. Most workers stood down because of a lockdown do not look for another job while in lockdown. It should be noted that JobKeeper was available to eligible businesses in April and May when the big contraction in employed occurred.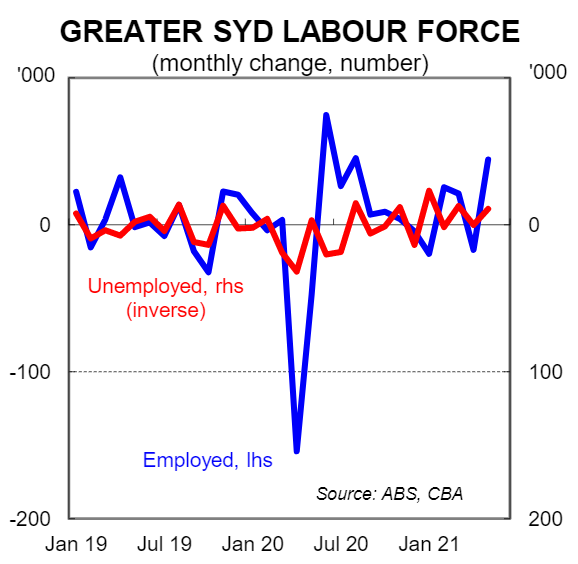 If a similar outcome occurs this time around (i.e. if employment falls by 200k and unemployment increases by 50k) it would have the direct impact of adding 0.4ppts to the national unemployment rate, all else equal. Given unemployment is forecast to continue to fall across the rest of Australia in July and August we are likely to see only a small increase in the national unemployment rate because of the lockdown (assuming that it does not go on for several months).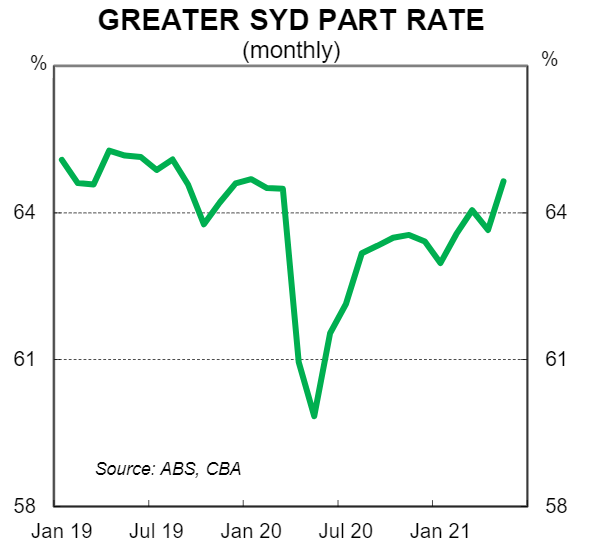 Income support
The Commonwealth and NSW Governments will provide support payments to impacted businesses and workers over the course of the lockdown. These payments cannot make up for the lost production that will take place over the lockdown. But they will ensure that the NSW economy has the chance to rebound very quickly when restrictions are eased, as has been the case with previous lockdowns (notably the longer lockdown in Victoria last year).
The support payments to impacted workers are similar to what employees on JobKeeper received over Q420. The "emergency disaster" payment will increase from$A325 to $A375per week for people who have lost up to 20 hours of work, and from $A500 to $A600 for people who have lost more than 20 hours of work.
For businesses there will be jointly funded payments of $A1,500 to $A10,000 a week if there has been a greater than30%decline in turnover. The payment is estimated to cost $A500 million per week and will be funded equally by the Commonwealth and NSW Governments.
Updated thoughts on the RBA
In his press conference of 6 July RBA Governor Lowe stated, "the reviews of our bond purchases take into account: the effectiveness of the bond purchases to date; the decisions of other central banks; and, most importantly, progress towards our goals for inflation and employment".
It is now likely that the labour market data over July and August will show that further progress has not been made towards the goal of full employment. This means that our call for the RBA to further taper bond purchases to a pace of $A3bn per week is less likely to materialise. At this stage we will keep our RBA call on the bond buying program unchanged, but note that it hangs in the balance.
The uncertainty around the duration of the lockdown in Greater Sydney also casts a trace of doubt over our call for the RBA to begin normalising the cash rate from November 2022. But it is far too premature for us to consider pushing it out.
It may turn out to be the case that economic momentum is once again very strong by Q4 21 if restrictions in NSW have been fully eased. Indeed we think that is the most likely scenario. In addition, the rest of Australia is expected to continue to expand while Greater Sydney is in lockdown. This means that labour markets will further tighten outside of NSW.
Our expectation that wages growth and inflation step up remains unchanged, albeit we acknowledge that wages growth in NSW may be slower to accelerate if the lockdown is prolonged. Our views around wages and inflation are supported by recent business surveys that show wages and inflation pressures in the economy have picked up, in line with our expectations (see below charts).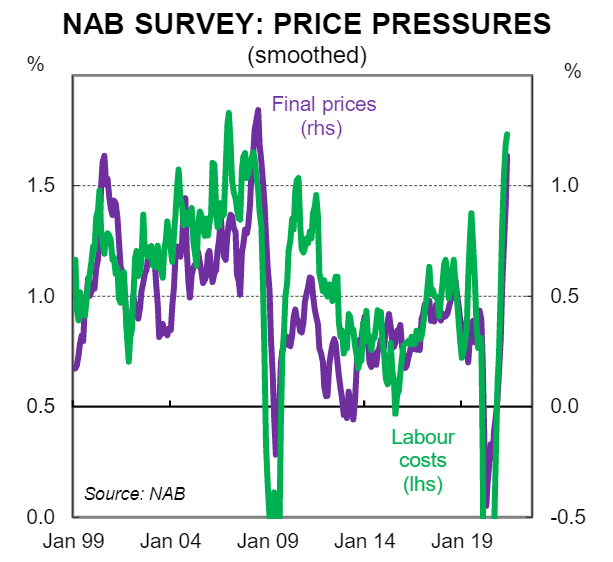 Finally, the word 'transient' is very much in vogue at the moment when talking about the outlook for inflation and wages. But we think it is a word that is more applicable to lockdowns than the inflation and wages outlook.
Lockdowns are very much transitory in nature and they should be a thing of the past next year given the acceleration in the vaccine rollout. In contrast, exceptionally loose monetary policy coupled with expansionary fiscal settings will be with us in 2022. In addition, households with be armed with an unprecedented war-chest of savings that will continue to accumulate over H2 21. In summary the Australian economy will perform very strongly in 2022 and wages and inflation pressures will continue to build.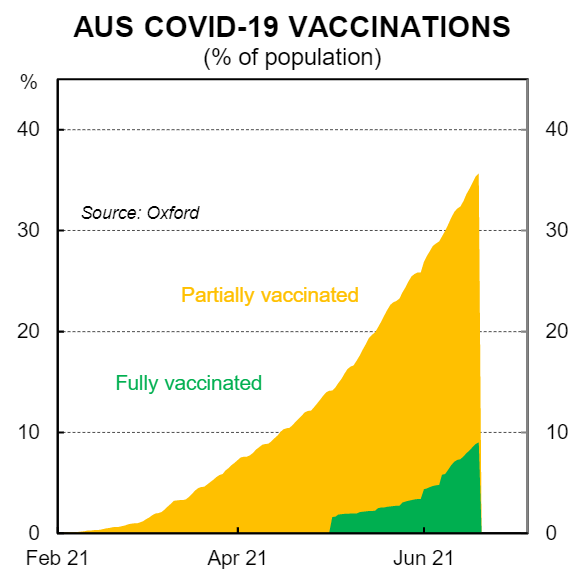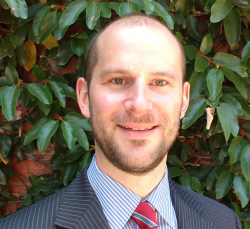 Latest posts by Unconventional Economist
(see all)