Still suffering from the crash resulting from its now-notorious four-headed hydra pattern, Bitcoin joined another chartist's nightmare yesterday, breaking the neckline of its monstrous head and shoulders top:

The drover's dog can tell you that opens up big technical downside. Which is very likely voodoo but all the more apposite for being so.
As Hamish Douglass at Magellan says, BTC and crypto is the largest ever bubble, that history will view with hilarity:
Advertisement
"Cryptocurrencies, I have to say, are one of the greatest irrationalities I've seen in a very, very, long period of time because of the cult-like following it has behind it and the scale that is behind it," Mr Douglass said.

"There are millions and millions of people participating. Some of the people, they've never invested before and the only bandwagon they've ever got on is the cryptocurrency bandwagon and it's almost like a religion."
There are many issues with crypto but the largest is there is nothing backing it. Stablecoins are nothing but voided shadow banks. CDOs with obscured risk and no collateral. BTC is a complete joke reliant entirely upon ignorance to function. That's why the volatility is so extreme. Bank runs happen hourly!
But, there may be times when BTC does send a signal worth paying attention to. As it collapsed below $30k yesterday, we might have seen one of those times.
Advertisement
Why is this useful? Because it's probably fair to say that BTC has arisen, in part, owing to the printing and profligacy of fiat currencies, especially the US dollar. So, when we see BTC plunge to new yearly lows, I see it as a signal that liquidity is withdrawing from markets, courtesy of Viktor Schvets: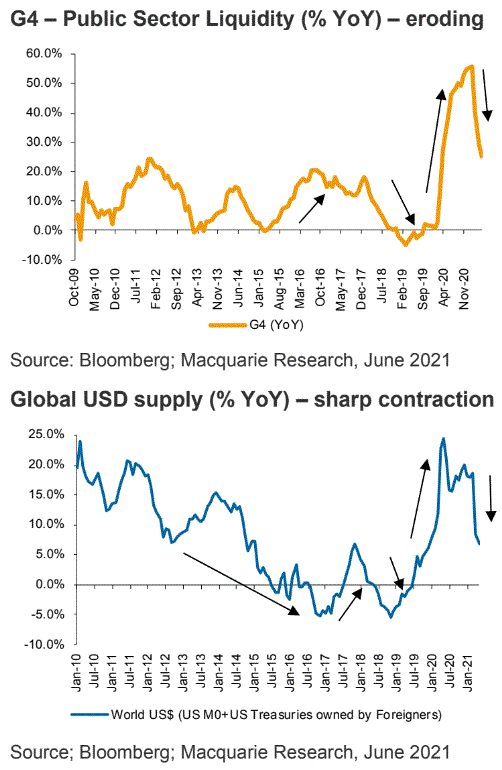 Goodbye BTC. Watch out gold.
Advertisement