See the latest Australian dollar analysis here:
DXY eased last night as we approach Fed day tomorrow. We'd better hope that the Fed doesn't rev up taper or all hell is going to break loose in EMs. EUR rallied:

The Australian dollar was hit pretty hard on the crosses:

Gold and oil were both soft:

Big miners retraced some blowoff:

EM stocks are in free fall:

Ominously, junk dent is joining them:

Contagion hits yields:

And stocks fell, led by growth:

Westpac has the data:
Event Wrap

US durable goods orders in June disappointed with a 0.8% rise (vs. +2.2% expected, +2.3% prior). Offsetting that, back revisions to May and April were positive. CoreLogic 20-city house prices rose 1.8% in May (vs. 1.5% expected, 1.6% prior), up to a record high. The annual pace accelerated to 17.0% y/y from 15.0% y/y, with all 20 cities posting double digit gains. Consumer sentiment (Conference Board) rose from 127.3 to 129.1 (vs. 123.9 expected), to a fresh high since February 2020.

Event Outlook

Australia: The Q2 CPI will be published. In terms of key drivers, demand for dwellings has surged due to low interest rates and the HomeBuilder grants. We are seeing a temporary boost to the CPI from a spike in fresh fruit & vegetable prices, while the surge in crude oil prices and a weaker AUD has boosted auto fuel prices. There was a seasonal lift in health costs associated with the annual health premium reset. Offsetting the gains in Q2 are falling prices for both domestic and international holidays and travel due to government subsidies for airfares and increasing competition. Market consensus is for a 0.7% rise (3.7%yr). Westpac is looking for a 0.9% (4.0%yr) rise in the headline CPI, and a 0.5% (1.6%yr) rise in the trimmed mean measure. For further details please see the CPI Preview Bulletin.

New Zealand: The monthly employment indicator is based on data from income tax filings. It provides a less detailed but more timely snapshot of employment trends compared to the quarterly surveys. The number of filled jobs has picked up in recent months as the domestic economy has strengthened. Weekly data suggests there was a further acceleration in June.

US: Policy is set to remain on hold at the July FOMC meeting, but we will be looking for additional guidance on the Committee's perception of the outlook and the balance of risks, and any discussion of the pace of asset purchases. The statement should continue to refer to inflationary pressures as transitory. Fed Chair Powell will deliver the post-meeting press conference at 04:30 AEST. Wholesale inventories are expected to rise 1.1% in June; inventories are likely to remain choppy over the year, but should make a positive contribution to growth.
The problems developing in China are steadily enveloping global markets. Combined crackdowns on property developers, tech and education is routing Chinese equity in Hong Kong:

Mainland stocks are so far less effected but they look vulnerable:

Chinese yields are plunging:

Where easing goes, CNY follows: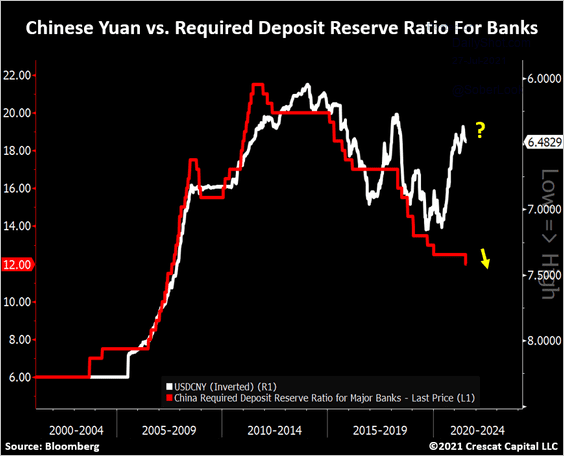 And where CNY goes, AUD follows:

If the Fed is anything other than utterly dovish tonight this will all get worse in a hurry. The pressure is building on Chinese authorities fast as well.
More and more this resembles the great 2015 bust when the Fed and China tightened simultaneously and the world fell apart for EMs and commodities.
AUD is at high risk of going lower.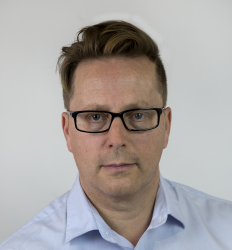 Latest posts by Houses and Holes
(see all)