See the latest Australian dollar analysis here:
Forex markets were haywire last night as markets try to digest slowing recoveries in both the US and China and what authorities are going to do about it. DXY was soft and EUR lifted:

The Australian dollar climbed:

Gold fell. Oil is cooked in my view:

But there is nothing that base metals like more than a global recovery running off the rails. Say what?

Big miners to the moon on…I have no idea:

Even as EM stocks crashed through key support, led by China. That chart is fugly:

Even imperturbable EM junk is starting to trend lower:

Yet Treasury yields bounced:

And stocks were a little bid:

Don't ask me to make sense of that little lot because there is none. These are chaotic markets with bullish and bearish signals detached from reality.
What is not in doubt is that the US and Chinese recoveries are fading. Westpac with the data:
Event Wrap

US new home sales in June surprised with a fall to its lowest level in over a year at 676k (est. 800k), from a prior reading that was revised down to 724k from 769k. Once again, surging construction costs and supply pressures were cited, although some of those supply-chain constraints appear to be easing.

The Dallas Fed activity survey fell to 27.3 (est. 32.3, prior 31.1). This still indicates a "robust expansion", with above average manufacturing conditions (little changed at 31.0) and new orders (also unchanged at 26.8).

Germany's IFO survey missed estimates, but readings remained above 100 indicating an expansionary economy. Business climate fell to 100.8 (est. 102.5, prior 101.7), while current assessment rose to 100.4 (prior 99.7, est. 101.8), and expectations fell to 101.2 (prior 103.7, est. 103.6).

Event Outlook

Australia: RBA Deputy Governor Guy Debelle will speak on "Outcomes of the 3-year review of the FX Global Code" at the FX Markets US Conference 2021 (Online), 10:35 AEST.

China: June industrial profits will be a story of varying experiences across the supply chain. Upstream producers are benefitting considerably from the elevated selling prices of raw materials, but downstream manufacturers will see their margins crimped by higher input costs.

Euro Area: M3 money supply should grow at a robust 8.2%yrin June. However, we have seen a slowdown in the annual pace due to the shifting base period.

US: Ahead of the July update, the Richmond Fed Index has indicated that prices paid are beginning to crest (market f/c: 20). Durable goods orders should expand a further 2.0% in June, with investment likely to remain robust over 2021. Two house price measures, the FHFA index (market f/c: 1.6%) and the S&P/CS index (market f/c: 1.5%) will indicate broad-based growth across the nation. Conference Board consumer confidence, which initially lagged the broader economic recovery, is expected to print at 124.0 in July.
Goldman downgraded US growth: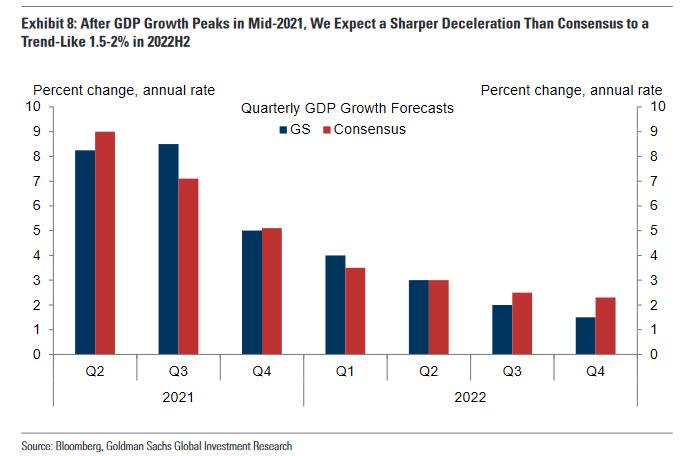 And China is still very much in restructuring mode as its stockmarket is belted:
"Everybody's in the cross-hairs," said Fraser Howie, an independent analyst and co-author of books on Chinese finance who has been following the country's corporate sector for decades. "This is a very difficult environment to navigate, when over the weekend your business can basically be written down to zero by state edict, how on Earth are you to plan for that?"
China has killed the global reflation with credit clamps and the Fed is cremating it with a policy error. Thus, H2 is shaping as a reflationary bust for markets as the global inventory cycle ends and the commodities bubble pop together.
The question today for the Australian dollar (and all other markets) is will the Fed panic even before markets need to remind it of who is boss? And will that even matter if China remains on track to restructure?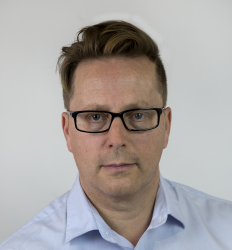 Latest posts by Houses and Holes
(see all)