From ANZ's New Zealand economics team:
Housing market overview
A few months have now passed since the Government announced its suite of housing policy changes, and as the dust settles, a rather robust market is being revealed. It's still early days of course, but the experience to date suggests policy changes so far are not on their own going to bring about different, and more equitable, housing outcomes. House price inflation is still running at an elevated monthly pace, and while we think the annual profile is very close to its peak, the ratio of house prices to incomes is simply off the chart. Properties
available for sale remain very low, and the only real solution to this madness in the longer run is to build more houses. For now, the market remains tight, but a higher OCR from August should help take some of the heat out.
A tight market…
Housing indicators continue to point to a very tight market. Days to sell remain low, coming in at 30 in June (historical average: 39) and properties available for sale remain exceptionally low (figure 1). It's no wonder price pressures have remained elevated as investors have taken a back step – low inventory means first-home buyers are competing for properties just as hard as ever.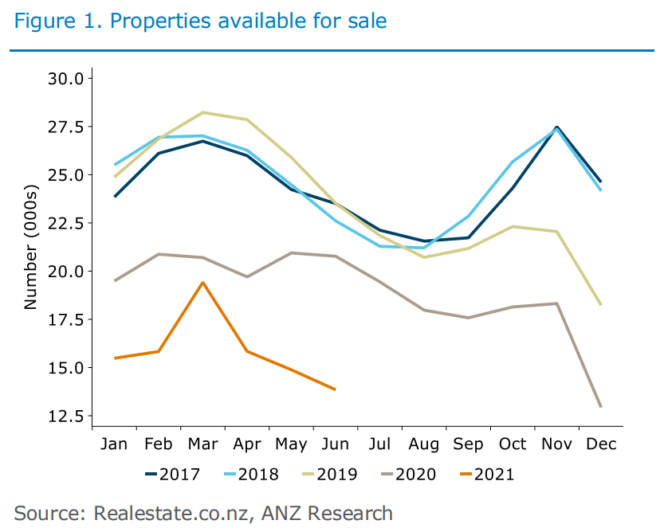 That said, house sales rebounded a sharp 10.1% m/m in June (ANZ seasonal adjustment) following two consecutive months of very weak sales growth. This is a tentative sign that the market is beginning to settle down in the aftermath of recent housing policy changes, but one data point does not make a trend.
And we should also be cognisant that some investors (who have been sitting on the side lines) may decide to re-enter the market now that it's not looking like it will roll over. Policy changes and mortgage rate increases will make that both harder and less appealing than
previously of course, but it's something worth keeping an eye out for.
…a widening divide…
The gap between the haves and have-nots widened further in June, when house prices lifted another 1.6% m/m. Annual house price inflation is now running at around 30% (figure 2). To put that into context, if you bought a $1-million-dollar house a year ago with a 20% deposit, and fixed the $800,000 loan at, say, 3% pa, the unrealised gain on your house less interest costs would be more than $275,000. Conversely, if you didn't quite have the 20% deposit a year ago, it's extremely unlikely that you've gotten closer to your savings goal over the past year – you would have needed to save another $60,000 just to maintain purchasing power to buy that same house (assuming debt servicing and credit availability isn't a constraint).
That's an extra $165 in savings per day required just to stand still, versus an unrealised daily gain of more than $750 per day for those lucky enough to be on the other side of this thought experiment!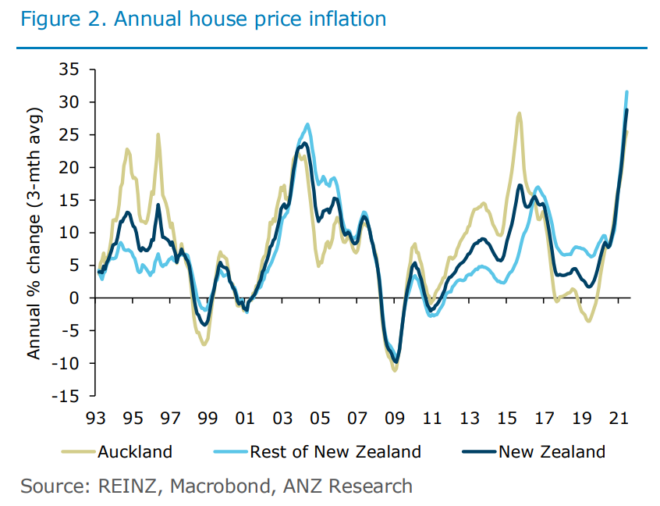 In an economy where the annual median household disposable income (ie net tax and transfer payments, but before housing costs) was $72,939 as at June 2020, these numbers are simply bonkers. And if we look at median house prices relative to disposable incomes, the recent experience is even bonkerser!
For the calculations in Figure 3 we've had to assume income growth for the year to June 2021, as these data have not yet been released. Here, we generously assume income growth of 5% y/y. As at June 2021 this suggests house prices were running at more than 10.5 times disposable incomes, that's up from an already elevated 8.3 times in June 2019 (pre-COVID). But the scary thing is even if we assume house price inflation from here to the end of time is zero and that income growth can run at the very solid pace of 5% per annum, it would still take six years for this ratio to return to pre-COVID levels. But 0% house price inflation alongside 5% income growth is an extremely optimistic assumption for the growth gap. Figure 3 shows a mix of different assumptions, and all of them are pretty sobering. Without outright house price falls, it's a slog.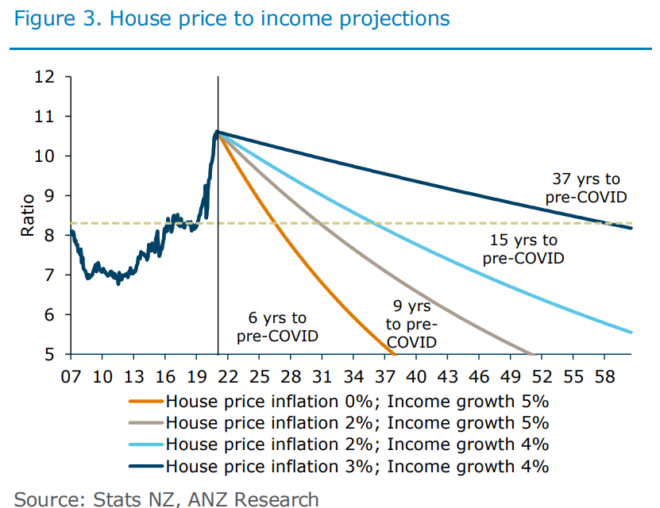 Relative to their 10-year average, all of the above scenarios are "optimistic". That is, annual growth in disposable incomes has averaged around 4% pa over the past decade, while annual growth in median house prices has averaged around 6%. If we were to put these assumptions into the chart above, the ratio continues to push higher.
However, we just don't think it's feasible for growth in house prices to significantly outpace income growth for much longer, as at the end of the day someone has to pay the rent or service the mortgage sitting behind such exorbitant house prices. Further, while the picture
might change, on current forecasts, the multi-decade tailwind of low interest rates (figure 4) is probably finding a bottom.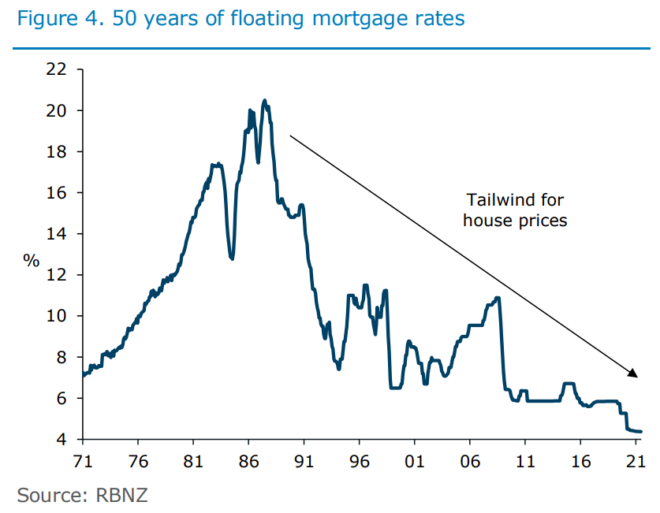 While interest rates are expected to remain structurally low, we do expect the RBNZ to start lifting the OCR from next month (to a terminal rate of 1.75% by end2022). And with that already getting passed through to mortgage rates, we expect the housing market to slow.
Because the stock of mortgage debt is now so high relative to the size of the economy (figure 5), interest rate increases will be a little more powerful than before. The implied 150 basis points of OCR hikes from here on a stock of around $315 billion (and growing) of
lending secured by residential mortgages represents almost $5bn more a year that borrowers will need to find to service their debt.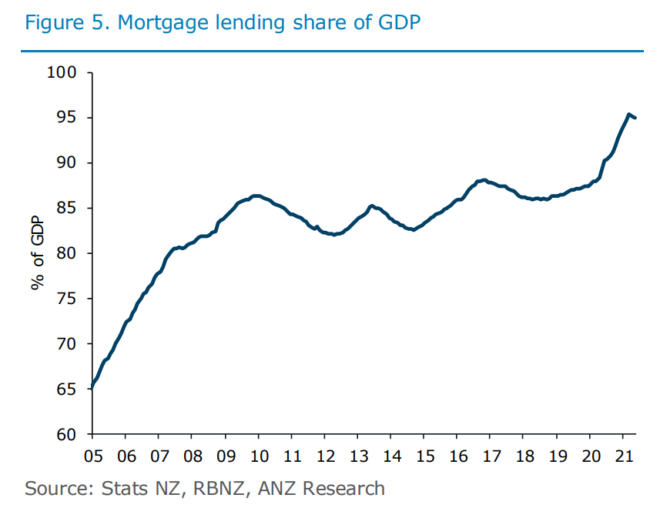 …and a long road to affordability
Overall, what the house price to income projections highlight is just how difficult it is for policy makers to make housing more affordable in a timely manner without a house price crash. While in the long run the take-your-medicine approach certainly has some appeal as the quickest solution, it would unfortunately cause a lot of collateral damage to the likes of economy-wide employment; it wouldn't just be recent home buyers' problem. The New Zealand housing market and economic cycle are intertwined so tightly that the confidence and wealth effects associated with a sharp house price fall would result in weaker-than otherwise income growth, undermining affordability progress to some extent, at least for a while.
Over the next couple of years, it's our expectation that progress towards housing affordability (and reducing associated poverty) will be very slow going. But the Government could speed this up with more aggressive supply-side policies, such as freeing up land, cutting red tape, funding greenfield infrastructure, and importing the right skills. There's scope to cool the housing market without spooking the horses too much.
Housing matters hugely for the economy, but New Zealand isn't a one-trick pony. Key export returns are looking good, the labour market is close to full employment, and there's also a little extra fiscal stimulus in the pipeline. We don't need this housing party to carry on; it's doing a lot more harm than good at this point.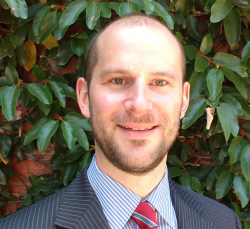 Latest posts by Unconventional Economist
(see all)