See the latest Australian dollar analysis here:
Nordea with the note:
A relatively aggressive dot-plot makes for a hawkish read-through to a potential tapering time-plan towards the end of this year. We also seem to have passed "talking about talking about tapering" to actually talking about tapering.
Highlights:
– 7 members of the FOMC committee expect lift-off in 2022, while 2 hikes are signalled in 2023. Hawkish!
– Tapering seems to have moved closer – don't rule out a decision in September!
– The interest on excess reserves (and ON RRP) is hiked by 5 bps to mitigate the side-effects of the flood of USD liquidity.
Observations and take-aways from the statement
With many governors lifting dots for 2023 and some also for 2022, tapering in late 2021 becomes much more likely, which also made for a hawkish readthrough in sharp contrast to the response to the latest couple of surprisingly high inflation reports. Market expected a high CPI and played the peak inflation story when CPI printed at 5%. Into the Fed meeting markets expected a dovish message and didn't get it. Substantial progress still needed before reducing stimulus, which mostly refers to the labour market at this point, why a couple of strong labour market reports over summer could really start fuelling expectations of a more hawkish Fed. The wording on inflation remained the same as inflation had risen "largely owing to transitory factors."
Observations and take-aways from the press conference
On inflation: Powell sounded a bit less convinced that inflation is completely transitory as he e.g. admitted that "bottleneck effects have been larger than anticipated, and FOMC participants have revised up their projections for inflation notably for this year". This is very much in line with our view that the Fed will get more worried by each inflation print as the hopes of a smooth and transitory process will fade into Q3.
On IOER and RRP: Powell put little emphasis on the technical hikes to the IOER and ON RRP rates as he should. "The IOER and overnight RRP rates were adjusted upward by 5 basis points in order to keep the federal funds rate well within the target range and to support smooth functioning in money markets. This technical adjustment has no bearing on the appropriate path for the federal funds rate or stance of monetary policy" This is none the less a strong signal that the Fed is not willing to accept price action below 0% in the USD funding market. More action will be taken, if we get renewed downside pressure on USD funding rates due to a continued flood of USD liquidity over summer.
On tapering: Powell clearly took a step towards admitting that the debate is now lively on tapering within the FOMC."You can think about this meeting as the talking about talking about tapering meeting, I guess… Since we adopted that guidance (substantial further progress) in December the economy has clearly made progress. Assuming that further progress is made, it will be appropriate to announce a tapering plan at a future meeting " We see this as a signal that the FOMC is warming up for a more formal tapering discussion on the balance sheet should we get a summer of progress in labour markets. Labour market participation ratios (also from minorities) are now KEY to watch over summer.
Main views on markets
On USD liquidity and funding  – keep receiving in EURUSD xCcy basis
The Fed chose the least effective option to address the surging usage of the ON RRP and the side-effects of the flood of USD liquidity that we have seen recently. A hike to the IOER and the ON RRP rates will ensure that price action below 0% in the USD funding market is hindered, but it will not address the underlying issue of too many USD reserves compared to short-term collateral such as T-bills.
Assuming a TGA level of 450bn by end-July (due to the debt ceiling) and continued QE purchases worth 120bn a month, then the ON RRP facility may need a capacity of roughly 1 trillion to alleviate the side-effects of the flooding of USD money markets. For ON RRP operations, each counterparty is currently permitted to submit one proposition in a size not to exceed $80 billion. Yesterday 59 counterparts participated in the ON RRP, why the program is is already big enough in size to swallow another 400-450bn worth of USD liquidity.
It still means that the effective amount of USDs in the system is capped, why we consider the risk/reward in betting on a richening of the USD in the xCcy basis and FX fwds good (Global: Close to peak USD liquidity abundance! Receive 5yr EURUSD xCcy basis)
Chart 1. ON RRP usage to continue to surge as a result of continued USD liquidity overflooding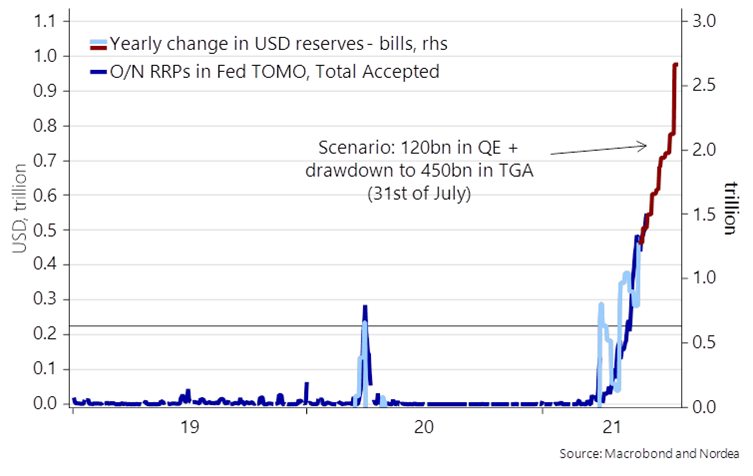 On USD bond yields – still too low compared to fundamentals
Our view on tapering remains the same. It will be debated in June (check), formally launched via the publication of a time-line in September and followed up by a subsequent hike from the Fed already in H2-2022.
The recent price action in bonds is both a result of already short positioning but also a result of a strong QE pace compared to the issuance from the US Treasury. The US Treasury has recently "emptied" the TGA instead of issuing bonds, which has made it easier for the Fed to outpace issuance. This is the main vanilla reason behind the lower long bond yields that we have seen in recent weeks despite higher inflation prints.
Chart 2. QE has recently outpaced issuance, which is the vanilla reason behind lower long bond yields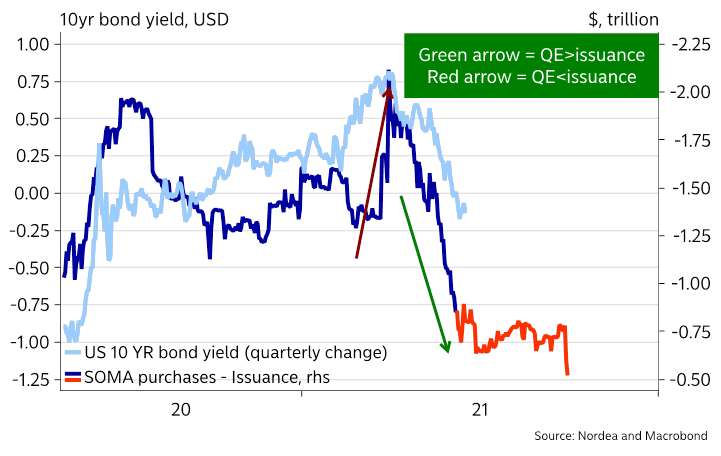 Currently we find that 1) everyone and their mother is positioned for a massive inflation spike this summer already (read short bonds) and 2) no-one dares to genuinely think that we have gotten a sustained level shift in inflation rates over the coming decade. Most people still lick their decade long wounds of trying to predict or bet on sustained higher inflation. Not least right about every economist.
To give you an example: The second lowest 10yr bond yield recorded with a core inflation level of 3.8% YoY is around 5.6% – the lowest is obviously the current observation around 1.5% (on data since 1962).
Chart 3. The market has so far bought the transitory inflation narrative

On the USD – time for a reversal of fortunes in H2-2021?
The US is likely to outperform all peers growth-wise this year, which over time usually leads to a stronger USD versus other currencies as a result of the side-effects of a stronger growth pace. First, USD bonds may continue to yield better than most peers, second the Fed is more likely to respond to strong growth rates via a slightly tighter policy and maybe via a formal tapering decision in September.
The US is now about to reap the growth rewards of the experimental policy mix of massive money printing and wide scaled fiscal stimulus – and inflation risks are still clearly tilted to the upside in coming months as a result. We expect core inflation above 4% in June and wouldn't rule out another surge in the headline index as well. Either the Fed responds to this surge in inflation (as they started doing yesterday) or else the USD will not gain. The outcome space is fairly large for EUR/USD (buy volatility?), but we see the better risk/reward in being short during H2-2021 with a target of 1.15.
Chart 4. Relative core inflation screams short EURUSD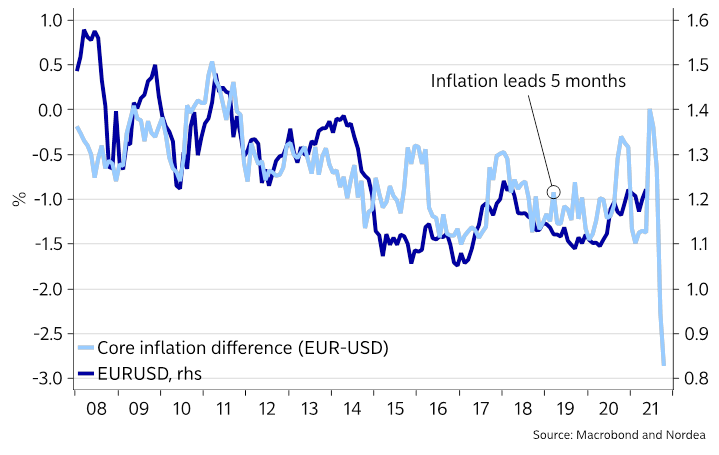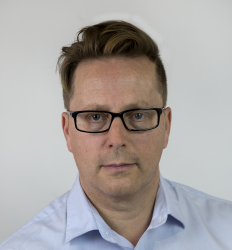 Latest posts by Houses and Holes
(see all)