See the latest Australian dollar analysis here:
Nordea with the note:
It seems as if chair Powell is already running for the hills in the average inflation targeting relationship. A few months of vastly overshooting actual inflation and Powell and the FOMC aborts the AIT-regime. This was almost faster than even we dared to anticipate, even if we have been clear frontrunners in calling for an early tapering discussion within the Fed due to the spike in inflation that would arrive in Q2.
After Powell ran for the hills, yield-curve-steepenistas started running for their lives with 5s30s flattening as if tapering had already been launched. Taper talks ought to be ultra-good news for 2s5s steepeners, but bad news for those who betted on the Fed allowing a complete melt-up in inflation expectations and activity that could take 30yr bond yields much higher. USD 5s30s flattened 150 bps during the 12-month tapering period in 2013/2014. What about in 2021/2022, if Fed tapers already in September?
Chart 1. Markets starting to trade as if tapering was already launched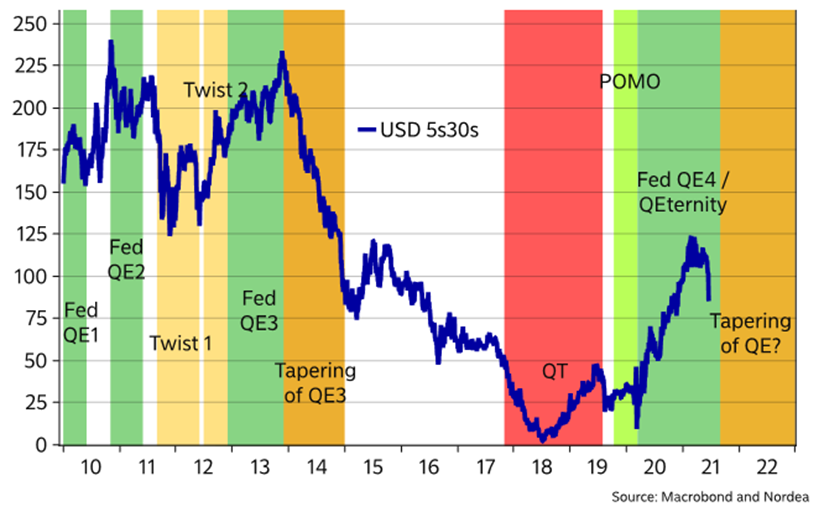 It is counterintuitive from a supply/demand perspective that the long end of the curve tends to flatten during an actual tapering scenario, but it is a very stubborn historical pattern.
We find that there are two effects in play. First, the market positioning is always caught wrongfooted when tapering actually starts. Right about everyone enters the tapering period betting on steeper curves and higher long bond yields, why positioning is a roadblock for a further move in those directions. This is also the case this year.
Second, we find that QE is an important part of the expectation formation as QE leads to reflationary vibes, higher long-term inflation expectations and a larger outcome space for inflation long-term. Withdrawing stimulus (tapering) leads to the opposite. Less activity, less inflation, and contained expectations.
Chart 2. Repeat after us – lower long bond yields always occur OUTSIDE of QE programs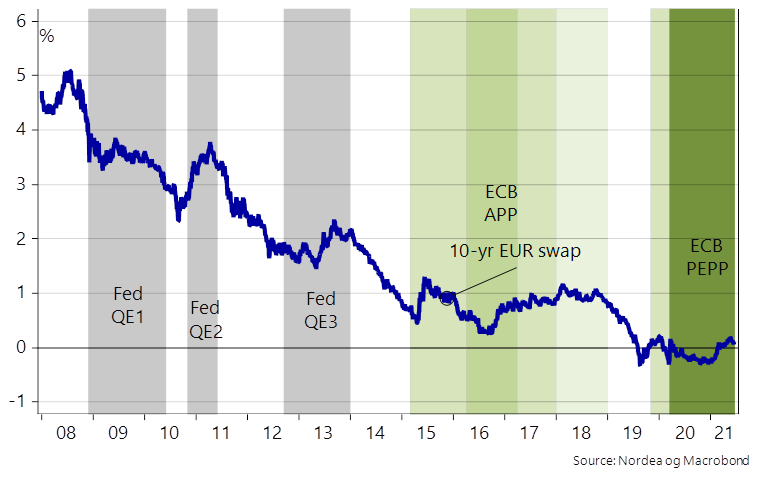 The USD is usually the biggest gainer from a steeper 2s5s in the USD curve, while the EUR is ranked much lower on the leaderboard in such a scenario. EM FX is also one of the high-risk positions in such a scenario, while also the SEK (and partly NOK) looks to be at risk of a summer sell-off.
We are almost as certain as we can be that paying the USD belly will prove to be a good bet this summer, as our main thesis is that tapering will arrive early, while the Fed subsequently will use aggressive forward guidance to contain lift-off expectations. Sounds like a perfect 2s5s steepener.
Chart 3. FX sensitivity to 2s5s in the USD swap curve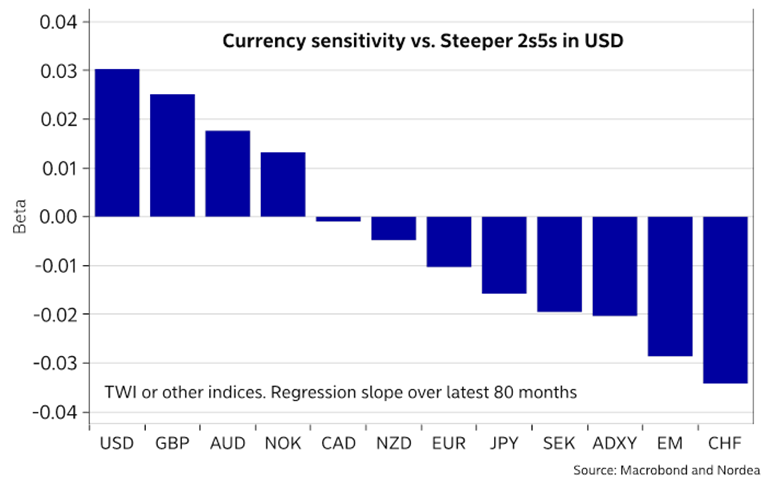 USD: a set-back for the "summer of carry"-istas?
We finally got some decent moves in the FX market over the past week as Fed finally decided to become somewhat less radical, sending the USD stronger across the G10. We remain Fed hawks and expect inflation to surprise positively also in coming months, which should beget more hawkish surprises. So, we'd argue we just got a hawkish shift from the Fed, while across the pond, Lagarde has started to act more like Draghi did, pre-committing the ECB to a dovish stance and daring her colleagues to not fulfil the market's expectations. Hence we'd argue we have just seen a dovish shift from the ECB.
Chart 4. Why Fed ought to be much more hawkish than the ECB – in one chart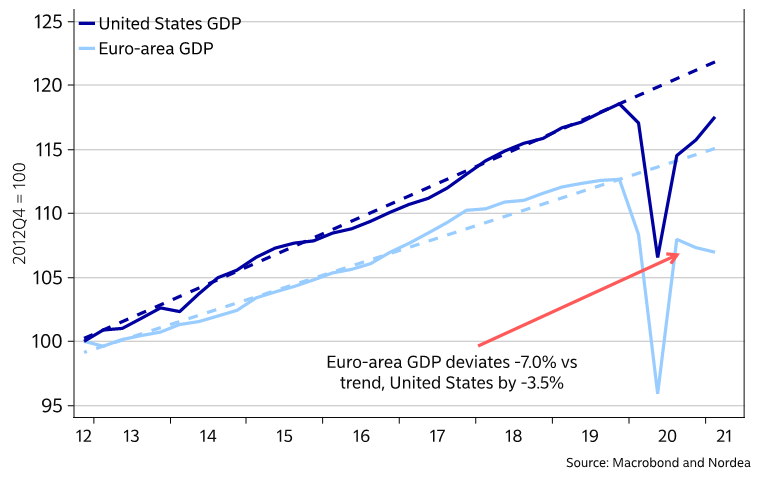 Why the Fed ought to be much more hawkish than the ECB can be explained quickly with one chart, which are the GDP levels vs pre-pandemic trends. US GDP is merely ~3.5% below trend and closing the gap quickly, while the Euro-area GDP is 7% below trend as of Q1, 2021.
Chart 5. US GDP could be above trend by Christmas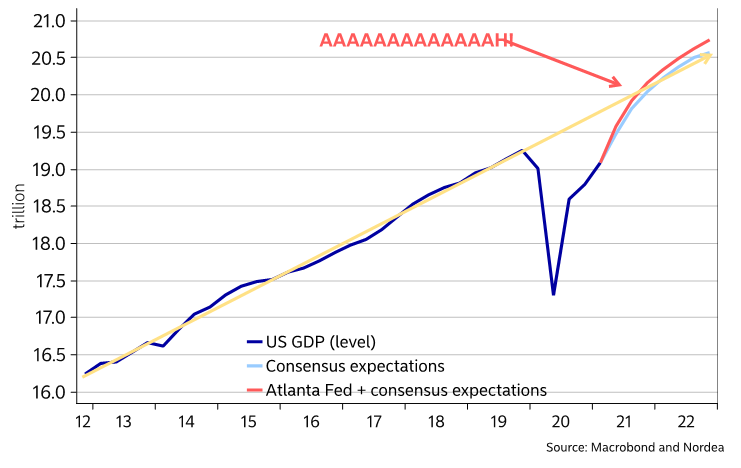 Indeed, if we look at consensus expectations of US GDP growth the US will be above trend activity by 2022Q1, and we get an even more bullish view if we pencil in the latest numbers from Atlanta Fed's GDPNow tracker – suggesting above trend activity by Christmas. Did anyone say melt-up?
This fits hand in glove with our main thesis that the Covid-19 crisis has been handled as a demand-crisis, even if it has proven to be mainly a supply shock, with too much fiscal fuel being brought to the fire. When you bring an aircraft carrier to a knife-fight, it usually ends with a melt-up.
Chart 6. Will the core inflation spread show the way?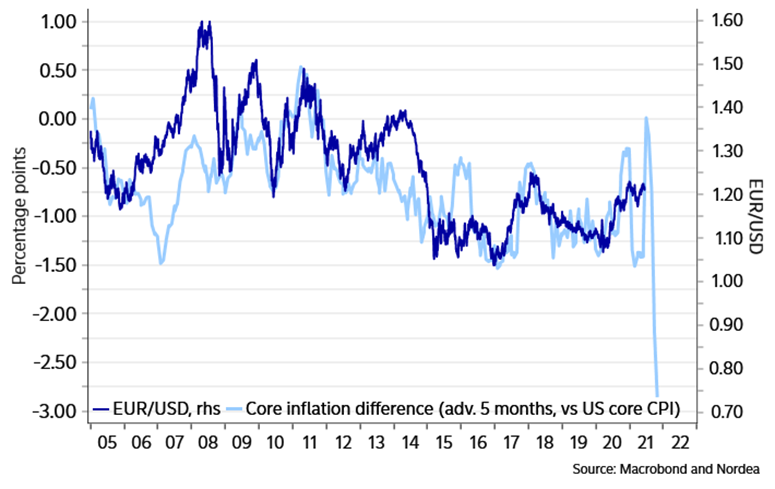 What's more, historically, the core inflation spread has led the EUR/USD by five months, suggesting plenty of downside in the pair after Labour day in early September. Now, you will argue this correlation makes no sense, and we would suggest taking the implied level with a super tanker of salt, but the core inflation spread still often coincides with gyrations in the EUR/USD…
The relative central bank outlook should thus remain dollar supportive in the near term. Investors who wish to bet on a "summer of carry" may want to use some other currency than the USD as a funder. Furthermore, given the Fed's small shift one can ask if not monetary policy is becoming somewhat less radical. Signs of less radical central banks could lead to a setback for commodity prices via a lower inflation hedge demand, suggesting commodity FX could face some near-term headwinds.
Chart 7. PLN suffers when the industrial supply chain is hit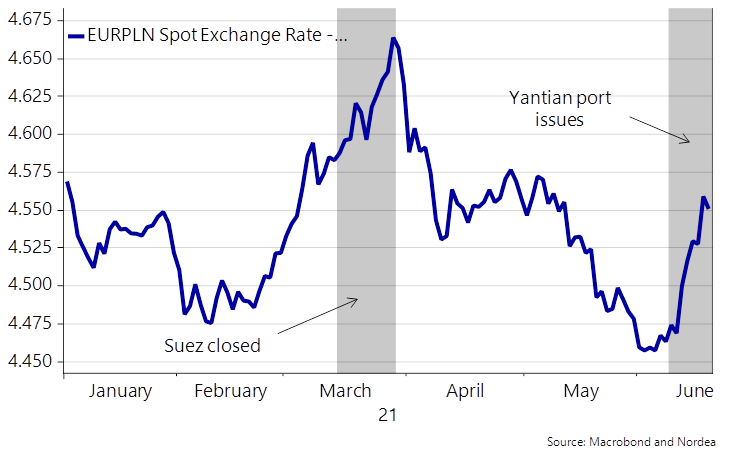 The recent Covid related issues in the port of Yantian are also likely to show up in manufacturing data in 1-2 months from now as the supply chain is once again disrupted (PMIs may take this as a positive due to the supplier delivery times component). High beta industrial countries such as Poland, but also partly Germany, will hence be faced with a suffering manufacturing momentum already soon. This is by the way a bigger issue for EUR than USD. We take early profit in our short EUR/PLN position entered 5th of April, while we have been stopped out of our shorts in EUR/NOK at 10.21 despite a super-hawkish Norges Bank.
We continue to like shorts in AUD/NZD and longs in USD/SEK as a high beta proxy bet on a rebound in the overall USD-index.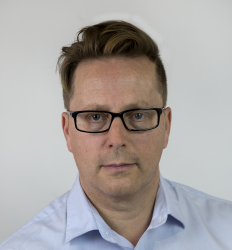 Latest posts by Houses and Holes
(see all)