See the latest Australian dollar analysis here:
Forex did a full-blown reversal Friday night. After readying for tearaway US jobs and a rising DXY, instead we got Goldilocks numbers and violent jack-knifing as yields were clubbed and risk bets roared back. DXY and EUR changed places:

Australian dollar hit a trampoline:

Gold firmed. Oil is off and running:

Base metals were subdued:

Big miners did better:

EM stocks were stuck:

Junk no problemo!

Ain't no inflation 'ere:

Stocks loved it, especially growth:

So, US jobs were neither too hot, nor too cold. Just right:
Total nonfarm payroll employment rose by 559,000 in May, and the unemployment rate declined by 0.3 percentage point to 5.8 percent, the U.S. Bureau of Labor Statistics reported today. Notable job gains occurred in leisure and hospitality, in public and private education, and in health care and social assistance.

…The change in total nonfarm payroll employment for March was revised up by 15,000, from +770,000 to +785,000, and the change for April was revised up by 12,000, from +266,000 to +278,000. With these revisions, employment in March and April combined is 27,000 higher than previously reported.

…Average hourly earnings for all employees on private nonfarm payrolls increased by 15 cents to $30.33 in May, following an increase of 21 cents in April. Average hourly earnings of private-sector production and nonsupervisory employees rose by 14 cents to $25.60 in May, following an increase of 19 cents in April. The data for the last 2 months suggest that the rising demand for labor associated with the recovery from the pandemic may have put upward pressure on wages. However, because average hourly earnings vary widely across industries, the large employment fluctuations since February 2020 complicate the analysis of recent trends in average hourly earnings.
The US economy still has 5% fewer jobs than pre-COVID. That's oodles of slack to vacuum up as conditions normalise.
Short-term wage rises are not as strong as they appear once adjusted for composition though they are still decent. But this should also ease as well as supply loosens up post-COVID.
In short, I do expect better wage rises in the coming cycle but nothing terribly scary. In the last cycle, US unemployment bottomed at 3.5% without delivering much better than 3% in the way of wage growth. So I am not concerned about wage-push inflation in the US for another year at least: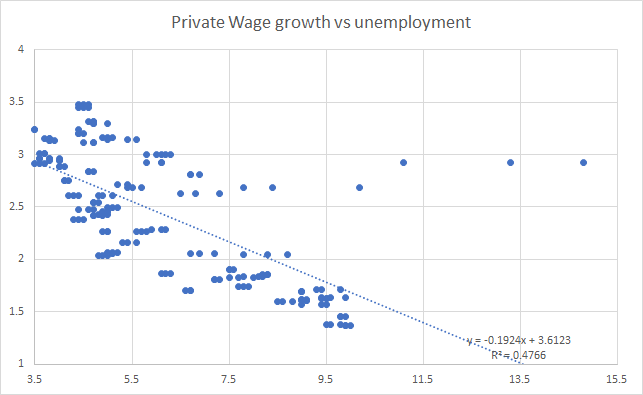 That said, the US inflation number coming in the week ahead will be huge on the various reopening price bounces plus short-term supply-side dqueezes.
The question is, with commodities on the verge of big falls as China slows, and global supply-side bottlenecks working through the peak now as well, what is left to drive the US inflation narrative over the next six months as base effects deflate headline numbers?
The answer is 'not much' so I am not convinced DXY is ready to break higher yet. Especially as Europe reopens and prints better economic data.
That said, if commodities begin to deflate, especially steel inputs, then the Australian dollar will fall anyway.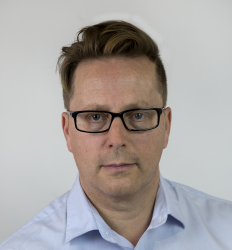 Latest posts by David Llewellyn-Smith
(see all)