Westpac with the note:
Headline
Weekly Payroll jobs estimates rose 0.4% between April 24 and April 10. Total wages paid by employers rose by 0.3%. For the second fortnight in a row, seasonal factors associated with shifting school holidays have made it difficult to obtain a clear read on the impact of the ending of JobKeeper. However, despite these distortions, we believe there are signs that April was a softer month for jobs growth.
NSW was the weakest state in April
State data cautions that, whilst school holidays may have been a significant factor in distorting payroll numbers, the greater than average weakness in NSW suggests something else might also be at play. Taking monthly averages, which should capture a more even effect of school holidays in each state, there was a much larger fall in NSW (-1.2%) than observed across other states; a more average fall in Victoria, Qld and ACT (-1.0%); and a smaller than average fall in SA (-0.8%), WA and Tasmania (both -0.6%).
We also continue to see WA and South Australia making the most significant gains since the beginning of COVID – a gain of 4½% and 3½% respectively on numbers recorded in March, 2020. By contrast NSW, Victoria and Queensland are up between 1.3% and 1.5%. Queensland payrolls are not showing the same outperformance that Qld employment is showing in the Labour Force survey.
Industry data suggest those industries most reliant on JobKeeper continue to lag the recovery.
With Easter seasonality behind us, we were looking for the initial impacts of the ending of JobKeeper in this release. Although this week's update is still distorted by school holidays, we are seeing evidence that those industries that relied most heavily on JobKeeper are experiencing the softest growth in payrolls. When we compare the JobKeeper period (week-ended 27 March) with the post-JobKeeper period (week-ended 24 April), large falls can be seen in the Accommodation industry (-3.9%), Arts and Recreation (-3.9%), Other Services (including Hairdressers, Auto Repair; -3.7%), and Admin. and Support (-3.6%). Outcomes are broadly stronger in the industries that were less reliant on the subsidy: Information and Telecoms (+1.6%), Mining (+1.6%), Financial Services (+1.0%) and Utilities (+0.4%).
Holiday seasonality distorting April data
Payroll data over the month of April have been heavily impacted by seasonality. The previous release of weekly payrolls (fortnight-ending 10 April) was heavily distorted by the Easter holiday. In the latest release, payrolls were again impacted by seasonal effects, this time from the school holidays. As shown in Figure 3, this was most evident during the middle two weeks of April, at which point school holidays were overlapping across the states. This saw payrolls fall 0.8% compared to the first week of April.
A clearer snapshot of underlying momentum in payrolls can be gleaned from the fourth week of April (the second week of the latest payrolls release), at which point the school holiday effect had largely filtered through. This revealed that payrolls were approaching levels comparable with the start of April, but still down 0.4%.
For April the seasonality around school holidays was similar to what we saw during the Spring 2020 school holiday period. All states and territories had one week of holidays in common over April, which was also the case in the Spring of 2020. At that time, payroll jobs fell by almost 1% in the common week, and then recovered to near pre-holiday levels over the following fortnight.
Conclusion – downward revision to April employment forecast
To get a guide on the change in employment in the upcoming Labour Force, we take the monthly numbers from the Weekly Payrolls, both the average of the first two weeks of each month (as per the Labour Force Survey) and the monthly average. For both methods Weekly Payrolls fell 1.0% in April.  As you can see in the chart below, movement in Weekly Payrolls has been a bit more volatile than the movement in employment (in original terms).
It is clear that the ABS will be applying some adjustment to the data to account for the school holidays. Pencilling in a modest 0.1% fall in employment in original terms and using current seasonal adjustment patterns, our analysis points to a modest 10k rise in employment.
As such, we have revised our preliminary employment forecast for the April Labour Force Survey to +10k. If we hold the participation rate at 66.3%, the unemployment rate will hold at 5.6%.
As April 2020 took a big hit from COVID lockdowns, there is increased uncertainty around what seasonal factor the ABS will use this month. In the press release for Weekly Payrolls, the ABS noted that seasonality around Easter makes it difficult to gauge any effect of the ending of JobKeeper. As such, we have allowed for a modest moderation of employment growth due to the ending of JobKeeper.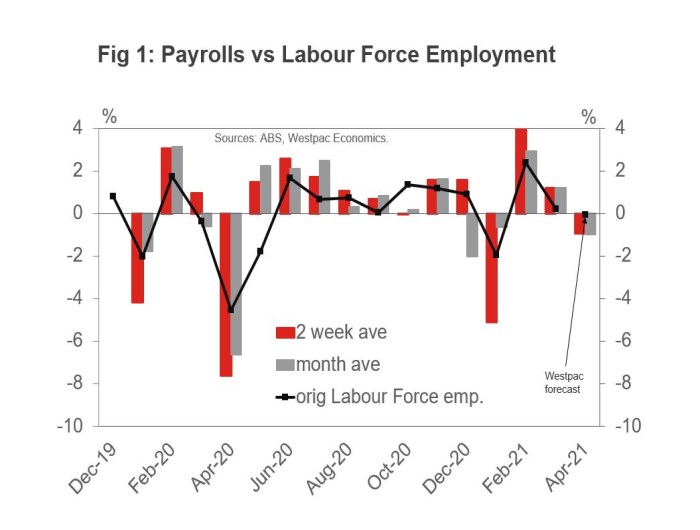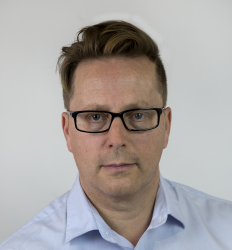 Latest posts by David Llewellyn-Smith
(see all)