See the latest Australian dollar analysis here:
Nordea with the note:
Only Elon Musk disappointed more than the job report over the weekend (watch the price action in Dog(e)coin, in case you are curious), but some odds effects may be in play currently. Jobs openings are plentiful, but they are just hard to fill due to 1) mobility issues, 2) Covid-fears and 3) direct transfers and benefits providing a better alternative. Maybe the fast-food chains need to increase the sign-on bonuses even more than what we have already seen? Wage growth is coming oddly fast given the unemployment level. Time to resurrect the good old Phillips curve.
Chart 1. Jobs openings are plentiful and hard to fill – time to pay more?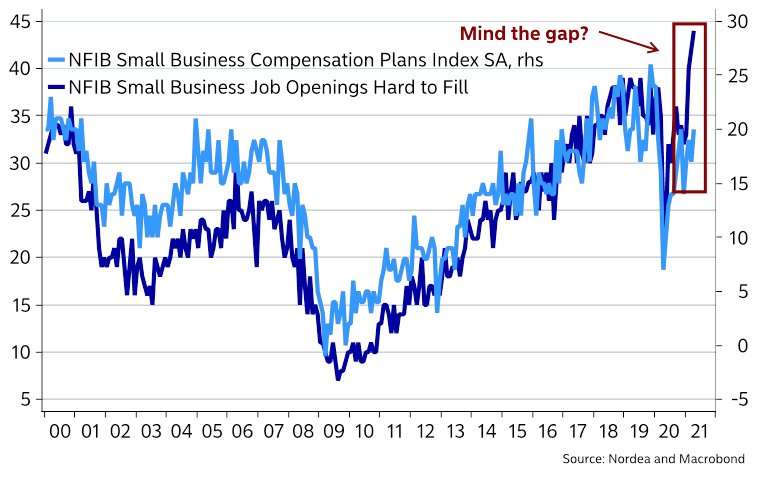 We hence continue to lean in an "inflationary" direction, expecting both core and headline inflation to pick up more than generally assumed by most central banks. Some countries such as the US will face a bigger pick-up than others such as the EA, as a result of an fiscal expansion, smaller tax wedges and a "benign" impulse from the currency. If the trade-weighted USD holds at today's level it will be down 5% yoy in July, which will provide an inflationary impulse via greater import costs.
Chart 2. Weaker dollar will help US inflation rise in coming months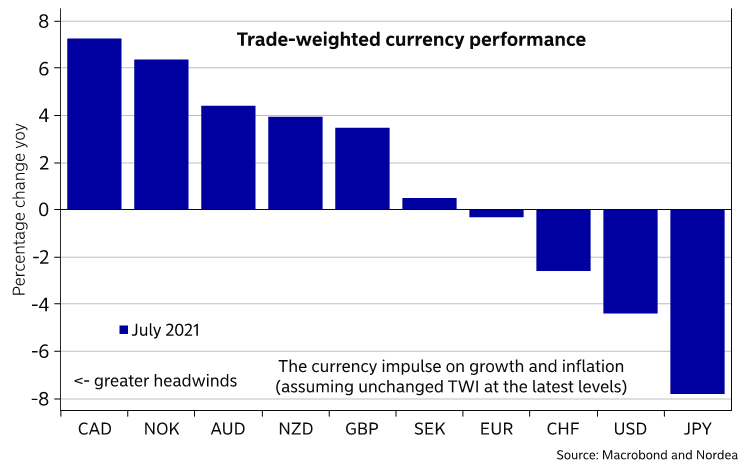 We did an informal poll on twitter asking followers why commodity prices are surging, and a majority of respondents said that "supply shortages" was the main driver. This would appear to support central banks who are arguing that the associated "inflation" surge will indeed be "transitory". Unless prices keep surging, their impact will fall out of the inflation calculations one year later – and hence the impact will be transitory. As the Swedish saying goes, "up like a sun down like a pancake".
One might wonder if not some of the current "supply shortages" reflect stockpiling because of supply fears rather than real shortages. There's even an ongoing narrative about a global flower shortage… Households hoarded toilet paper last year, creating a shortage in the process. A couple of quarters later the market had to deal with a toilet paper surplus. Perhaps something similar could happen later this year? (Though the surplus of fiat paper money might argue otherwise.)
Up and down
And Up and down
And Up and down
And Up… and down
– Powell (almost, it was Vengaboys)
Chart 3. Core PCE inflation will continue to jump, but what about next year?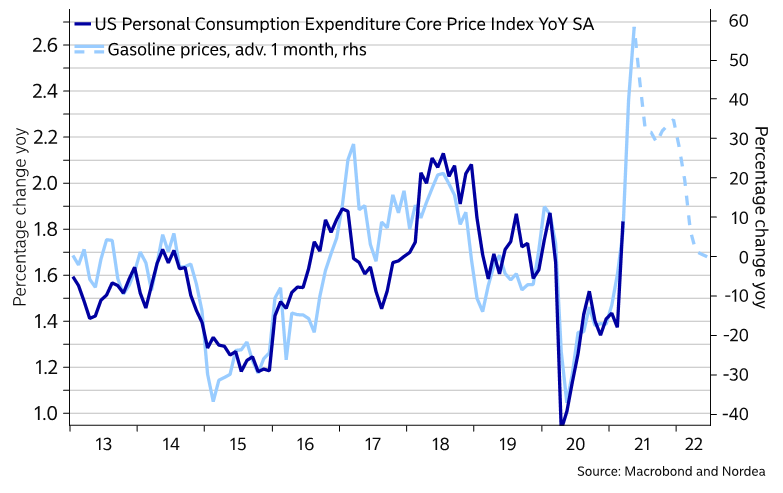 What's more, unless income growth picks up, household's real incomes risk being eroded by higher consumer prices, which is why orthodox economists may well argue that the current supply shortages are deflationary (unless the associated price rises cause second round effects on inflation and wage expectations).
Chart 4. Where to, real rates?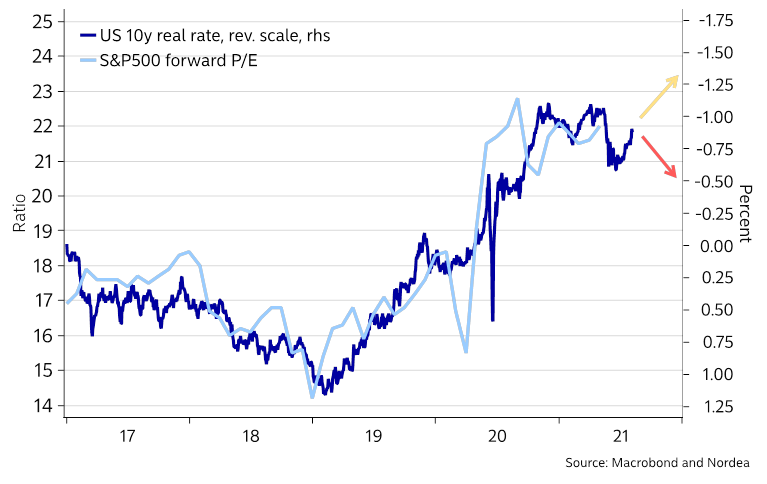 A big question for the next couple of months is whether US real rates will go up or down. On the one hand, the Fed's stance ("everything is transitory") suggests that they will try to be behind the curve – which could augur further good news for asset prices via lower real rates (and boost speculation in a Crack-up Boom).
On the other hand, inflation expectations are so high today so it could be that it'll be hard for the market not to add hiking bets further out the curve if inflation surprises positively – suggesting headwinds for asset prices via rising real rates. We are split on this issue, so we have to be content in expecting a pick-up in volatility.
A potential micro-driver of volatility is the upcoming US tax payment deadline. Usually US households pay their income taxes around mid-April, but this time around the deadline has been moved to the 17th of May. Not only will this translate to temporary tighter excess liquidity (as the money will move from the banking system to the Fed's TGA account at the Fed), but one might also speculate that some leveraged traders might need to sell equities to pay taxes – possibly causing some price action in the process.
Chart 5. US household's deadline for paying taxes starting to loom large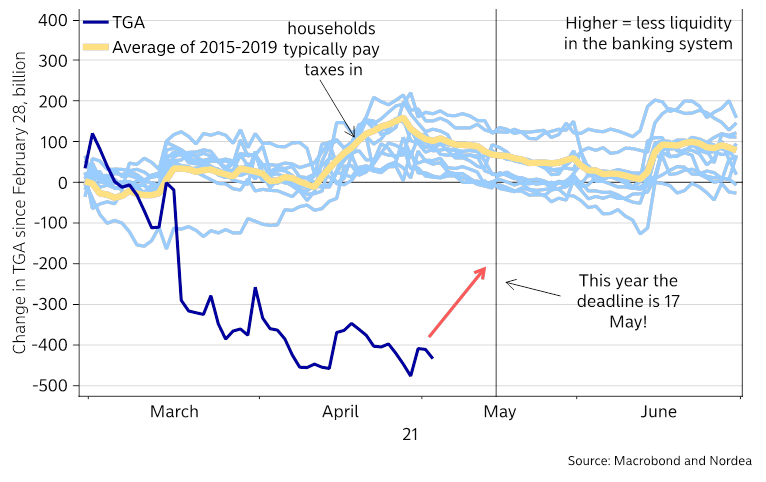 Generally, the US Treasury still expects to increase liquidity until July 31st as the "Treasury is assuming a cash balance of approximately $450 billion at the expiration of the debt limit suspension on July 31 based on expected outflows". This usually transfers in to a cheaper USD funding in a fairly mechanical way, while one could note that a sort of "stealth QT" is on the table in Q3, as the US Treasury expects to rebuild the TGA to levels around 750bn by the end of September. What to make of all this?
We continue to like EUR/USD shorts – e.g. via put-spreads to utilize a potential pick-up in volatility.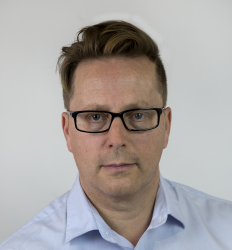 Latest posts by David Llewellyn-Smith
(see all)